The debate over the economic stimulus package continues, despite the fact that Congress is in recess. President Trump has been saying that he would step in if there was no agreement reached, and he has now signed executive orders related to stimulating the economy. It is still unclear what will happen with the House's trillion dollar package, as well as what will happen to the U.S. Postal Service. In the meantime, the struggling economy is not the only thing our country is dealing with. While Americans wait for financial help, the coronavirus continues to rampage throughout the country. Testing doesn't seem to be high on the government's priority list, so there has been a decrease in testing numbers.
CDC Projects Nearly 189,000 Deaths By Sept. 5
The U.S. has reached more than 5.2 million coronavirus cases and a death toll of over 167,000. On Thursday, August 13, the CDC published its projection that over 188,982 deaths are possible by September. "State- and territory-level ensemble forecasts predict that the number of reported new deaths per week may increase over the next four weeks in Colorado and may decrease in Arizona, the Northern Mariana Islands, Vermont, and Wyoming," the CDC said on its forecasting website.
U.S. Testing Numbers Falling In Recent Weeks
Since the start of the coronavirus pandemic, officials have been working to expand testing in the U.S. in order to help slow the spread of the virus. But for the last 2 weeks, the country has fallen short on testing. Testing numbers have been averaging about 733,000 people per day, but the recent seven-day average dropped to 709,000, which is the lowest in nearly a month. 
CDC Advises Those Recovered To Not Quarantine
In recently updated guidance, the CDC has said that those who have recovered from the virus do not need to quarantine or get tested for 3 months after recovering. Instead, they should just continue to socially distance and wear masks around others.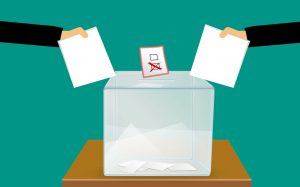 Trump Opposes Election Aid For States & Postal Bailout
On Thursday, August 13, President Trump said that he opposes much-needed funding for the U.S. Postal Service. He is hoping to block funding in order to stop people from voting by mail, a voting method that he sees as a threat to his reelection. He also said that if the USPS does not receive the additional $25 billion in funding that Democrats have requested, then he believes that the Post Office will not be able to handle the influx of mail-in ballots.
"They want three and a half billion dollars for something that'll turn out to be fraudulent, that's election money basically. They want three and a half billion dollars for the mail-in votes. Universal mail-in ballots. They want $25 billion, billion, for the Post Office. Now they need that money in order to make the Post Office work so it can take all of these millions and millions of ballots," Trump said, repeating his false claims that mail-in voting would be "fraudulent."
"But if they don't get those two items that means you can't have universal mail-in voting because they're not equipped to have it," Trump added.
The Debate On The Stimulus Checks
The Senate recently adjourned for recess until September, leaving the stimulus bill up in the air. In the meantime, President Trump has signed a series of executive orders, which included $400 in weekly unemployment benefits, but it is unclear whether these executive orders will be put into effect. . 
After both sides of the aisle blamed each other for the stalemate on the stimulus package, Speaker of the House Nancy Pelosi sent a letter to her Democratc colleagues criticizing Senate Majority Leader Mitch McConnell on his unwillingness to put the package to the Senate for a vote, and on Republicans' refusal to help keep the USPS afloat. Pelosi wrote,"In the time of pandemic, the Postal System is Election Central. All patriots, Democrats, Independents or Republicans, should reject the President's assault on the Postal System in this election season."
Obesity Raises Risk Of Death In Men
A new study shows that obesity is an independent risk factor of dying from coronavirus among adults aged 60 and younger. Obesity causes restricted breathing, which can further complicate the respiratory symptoms of Covid-19. The risk seems to be much higher for men than for women.
"Body mass index is a really important, strong independent risk factor for death among those who are diagnosed with Covid-19," said Sara Tartof, the study's first author, a research scientist at Kaiser Permanente of Southern California. But "the impact is not uniform across the population," she added. "You don't really see it for the older ages, and we didn't see it as an important risk for females at any age."
Mitt Romney Criticizes Trump On Handling Of Coronavirus
Senator Mitt Romney (R-Utah) has offered his disdain regarding Trump's handling of the coronavirus, saying that Trump left it to spiral out of control. 
"Short term, I think it's fair to say we really have not distinguished ourselves in a positive way by how we responded to the crisis when it was upon us," Romney said in a video interview with the Sutherland Institute. "And the proof of the pudding of that is simply that we have 5 percent of the world's population but 25 percent of the world's deaths due to covid-19."