Fall Prevention Day is September 23rd, so now is the perfect time to start the conversation about tips to prevent falls, especially for seniors. Falls happen to everyone, no matter what your age is, but the older you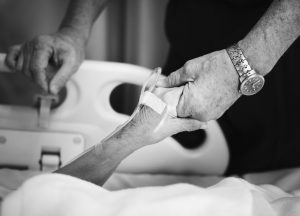 get, the more likely you are to be hurt during a fall. One in four Americans that are 65 and older fall each year. Falls are the most common non-fatal hospital admissions among older adults. As you age, your body loses muscle mass and bone density. Health conditions play a role in your risk of falling, such as diabetes, and heart disease. Also, certain medications that cause dizziness, or mental instability can play a role. But no need to lose hope! There are different precautions to take in order to prevent falls. It is never too late to start protecting yourself.
A Safer Home
There are a number of changes you can make in your home to help avoid falls, and make it a safer place to live. Lighting plays a role. If it is dark when you are walking, tripping over something is bound to happen. Make sure to turn on the lights before entering a room. Keep your floors tidy so you are less likely to trip over something. Handrails are a must to grab onto when going up and down the stairs. Secure your bathroom with grab bars in the shower and toilet if you need it, and use non-slip mats.
If you are concerned about falling, consider getting an emergency response system, such as MobileHelp, where you push a button for help. These simple devices can make your home a safer place to live because it can save your life, especially if you live alone.
Simple Yet Effective Exercises
A 2016 study found that exercise alone reduces the risk of falls in older adults by an average of 21%. This study also found that working out for more than three hours per week was linked to a 39% reduction in falls. Here are some simple exercises prevent falls by strengthening your muscles to keep you strong and balanced through the years:
Tai Chi

– Tai Chi practices slow, low-impact controlled movements that increase balance, strength, and flexibility.

Toe Stand

– In order to make your calves and ankles stronger, stand with your back straight and slightly bend

Knee Curl

both knees. Hold onto a chair for support. Push up on your tiptoes as high as possible and then slowly lower your heels to the floor. Repeat 10-15 times.

Knee Curl

– This exercise will help strengthen your lower back and buttocks muscles. Hold onto a chair for

support. Stand with your back straight, and feet shoulder-width apart. Slightly bend both knees and lift one leg straight back behind you. Bring your heel towards your buttocks and then slowly lower your leg. Repeat 10-15 times on each leg.

Chair Leg Raises

– Sit in a chair and hold onto the bottom of the chair with both hands. Extend one leg straight out and bring your knee toward your chest without moving your upper body. Extend that leg back out and lower it back onto the ground. Repeat 5-10 times on each leg.

Single-Leg Stands

– Stand straight with your feet hip-width apart. Hold onto a chair for support if needed. Lift one foot off the floor without leaning forward. Hold for 10-15 seconds and then slowly return your foot to the floor. Repeat 5 times on each leg.

Toe Touches

– To gain better stability, toe touches are the way to go. Stand tall with your feet together, and slowly reach your fingers down to your toes as far as you can go. Keep your legs straight the whole time, and then slowly roll back up. Repeat 10 times. Over time, your flexibility will allow you to go lower.
Getting older may not be easy. However, the more active you are, the more likely you are to prevent a serious fall. Falling at an older age can result in hospitalization or even death. Simple steps to secure your house can make a great difference. Stay active, and add an exercise routine to improve your flexibility, strength, and balance. These simple changes will keep you safe and independent.