It is easy to find cheap commercial insurance, but, more likely, a cheap plan will not provide the coverage that your business needs. If a policy is a lot less expensive than others, there is usually a reason: most cheap plans do not cover what  other policies do. Saving money by cutting corners will just lead to insufficient protection, which can only end up costing your business money. Having the right business insurance is important for the success of your business and your bottom line. There are ways to find affordable commercial insurance with the proper coverage for your business so that you can save money in the long run.
Different types of businesses face different types of risks, and will need different types of commercial insurance. Some businesses require multiple insurance policies, while others require just one or two policies. Having a better understanding of exactly what your business needs will ensure that you're covered in every eventuality. 
If you run a moving company, for example, you will have to insure all of your commercial vehicles, as well as the workers who are driving them. You will also need commercial liability insurance to protect your business against claims that you damaged customer property. To make sure that you are covering every aspect of your business, consider speaking to an EZ agent. Our agents are educated and experienced in the business insurance industry, so they can advise you on what insurance your specific business needs.
Choose A Higher Deductible
The higher your deductible is, the lower your premiums will be. If you want to save money on insurance, then consider opting for a higher deductible. This will save you money on the premium costs, since your premiums would be lower than those of other plans with lower deductibles. But before opting for a higher deductible, make sure that you would be able to pay your deductible if something did happen.
Consider Paying in Full
You have the option to pay your insurance premiums in full for the year, or to pay in monthly installments. You can save money by choosing to pay for your policy in full, because many insurance companies offer discounts for up-front payment. If you plan accordingly and set money aside throughout the year, you can pay for your insurance policy in one payment and lower your premiums without losing any coverage.
Bundle!
Most insurance companies will offer a discount when you purchase multiple policies. It can be cheaper to buy a package policy such as a business-owners policy (BOP), as opposed to purchasing general liability insurance and commercial property insurance separately. Packaged policies, while cheaper, offer just as much coverage as separate policies.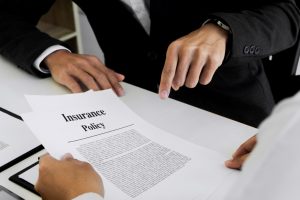 You can reduce your insurance premiums for certain types of coverage by following any recommendations given to you by your insurance company. This can be anywhere from increasing workplace safety measures to human resource interventions. Knowing what the recommendations are and following them can mean saving more money. Following these guidelines can also help to reduce the number of claims you make on your insurance, which can further lower your premiums –  insurance companies tend to reward customers who haven't made any claims. 
If you have any outside third parties working for your business, you can save money by making sure that they have their own insurance coverage. This means that, if an accident or other loss occurs, you won't be held liable and have to pay any claims. In addition, if you decide to work with another business, ask to be listed on their policy as an additional insured. By becoming an additional insured on their policy,  you are minimizing your risk if something goes wrong.
Use An EZ Agent
Researching and comparing insurance can be difficult and time-consuming. Instead of feeling helpless and lost, contact an EZ agent. Working with one of our experienced insurance experts will help you save money without sacrificing coverage. What separates us from the rest is that we offer expert advice at no cost to you, and we work with all the top-rated insurance carriers in the United States. That means we can compare all available plans to find you the best coverage at the right price – and we'll do it for free! We can also guide you towards a bundle so that you can save more money. Start saving money by entering your zip code in the bar above, or to speak directly to one of our licensed agents call 888-615-4893.