As we age, we become more prone to unexpected injuries because of weak bones or joints. Each year, almost 3 million older people are treated in emergency rooms for fall injuries, and over 300,000 of these injuries include hip fractures or a head injury. Fractured hips, broken bones or injured joints can take a long time to heal, and, to aid in recovery, your doctor might prescribe physical therapy to restore normal function and prevent any disabilities or functional limitations. As a Medicare beneficiary, you might question whether Medicare will cover these physical therapy sessions. The short answer is yes, but you will be responsible for some bills.
Physical Therapy Under Medicare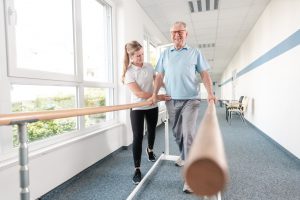 Physical therapy can be necessary after an injury, and can also help to treat chronic conditions, such as Parkinson's disease. If your doctor prescribes physical therapy to you, Medicare will pay for physical therapy sessions under Medicare Part A and Part B, depending on where the sessions take place. Medicare Part A will cover some or all of the cost of sessions that you undergo at an inpatient rehabilitation facility. It can also extend to skilled nursing facilities following a hospital stay.
Medicare Part B will cover physical therapy services at any outpatient facilities, your doctor's office, or at home under certain circumstances. As with most medical expenses, part B will cover 80% of the allowable charges after you meet your Part B deductible. In order to conduct your sessions at home, you will have to meet certain conditions, including:
You must be under a doctor's care, and your physical therapy must be part of a care plan that is regularly reviewed by your doctor.

You must be certified homebound by your doctor.

The treatments must be performed by a qualified physical therapist.

The agency providing the home services must be certified by Medicare.

Your doctor must state their belief that your condition can reasonably be expected to improve with physical therapy, or that you need physical therapy to maintain your current condition.
Medicare Physical Therapy Caps
As of 2018, there is no longer a cap on how many physical therapy sessions a Medicare beneficiary can receive in a year, but you and your doctor do need to be aware of certain requirements. If you hit $3,000 or more in claims for any form of therapy, your doctor will have to provide extra information so that Medicare can review the claims. If Medicare determines that your doctor did not provide enough information, then Medicare can choose not to pay for any additional services. 
While Medicare does cover physical therapy sessions, you will still need to meet your Medicare Part B deductible ($203 for 2021) before Medicare will begin covering any Part B costs. Once you meet this deductible, you will still be held responsible for the 20% that Medicare does not cover. This can add up to quite a lot of money, especially if you are on a fixed income. But there is a way to get more coverage while saving money – a Medicare Supplement Plan.
There are 10 different Medicare Supplement Plans to choose from, all offering different levels of coverage at different price points. EZ.Insure has trained licensed agents who will compare all available Medicare Supplement Plans in your area in minutes. Our goal is to help you save as much money as possible so you can get back to enjoying your retirement, which is why we provide our services for free. One of our agents will be assigned to assess your medical and financial needs, and will find the Medicare Supplement Plan that suits your needs. To get started, simply enter your zip code in the bar above, or to speak to one of our licensed agents, call 888-753-7207.