Many Medicare beneficiaries confuse a yearly physical with a yearly wellness exam. Medicare WILL cover an annual wellness visit, but WILL NOT cover an annual physical. If you do not clarify exactly which exam you are receiving, you will end up with an unexpected hefty bill. So what is the difference exactly? An annual physical is a more detailed
exam than a Medicare Wellness Visit. Let's examine the difference between the two exams, and what Medicare does and does not cover.
Annual Physical
An annual physical is an extensive exam that requires blood work and other tests. Any blood work or lab tests that need to be done will not be covered by Medicare. The doctor will:
Measure height and weight
Perform head and neck exam

Perform a neurological exam
Review medical and family history
Submit urine and/or blood samples
Assess risk factors for preventable diseases
*Any work done at both visits is bold, and italicized.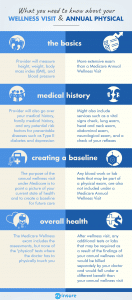 Annual Wellness Visit
Medicare will cover annual wellness visits, after the initial "Welcome to Medicare" visit is done with your doctor. During the initial visit, the doctor will establish your health and create a plan for future care. Your medical and social history is reviewed and you will receive free preventive services. The services include certain screenings, shots, and referrals if needed, a vision test, body mass index (BMI) calculation, height and weight measurements, blood pressure measurements, depression screening, a plan with knowledge of which future screenings, shots, and other preventive services you need. This is only covered one time and is not required to be covered by the annual "wellness" visits.
The annual wellness visit's focus is on preventing disease and disability. This happens with a personalized plan for future medical issues based on your health and risk factors. During the annual wellness visit, the doctor will:
Measure height and weight
Measure blood pressure and other routine measurements.

Listen to your heart through your clothes
Review medical and family history
Review Health Risk Assessment questionnaire
Assess risk factors and treatment options
Update list of providers and prescriptions
Set up screening for appropriate preventive services such as diabetes and depression
Check that you are up to date with preventative tests such as cancer screenings, and flu shots (which are all free)
Generally, during a wellness visit, the doctor will not perform exams. The visit is mainly to catch up on your vitals, assess your risks, and provide a treatment plan. When you call your doctor to set up an appointment, make sure to tell them exactly which exam you want. If you simply say "physical" then you will be responsible for what the doctor charges you for the services, which will not be covered by Medicare. A simple mistake could end up costing you hundreds of dollars!