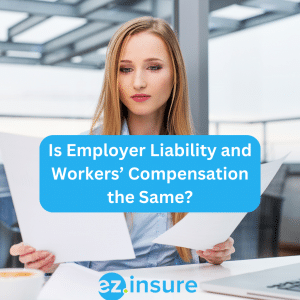 If you're running a business, you probably know that you need workers' compensation insurance to protect both your business and your employees in the event that they sustain an injury at work. Not only that, but most businesses have to have workers' comp insurance in most states. But you might have also heard of employer liability insurance and might be wondering whether these are two separate types of policies, and if you need both.
So, we're here to clear things up. Workers' comp insurance and employer liability aren't technically the same, but they do go hand-in-hand. When you buy workers' compensation insurance, employee liability insurance is part of your policy. Employer liability is the part of your policy that protects your business from going bankrupt if you face a lawsuit and are liable for an employee's workplace illness or injury.
Workers' Compensation Insurance
You are probably more familiar with the term workers' compensation than employer liability. Since, as we pointed out above, you most likely need this type of insurance to operate your business. And even if it wasn't mandatory, this type of policy would be incredibly important: workers' compensation insurance will pay for an employee's medical expenses as well as a portion of their lost wages if the employee becomes ill or sustains an injury on the job.
For example, your workers' comp policy would pay for medical care and lost wages if an employee gets an injury while doing heavy lifting, or after slipping and falling on a wet floor. It would also pay out if an employee got sick from long term exposure to dangerous chemicals on the job. 
Workers' comp insurance, like any other type of commercial insurance, comes with its own set of things it covers, as well as conditions and exclusions. Workers' compensation insurance typically covers:
Medical care resulting from accidents that happen to workers while they are at work

Lost wages (within limits) after an employee is injured or becomes ill because of their job

Ongoing care needed as a result of an employee's illness or injury

Funeral expenses, paid to the worker's family if the employee passes away from their injury or illness

Treatment for repetitive stress injuries
Employer Liability
Now that we've looked broadly at workers' compensation insurance and what it covers, we can take a closer look at employer liability insurance, which is included in a workers' comp policy. This embedded policy is meant to cover your legal fees if an employee alleges that you were negligent in preventing, or even treating, the injury/illness that they are receiving workers' comp payouts for.
For example, if an employee is injured while using a power drill, and workers' compensation doesn't cover all of their medical bills, or they want to seek damages for emotional distress, for example, your employee can seek more compensation in other ways. They can sue you for not properly maintaining the tool. 
A claim like this can cost you a lot of money. But your employer liability insurance will cover the cost of any settlements or judgements made against you. And it's important to note that whether or not you are liable, you are still responsible for covering the cost of defending yourself against any claims brought against you. So that makes it extra important to have proper employer liability coverage. Since it will also cover the cost of your defense.
But getting employer liability insurance is fairly straightforward. As we pointed out above, workers' compensation usually includes employer liability as part of the policy. So, you'll be getting a 2-for-1 deal, just make sure you have the right coverage for your business. If you're unsure what you need. Speak to an EZ agent about how workers' comp works in your state, and what kind of employer liability coverage your policy should have.
Types of Workplace Injury Cases
Claims for injuries sustained on the job can take many forms. let's look more specifically at what employer liability covers. The following are examples of situations where you may benefit from having employer's liability insurance. So, that you would not have to pay the costs of litigation. Or any eventual settlement, judgment, or damages awarded by the court out-of-pocket.
Consequential bodily injury –

Imagine an employee has a serious accident that could end his or her life. The stress of the situation also causes a heart attack in a member of his immediate family. The other family member could actually sue your business for monetary damages. Since their condition was a direct result of your employee's work injury.

Negligence –

If your employee sustains an injury at work. They can claim that the accident was because your company did not have adequate safety measures in place to prevent it.

Third party over-action –

If an employee is hurt on the job, they have the option of filing a lawsuit against a third party (like a machine manufacturer). The other business may in turn decide to file suit against you. And claim that you did not properly maintain your equipment, and this improper maintenance caused the accident. 

Dual capacity –

Let's say your business designs and builds a piece of machinery. Say your employee sustains an injury while using this equipment. Your employee has the right to sue you in the capacity of their employer as well as the manufacturer.

Loss of consortium –

This type of lawsuit is typically filed by a worker's family member if an employee dies or suffers a catastrophic injury (such as neurological damage) that prevents him from working or performing their everyday duties and functions. 
The Key Differences
Now that you know the basics of both workers' compensation and employer liability insurance, it's time to dive into the key differences between the two. These policies complement one another, but they do cover different things. When workers' comp stops paying, your employer's liability policy kicks in. Both policies cover injuries that happen on the job, but in different ways. 
Here are some key differences between the two policies:
Workers' compensation protects employees, and employer liability protects a business from lawsuits filed by third parties.

The state's wage rate determines workers' compensation insurance payouts. There is also a maximum amount. But payouts from employer's liability insurance have no limit.

When compared to workers' compensation, employer liability coverage is more extensive because it covers a wider variety of claims. 
The Cost
As you saw above, you can get both of these coverages in a bundle as workers' compensation insurance. So, let's take a look at what that might cost. In general, the amount your business will have to pay for workers' compensation insurance is typically calculated per every hundred dollars of your company payroll. While it's impossible to give an exact figure without first taking into account the variables unique to your business. You can typically expect to pay anywhere from $0.60 to $2.27 per $100 of payroll for workers' compensation. 
In general, the amount you will end up paying can be affected by things like: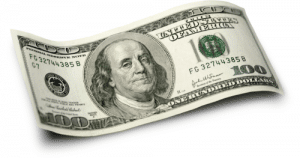 The state your business operates in – Please see our state-by-state workers' compensations guides for more specific information on how this coverage works in your state. And how much you can expect to pay.
How many employees you have

– The more employees you have, the greater the risk of injury in your workplace. Just by sheer numbers

How much you pay your employees –

Again, your insurance company partially determines you rate on every $100 of payroll.

If you have seasonal workers
The type of work your business does –

If all of your employees are office workers, your risk (and your cost) will be much lower than if your employees work with dangerous equipment or chemicals.

Claims history –

Workplaces with few or no workers' comp claims will be able to enjoy lower rates. So, make sure your workplace is as safe as possible!
It's important to note that you might not technically need workers' comp if you have few (or no) employees. In some states, employers with fewer than five employees do not have to carry workers' comp. For example, in the state of Alabama, only businesses with five or more employees are mandated to carry workers' compensation coverage. 
With that being said, coverage is mandatory in most states for any company with even one worker. So, check out our state-by-state guides to workers' comp. Then speak to an EZ agent for help finding out what your business needs and how much you can expect to pay for a policy.
How EZ Can Help
It is important to keep in mind that both your business and your employees will benefit from having workers' compensation insurance that includes the right amount of employer liability. If you have any further questions about the specifics of workers' compensation or employer liability, a knowledgeable EZ agent is available to answer them now. We help you find the best plans and our help is free! We can give you free, instant quotes, just enter your zip code into the bar above. Or speak to someone right now, call 877-670-3538.