Shortened Open Enrollment Period- When Is The Deadline & What This Means For You
This year the government has decided to shorten the Open Enrollment Period from three months to only six weeks, lasting from November 1, 2017 to December 15, 2017. If you sign up during this period, coverage does not start immediately, it begins January 1, 2018. With a shortened amount of time, it is important to be diligent and look into plans as early as possible. If not, you can end up getting stuck with a plan that does not suit your needs, or even worse, miss out on signing up for a plan altogether.
Some states have extended their open enrollment period to allow people more time in choosing a plan. These nine states are highlighted on the map below: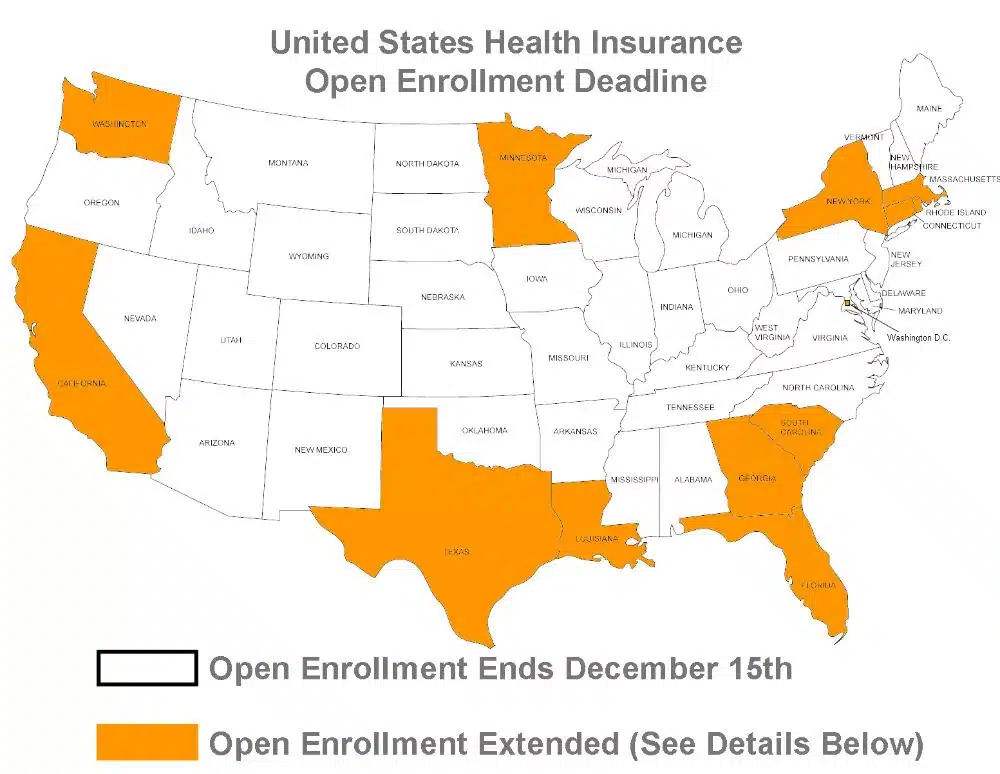 California – November 1, 2017 to Jan. 31, 2018
Colorado – November 1, 2017 to Jan. 12, 2018
Connecticut – November 1, 2017 to December 22, 2017
District of Columbia – November 1, 2017 to Jan. 31, 2018
Florida – November 1, 2017 to Dec. 31, 2017
Massachusetts – November 1, 2017 to January 31, 2018
Minnesota – November 1, 2017 to January 14, 2018
New York – November 1, 2017 to January 31, 2018
Rhode Island – November 1, 2017 to December 31, 2017
Washington – November 1, 2017 to January 15, 2018
Select Georgia Counties – November 1, 2017 to Dec. 31, 2017        

Camden, Charlton, Chatham, Coffee, Glynn, Liberty, McIntosh

Select Texas Counties – November 1, 2017 to Dec. 31, 2017             

Aransas, Austin, Bastrop, Bee, Brazoria, Caldwell, Calhoun, Chambers, Colorado, DeWitt, Fayette, Fort Bend, Galveston, Goliad, Gonzales, Grimes, Hardin, Harris, Jackson, Jasper, Jefferson, Karnes, Kleberg, Lavaca, Lee, Liberty, Matagorda, Montgomery, Newton, Nueces, Orange, Polk, Refugio, Sabine, San Jacinto, San Patricio, Tyler, Victoria, Walker, Waller, Wharton
Not all states can change their open enrollment period, but there are three more states that can extend at anytime. These three states are Idaho, Maryland, and Vermont.
Not only has the open enrollment time been reduced, but there are also added provisions
1. Special Enrollment Period- When the open enrollment period is over, people may enroll during the special enrollment period. These circumstances are such as when you adopt or have a child, get married, lose coverage from employer, or move outside network area. With the change of a shorter enrollment period, came a stricter ruling on special enrollment. Now you need to send documentation in a short period of time to prove your circumstance, whereas before they just took your word on it.
2. Non Payment Loopholes Removed- Some people learned a loophole to save money during open enrollment. They would stop paying their premium in the months leading up to enrollment so their plan gets cancelled. But now with new provisions, you cannot switch coverage unless your old coverage is paid in full. Due to this rule, a lot of people who are behind on payments will not be able to sign up.
How Does This Affect You
In the previous year, when the open enrollment period was 3 months, more people signed up later in the open enrollment period. During the second half of the 3 months (about 7-12 weeks) is when 60% of new enrollments occurred and when people switched plans. With only 6 weeks open, people are forced to make a quicker decision in choosing a plan, and some might miss out completely. Enrollees who signed up in January, and had a Feb. 1 effective date, were healthier on average than those with a Jan. 1 effective date. People who are healthy may procrastinate and miss out on open enrollment this period, and these healthy procrastinators are the ones who balance the risk pool and lower premiums.
How This Will Affect The Healthcare System
Insurers do not favor longer open enrollment periods. This is because people will wait until they are sick before they apply for coverage, and then insurers will have to cover their pre-existing conditions. Insurance companies fear of going broke due to all the sick individuals they must cover. If the healthy procrastinators do not sign up because they missed the opportunity, then the premiums will go up in order to cover those who are sick.
Given the shorter amount of time to sign up for insurance, it is very important to go over plans and choose the best one for you, rather than making a rushed decision. In order to better prepare yourself, you need to consider some things when purchasing a health insurance plan. You need to consider past health needs, future health needs, pharmaceutical needs, and your financial situation. Ez.Insure will help you choose the plan that suits all those needs. Simply put your zip code in the bar above to get started, or contact us through email at Replies@ez.insure or call 888-350-1890 . One of our agents are always ready to help you at no charge, with no obligation.