Multiple researchers and weather organizations are predicting a more than usually active hurricane season this year. According to noted forecasters at Colorado State University, we could see 16 named storms, 8 hurricanes, and 4 major hurricanes develop in the Atlantic Ocean during the June 1 – November 30 hurricane season. When you consider that an average hurricane season brings around 12 named storms, 6 hurricanes, and 2 major hurricanes, these predictions could mean big trouble for the eastern seaboard of the United States.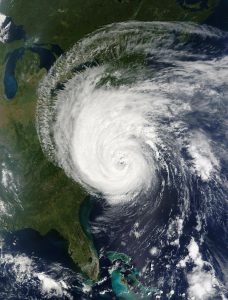 If your business is located in an area that is considered vulnerable to hurricanes (or really anywhere on the east coast – remember Hurricane Sandy in 2012?), then you need to take the time to seriously review your insurance coverage, and make sure that your business is protected. A great way to start is by reviewing our hurricane season insurance checklist.
The Impact of Hurricanes
Before we start on the specifics, let's take a look at some examples that illustrate how hurricanes affect businesses. On a large scale, the impact of hurricanes on businesses can sound astronomical: Hurricane Dorian in 2019 caused an estimated $25 billion in insured damages, Hurricane Irma in 2017 caused businesses to lose a staggering $2.75 billion in sales, not including damages to property, and Florence in 2018 caused around $700 million in lost sales. 
It may be hard to wrap your head around those figures, but consider that, according to the U.S. Small Business Association (SBA), 90% of small businesses fail within two years of being struck by a disaster. It's not hard to see why. Take the example of John Treece, founder and CEO of DMA Sales, which sells automotive parts to big box retailers and distributors out of Tabor City, North Carolina. His business was hit hard by Hurricane Florence in 2018, and he had to close up shop for 2 whole weeks. He also lost the roof of his warehouse when it was literally "peeled off" by the wind, which caused a further $200,000 in water damage to his inventory. Many small businesses would not be able to survive a long-term closure or such a huge financial hit. That's why making sure you have the right insurance is so important.   
The Checklist
It is clear that hurricanes can have an overwhelming financial impact on the economy as a whole. And the individual example above makes clear that behind all of those big numbers, there are many small business owners who are left struggling to keep their businesses afloat. The right insurance policies can help. 
Although small business owner John Treece was hit by one hurricane, the damages done to his business were caused by different things: wind, water, and forced closure. He would actually need multiple types of insurance policies to make sure that his losses were covered. As a business owner, you need to sit down and evaluate what you currently have and what you might need from the following checklist: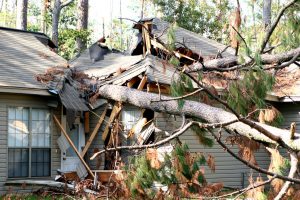 Property Insurance –

most of your business' hurricane coverage will come from your commercial property insurance. If you have a bundled

Business Owner's Policy (BOP)

, then general property damage will be covered under this policy. However, if you are in a hurricane-prone area, then it's a good idea to take a closer look at what type of property coverage is available based

on your location, your proximity to the coastline, and your carrier. Depending on these factors, and how much you are willing to pay, you may have:
All Peril –

this is the most comprehensive type of policy, and will cover everything except what is specifically excluded from it.
Named Peril –

this type of policy is cheaper than All Peril, but covers a lot less. As its name implies, it covers

only

what is named in the policy.
Wind and Hail

– this is the cheapest of the policies, but it only covers damage caused by wind and hail. If rainfall is a concern, you will need a more comprehensive policy.
Flood Insurance –

if there's a chance that you could be hit by a hurricane, it is vitally important to know that water damage is NOT covered in the same way as wind or storm damage. In John Treece's case above, his water damage should be covered as storm damage under his property insurance policy. Why? The difference is

where

the water comes from. His water damage was a result of rainfall from above. If, however, rising water had flooded his warehouse, he would have had to have flood insurance to cover his losses. Rising water is

not

covered under most policies, so make sure you are not only covered for wind and storm damage, but also flood damage.

Business Interruption Insurance –

the above policies cover the physical damage to your business, but what about the losses you will incur from having to close your doors for an extended period of time? Repairing your business won't be much use if you lose so much money that you are unable to reopen. Business interruption policies will help cover things like lost profits, employee wages, and the costs of a temporary location. These types of policies are add-ons to your other commercial insurance, so ask your

agent

about your options.
Don't Forget the Basics
If you already have all of the policies above, great – but don't sit back and relax yet. Don't forget to check all the basics related to your policies, like:
Are the policies up-to-date?

What are the deductibles, and are there deductibles that are specific to named storms/hurricanes?

Do you have off-site property or inventory, and is it covered?

What could happen if you need to evacuate and leave your business empty for days or weeks? For example, could mold become an issue and, if so, will your policy cover the clean up?
Hurricanes and major storms will happen. Nothing can change that, and nothing can fully take away the stress and heartache of seeing all of your hard work threatened. But the right insurance policies can help to make things right if the worst happens. At EZ.Insure, we're here to help you find the right coverage. We'll connect you to your own knowledgeable agent who will review all of this information with you and find the right plan at the right price for you. No hassle, no obligation. Let us help bring you peace of mind. To get started simply enter your zip code in the bar above, or you can speak to an agent by calling 888-615-4893.