Being a business owner has its perks, but it also comes with a lot of responsibilities. One of these responsibilities is keeping your employees happy and healthy by offering them some kind of health benefits. Group health insurance can be quite costly, but there are other alternatives you can offer that will help your employees get the care they need. For example, offering a defined contribution plan would help keep your employees covered, while keeping costs down for you.
What Is Defined Contribution?
If you choose to offer traditional group health insurance, you will have to pay a large portion of your employees' premiums. While your premium contributions are tax deductible, they can still be expensive, and these contributions are just not possible for some businesses. But defined contribution plans are not traditional health insurance plans. With this type of plan, you provide a fixed dollar amount towards your employees' healthcare costs, and they are responsible for purchasing their own health insurance policy. This can also include offering pre-funded accounts or arrangements like HSAs or HRAs to your employees. By going the defined contribution route, you will be able to better control your monthly costs.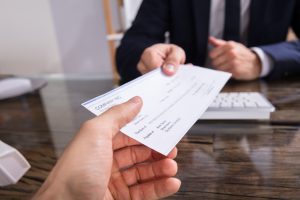 How It Works
If you choose to offer a defined contribution plan, each of your employees will get a fixed monthly dollar amount to spend on qualified medical expenses. Employees then select and purchase a plan for their family and you reimburse them up to the amount of their defined contribution allowance. The amount you select is locked in for a year, but you can adjust your contribution at the renewal period, and choose to provide more or less money for the following year.
The advantage of these plans is that they allow your employees to take control of their own healthcare costs. Employees can use their defined contribution allowance toward any qualified out-of-pocket health expenses, including insurance premiums and medical procedures. If they choose a plan with a premium that costs more than your defined contribution, then your employee will have to pay the difference.
Benefits
Defined contribution plans can be beneficial to both employers and employees. For employers, they provide:
Tax advantages–

 Your contribution to your employees' healthcare costs will mean less for you to pay in payroll taxes.

Flexibility-

A defined contribution plan is a self-funded plan, so you can choose how much or how little you want to contribute. You can also customize benefits for an unlimited number of employee classes, meaning you can choose to set contribution amounts based on date of hire, full-time status and more.

Employees will have the ability to choose their own health insurance plan.
For your employees, they provide:
Tax advantages-

Employees will not pay payroll taxes on the money you contribute. In addition, as long as they use the contribution, it is also income tax-free. 

Lower monthly premiums-

Individual health insurance costs less than half the amount of group coverage.

Choices-

Employees have the ability to choose the insurance company and plan that is best for their specific needs.
Need Help?
You're running a small business, and we know that it is important for you to save as much money as possible. But we also know that employees will be more willing to stay with your company if you provide health benefits; if you don't, you could end up losing some good workers. You need to keep your employees healthy without breaking the bank, and that means researching the different healthcare benefits you can offer your employees. EZ can help with that, and we'll do it for free! We will compare all plans in your area and help guide you in the right direction. One of our licensed agents will work with you to ensure you get the most benefits while saving the most money. To get free instant quotes, simply enter your zip code in the bar above, or to speak directly with an agent, call 888-998-2027.