So, you've decided to take the plunge and start a small business. Congratulations! You're in good company. As we saw with the recent pandemic, many people have left the traditional 9-to-5 pursue a creative, flexible career. Becoming an entrepreneur takes creativity, guts, and vision; it also requires dedication, strategy, and organization. This last requirement is sometimes overlooked, or dismissed by some people as something that you either have or you don't. But there are tools to help you improve your organizational skills! Whether it's a bullet journal, goal-tracking app, or massive wall calendar, having a system to organize your goals, plans, and to-do list is critical to success, so we've rounded up some of the best tools to keep yourself organized.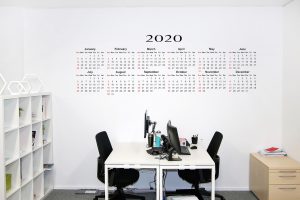 For The Creatives
If you're running a creative business, why not choose a calendar or planner that allows you the freedom and flexibility that works for you. 
Moleskine Classic Journal: Dotted.

This blank notebook leaves you free to design your calendar however you want. Moleskines are the prized possessions of many avid bullet-journalers because of their customizability. Be sure to check out the many pinterest boards dedicated to bullet journal layouts. The Moleskine Classic also comes in lined, blank, and grid layouts.

Passion Planner: Undated Yearly.

This journal has had a cult following since it first came on the scene a few years ago. Creator Angelia Trinidad's goal in creating this journal was to help "simplify your life and focus on

what really matters

", so it includes things like a "passion road map", tips for goal setting, monthly and weekly reflections and planning, and more. Best of all, all of their planners are available in a free PDF, so you can print one out at home and try it before you buy it.

The Daily Greatness: Success.

This yearly planner has it all! The weekly pages have a "morning mindset" question to start your day off right, daily checklists, appointment scheduler, and action trackers. This planner also offers monthly check-ins to review what's working and celebrate progress, as well as monthly action planners to reset your focus for the next month. The creators say it offers an "intuitive flow that keeps you on-track and aligned with your goals".
For The Techies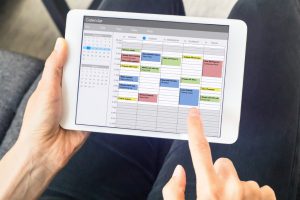 Are you a tech-savvy business owner? If your phone is always in your hand, try these apps for organizing your phone, business, and life.
Todoist: Available on all devices.

This powerful all-in-one organizational app is easy to use and easy on the eyes, with a bright, colorful user-friendly interface. It can make to-do lists, delegate tasks, & allows you to see tangible progress across your tasks. Todoist also uses a nifty team-based approach, so you can check in on the progress of coworkers or family members. Best of all, it's available on virtually all devices, so you can sync lists from your Microsoft tablet to your Apple watch.

Trello: Website, iOS and Android.

Trello is an excellent tool for collaborating on projects. They offer "boards" as a way to organize different projects across teams, time management tools, and even an option to add everything you're working on to the Slack app. 

Calendly: Website.

Calendly

is great for

managing meetings

and scheduling for groups. Instead of sending out multiple " are you free?" emails, Calendly organizes everything  for you. It is formatted for most email hosts, and is very user friendly. 
For The Traditionalists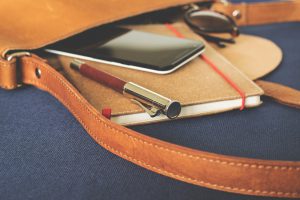 If you want to stick with the tried-and-true, turn to some of these more traditional organizational tools.
Weekly Planner.

A small, brightly colored calendar you can throw in your bag is a must-have for any busy person. Great for jotting down notes, making lists, and scheduling things on the go.

Monthly Planner.

Monthly planners are a great way to organize your month and keep track of the many hats business owners wear. 

Dry-Erase Wall Calendar.

Great for marking down monthly appointments, important dates, and keeping your to-do list in your sight.
There's not one single solution for organization. We all have different ways of thinking, processing, and filing away information, so what works for someone else might not work for you. The trick is to keep trying until you find a system that is right for you.