Retirement can be great, but it's not for everyone. Some people just thrive on the sense of purpose or the social engagement that being in the workforce gives them – and the extra money to fund the fun stuff in life doesn't hurt, either! In fact, if you're at retirement age, or heading there soon, and are still working or want to work, you are very much not alone. Just consider these stats:
A 2019 survey found that 27% of respondents who were currently planning their retirement planned to work at least part-time later in life, and of those who were already retired, 19% were working part-time.

In 2014, the U.S. Bureau of Labor Statistics (BLS) reported that approximately 40% of those aged 55 and over were working or actively looking for work. That number was predicted to grow by the end of 2024 to 41 million people over the age of 55 (with 13 million in that group over the age of 65) engaged in the labor force.

The U.S. Census Bureau reported that in 2015, there were 4.6 million men and 3.7 million women in the labor force who were over 65 years old. A total of 5.3 million full-time workers were 65 or older.
So does all this mean that having a side gig is the new retirement? Maybe: it all depends on what you want out of your golden years. But if you'd like to spend some of your free time in retirement getting back out there, now is a great time! Let's look at why, and how you can start the search for something that's right for this chapter of your life. 
The Great Resignation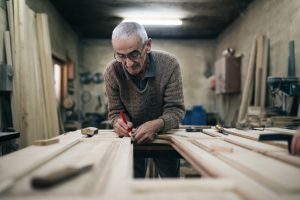 We've often heard (or experienced) that finding a new job when you're of a certain age can be tough. Unfortunately, agesim is still a major issue in our society; some employers have been unwilling to see past age, and see instead the valuable experience older employees have to offer. 
But there's something going on that might actually be turning that on its head: the so-called "Great Resignation" that started during the Covid-19 pandemic could be the opportunity that older job seekers need to give them a leg up. According to Kerry Hannon, author and career expert, "It is a fantastic time for someone over 45 or over 50 to get back in the market. Employers are grappling with finding workers who have experience that can hit the ground running. They've been going for a bunch of months now without filling positions that they really need."
Just how great is this Great Resignation? An average of 3.98 million people quit their jobs every month in 2021, and numbers out of the BLS from January of this year showed a record-breaking number of people quitting their jobs in November of 2021. 4.5 million people, or around 3% of workers, walked off the job that month. And even if things are leveling off, job resignations are still up 23% above pre-pandemic levels, and employers are looking to fill the over 11 million vacancies in the job market. In fact, they're scrambling to bring in workers by offering better working conditions: for example, employers in the private sector have raised hourly pay by about 5% in the past year, according to federal data.s
All of this is good news for anyone who wants to get back into the job market. So if you're an older job seeker itching to take advantage of these opportunities, how should you get started? 
Starting Your Job Search
You've got enthusiasm, experience, and wisdom – now you just need to get yourself out there! Try the following tips, geared especially towards all of you more mature candidates.
1. Let Employers Find You Online
If you're interested in getting back out there, the first thing you need to do is let employers know you're looking – and these days, that means heading to LinkedIn and creating a profile. LinkedIn is buzzing with activity these days with all of the employers looking for candidates, so if you're looking for a more skilled or professional position, this is a great place to start. 
You might think that the world of social media automatically puts older adults at a disadvantage, but with a professional site like LinkedIn, you'll have an advantage: you have lots of experience and lots of different facets of your life to put in your profile. Make sure you highlight all of this, so employers can see the full package that they'll get if they hire you!
2. Find Employers Online
Once you've gotten yourself out there in the digital world, stay online and check out some job search websites to see if there are any openings that appeal to you. You can look at some general sites, like Indeed, or you can also head to some senior-specific sites, like:
Retirementjobs.com

Rent a Grandma (specializes in work for nannies, caregivers, chefs, house care helpers, pet sitters, tutors and personal assistants)

Seniors4Hire

Workforce50.com

AARP Job Board

SecondAct Work

Jobs 4.0
3. Refresh Your Skills
They say you should never stop learning, right? Taking some time to learn some new skills (or brush up on what you already know) is always a good idea, but it's especially important if you're looking to get back into the job market. Try an online class in a new technological skill, or even checking out a local community college – many have low-cost tuition for older adults. You can update your computer skills or knowledge about technology, and while you're at it, any other skills you may want to update.
4. Get Back into Networking
In addition to all of your experience and wisdom, you've also got the advantage of having a lot of contacts, so check back in with them to see if anyone is hiring or knows someone who is. And even if you already have a pretty big network, you can always expand it. Consider joining (or rejoining) a professional organization in your field, or attending a conference with someone who's still in the workforce. And don't forget about getting on LinkedIn!
5. Consider Fast-Growing Fields
Not married to a job in any one particular field? Then familiarize yourself with the fastest growing job markets, where you're most likely to be welcomed as a valuable addition. For example, looking for positions in the health care, social services, and hospitality industries, just to name a few, could mean better odds of getting your foot in the door.
6. Try Temping or Volunteering
If you're having trouble landing exactly what you want, or are looking to start slow or small, consider temping or volunteering. Temping is an easy way to brush off your skills and ease yourself back into work if you're a little rusty, and you'll be making a little money while you do it. Volunteering is also a great idea: while you won't be earning anything, you will be getting the pick-me-up of doing something you care about, while also gaining skills and meeting contacts. 
If you've reached retirement age, nobody is going to blame you for wanting to take some time to go lie on a beach (or in a hammock, or on your couch) for a while (or forever) and just relax. You've spent a long time in the rat race! But if you find the calm of retired life just isn't for you, and you decide you want to get back out there, we're all for that, too – and now is a great time! Employers need people like you, and would be lucky to have the benefit of your years of experience, so if you're curious what's out there, take a look. You might just find your second act!