Those of us who are suckers for a crazy, sweaty workout know the meaning of motivation. So do those of us who have ever been moved to support a worthy cause or work in some way for social justice. It's that sense of taking one small step (or burpee!) towards being better than the day before. That's what seems to drive Coss Marte, founder of Conbody, which offers "prison-style" workouts in a Manhattan studio as well as online. Most of his adult life has been about that dedication to improvement: he went from changing his own body while in prison to helping other inmates do the same. From there he went on to change his whole life by building a business that breaks down barriers and gives others the chance to turn their lives around. 
"I Wasn't Going to Die in There"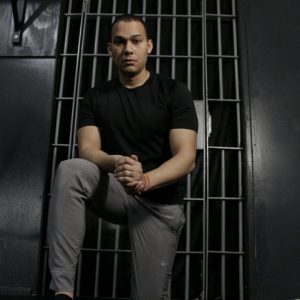 You could say Conbody – and Coss Marte's journey to where he is today – all started with a diagnosis from a prison doctor. 
When I spoke with Marte, he hinted that he wasn't exactly the picture of health in his youth. He spent his time drinking and smoking, and was overweight with skyrocketing cholesterol and blood pressure. But that wasn't the only risky business he was involved in. He was arrested for the first time at the age of 13 for a minor drug offense, which led him down the all too familiar path of kids who grow up struggling with poverty and lack of opportunity. He spent the next 10 years in and out of prison, and by the age of 19, he was something of a drug kingpin in his neighborhood. It all came to an end when he was arrested for the last time in 2009 at the age of 23. 
Marte was sentenced to 12 years in prison, which was later reduced to 7 years. When he entered prison, the doctor gave him a clear warning: because he was so overweight, and his cholesterol and blood pressure were so high, he was likely to suffer a fatal heart attack within 5 years. When he heard that, his mind raced to the 7 years he had been sentenced to. "I wasn't going to die in there," he said.
"We Didn't Think Anything of It"
The doctor who had warned Marte told him to try and get some exercise and that's what he did; after all, he had an infant son to think about. Marte started small, by walking the prison yard, but he eventually developed a whole bodyweight fitness routine and ended up shedding 70 pounds in 6 months. His routine – and his results – caught the eyes of other inmates, and he offered to train them, as well. He says that he helped his fellow inmates lose a collective (and impressive!) 1,000 pounds.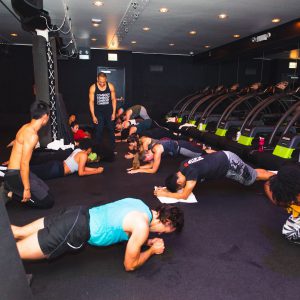 While in prison, Marte says he thought of his fitness "classes" as just a "camaraderie builder," not the seed for a successful business. "We didn't think anything of it," he said, "I didn't think I was going to come up with a business." But when an altercation with a prison guard landed him in solitary confinement, Marte had a lot of time alone with his thoughts. He thought about how he wanted to change his life, and how he wanted to continue helping people.  "And that's when Conbody was born," he said. 
After serving 4 years of his sentence, Marte was released from prison a changed man. He was fitter, healthier, and determined to stay out of prison. But opportunities for formerly incarcerated people can be few and far between. It's no wonder that many end up back in prison: a study done in 2018 found that the unemployment rate among former inmates was 27% (approximately 1,350,000 people) compared with 4% for that of the general population at the time. 
Since he couldn't find a job, Marte decided to accelerate his plans to start his own fitness-related business. He started offering personal training sessions and doing his intense routine in parks and in the streets. He was relentless about getting his name out there. He says he did everything from making announcements on NYC subway cars to flagging down runners in the street and handing them his card. Through his amazing dedication and hard work, he eventually saved enough money to rent a studio and get Conbody off the ground.
"It Was Numbing"
As his business started taking off, Marte decided that he would hire only formerly incarcerated people to lead his classes. He had seen first-hand the revolving door of the U.S. prison system, and, while he had found a sense of camaraderie in prison through his fitness classes, he also said that seeing the same people return to prison over and over again was depressing. "It was all a bit numbing," he said, "guys would go out and come in again within weeks. I saw one guy in there who I'd been in juvie with. It was sad." He knew that giving someone an opportunity would mean the difference between them reoffending and changing their lives. 
Marte also had first-hand experience of how hard it is to land on your feet when you get out of prison. What puts many on what has been called the "poverty path" of formerly incarcerated people is the discrimination they face and their inability to get a job because of it. In fact, only 55% of formerly incarcerated people report earnings in their first year after release, and those who are employed have a median annual income of only $10,000, according to the Brookings Institution.
And there's generally no help to be had unless you have a family to fall back on. "You're released with $40 and a bus ticket," said Marte. "You're hungry once you do a long period of time! The first thing you're going to do is enjoy a meal…so you spend $20 at McDonald's, then where do you go? You have to deal with that."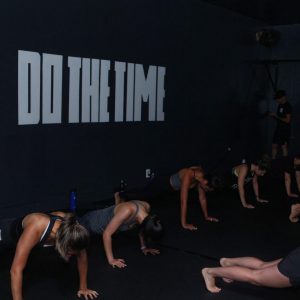 So now Marte gets tons of "jail mail" and requests to be involved with Conbody: "Finding employees is the easy part!" according to Marte. He's now given jobs to dozens of former inmates. He vets them and gives them a 2-month paid internship, starting them off with janitorial or front desk work while they get their certification. He partners with nonprofits to help them with housing, f
ood, and clothes if they need it. And the recidivism rate of his employees? Zero. Yes, in a country that regularly sees recidivism rates of 40-64%, Marte has seen none of the people he has helped return to prison. If that isn't an argument for expanding opportunities for – and overcoming discrimation against – formerly incarcerated people, then what is? 
"We Are Fighting, We Are Breaking that Cycle"
When asked if he sees himself as more than a business owner – as a community leader – Marte humbly replied, "I see myself as somebody who's gonna put my head down and work and I get a lot of respect just for that. I just try to help anybody who wants help and is willing to work for it." But what he's doing goes beyond just helping one former inmate at a time, as important as that is. His business is successful because he is building a unique community, and breaking down barriers between people. 
The people who attend his classes are primarily young, professional women, who he believes are looking for businesses with more behind them than just a profit motive. "People really want to get back to a business with a positive social impact," he said. "They're scared of meeting someone that was in prison, they've neer met one before, but they see they're just human beings, and this person had struggles, that's why they ended up where they did. Breaking down barriers is part of our mission statement – it's very special." He brings together two very different groups of people, who end up learning from each other. 
"People are opening their eyes, they are seeing that black and brown people have been hugely impacted through the criminal justice system. Once [someone is] arrested we need to figure out that person's story, they need to be understood and heard. We are headed in the right direction, but a lot of work needs to be done."
How You Can Help
Marte's new step forward is a job training program called Second Chance Studio that will teach former inmates to be more "tech savvy" so they can work in industries such as media production. While he has been working on this project for about a year, Marte recognizes that it is needed now more than ever: many formerly incarcerated people are manual laborers, and those positions have been drying up since the recent pandemic. If you'd like to help get this project off the ground, visit its kickstarter page here. You can also check out some of the nonprofits that Conbody partners with, such as Thrive for Life, Reform Alliance, Fortune Society, and Housing Works. And, of course, don't forget to check out the workouts themselves! If you're in NYC, you can attend a live class, or if you're further afield, you can buy on-demand classes or even take part in live streaming classes! Coss Marte guarantees that these bodyweight-only workouts will be the hardest of your life.  And he knows a thing or two about tough.