Climate change is one of the biggest threats facing our world today. While some celebrities have made themselves the faces of the climate change movement, there are many unsung heroes working everyday to make a difference. As a business owner, you too can take actions to help slow the damage being done to our environment. With some easy, low-cost changes, your business can play an active role in supporting environmental efforts for a safer and greener future. 
Move Online
Offer your services online
Consider switching to online invoicing and payments to limit your businesses' reliance on receipts and trips to the bank for deposits. There are a variety of options for these programs. Many of them will save money on supplies and will allow to you to receive payments faster. 
In the age of the internet, there are endless ways to use our permanent "online" status to market your business. Try exploring all of the ways social media can help build your brand, or switch to email campaigns rather than flyers or postcards. These incredibly effective marketing methods will help you save precious resources.
Changes Around the Office
Make your office environmentally friendly
If you have a brick-and-mortar location, try switching to compact flourescent lightbulbs, choosing laptops over desktop computers when possible, utilizing energy-saver settings on computers, and offering reusable cups for coffee and water. 
In this day and age, almost all companies have a sustainability plan. Ask your vendors about their environmental efforts! For example, if your business requires shipping, look into companies that use energy efficient vehicles. On your end, you can switch to mailers made out of recycled materials and paper stuffing instead of bubble wrap.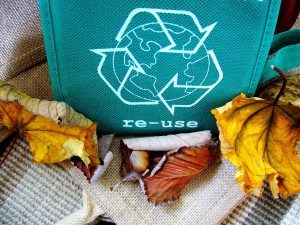 Start a recycling initiative in your office. Aim to have more recycling than trash. Make sure you follow your community's recycling guidelines for things like electronics, glass, and ink cartridges. 
Steps Toward Sustainability
Your business may be thriving, but our planet is struggling. While there is no single solution to the imminent threat of climate change, reducing your carbon footprint can help slow the impact. By participating in efforts to save our planet, you demonstrate your leadership, and a commitment to helping our planet thrive. All of these changes, though small, are a step forward on the path to a greener, more sustainable future.