In the dog days of summer, the last thing you want to do is come home and cook dinner. Sweating next to a hot stove, or having the oven turn the house into an inferno can seem like a very unappealing prospect. But, your family has to eat, and you can't get take-out every night! When the day is too hot to handle, turn to an old reliable: the crockpot.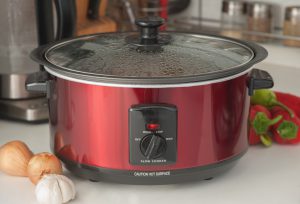 Slow cookers seem to have made a comeback recently, especially for winter comfort foods like cozy soups and rich stews. But you can also use them to make lighter summer meals and eliminate the need to turn on your oven or stove. Slow cookers take a little extra planning, but your reward for thinking ahead will be a virtually hands-off meal with minimal prep time. 
Below are some delicious summer slow cooker staples. You'll see that these recipes do not have precise measurements – and that's okay. Cooking isn't always precise. You should play around with the flavors and seasonings to find your own secret sauce! All slow cookers are different, so be sure to check any raw meat to ensure it's cooked through. 
Poached Chicken
Poaching chicken in the slow cooker gives it a beautiful tender texture. You can shred the meat to make chicken salad, add to pasta salads, or serve alongside corn on the cob & a salad for a light summer meal. 
To poach chicken: Add chicken to the slow cooker and cover completely with cooking liquid (you can use broth, water + bouillon, white wine, and/or any herbs). Cook covered on low for 2-2.5 hours. If the chicken is frozen, cook on high for 2 hours and then turn to low for an additional 2 hours. 
Veggie Fajitas
Slow-cooked vegetables might not have the traditional smokiness of fajita veggies, but they make up for it with their ease and flavor! For fajitas, just layer these vegetables on a tortilla with your choice of shredded cheese, salsa, guacamole, and sour cream, and serve alongside a margarita. You can change this recipe up too – instead of fajitas, omit the beans and add sausage links for perfect sausage, pepper, and onion subs, or fire up the grill and serve kebabs alongside these veggies. 
To make fajita veggies: Cut peppers and onions into thin strips and add to the slow cooker. Add 1 can of diced tomatoes, and season with cumin, paprika, garlic powder, and oregano. Cook on low for 2-4 hours. 30 minutes before serving, drain one can of black beans and add to the slow cooker. 
BBQ Jackfruit 
BBQ jackfruit is a beautiful alternative to meat-based tacos or barbecue plates. Think of it like pulled pork – slow cooked to tender perfection, soaked in your favorite flavorful sauce, the ultimate comfort food. Some grocery stores will carry fresh jackfruit, but canned is better for this recipe. Make sure it's green jackfruit in water or brine – syrup is too sweet. You can also choose to dry-rub the jackfruit before sauteing for extra flavor.
To make shredded bbq jackfruit: Drain, rinse, and thoroughly dry the canned jackfruit. Lightly saute over medium heat with a little oil, until the jackfruit is dry. Transfer to crockpot, toss with BBQ sauce of your choice, cover and cook on low for about 6 hours, until the jackfruit shreds easily with two forks. 
Spinach Artichoke Dip
Spinach artichoke dip is a perfect summer snack that goes with everything from carrots to chips. It's great because it can be served hot, right out of the slow cooker, or chilled in the fridge. Try switching up the ingredients based on what you have on hand – try adding in the last of a bag of kale, a rind of cheddar, a squeeze of lemon, or a handful of basil. This could also be tasty with some of that poached chicken!
To make spinach artichoke dip: Add one 12 oz package of frozen or roughly chopped fresh spinach, 1 block (8oz~) of cream cheese, and 1 cup of sour cream or greek yogurt to your oiled slow cooker. You can also line the crock pot with tinfoil if you're worried about mess. Mix in 1 cup of shredded mozzarella, ½ cup of grated parmesan, and 5 minced cloves of garlic. Cover and cook on low for 2-3 hours or on high for 1 hour, until the cheese is melted. 
Peach Dump Cake
This recipe takes the cake for the easiest dessert! It's perfect served warm under a scoop of vanilla ice cream. You can use any boxed cake mix, and experiment with any fruit. Fruit that is in season is best, but canned works just as well. You can also add spices or seasonings as you like; for example, try a yellow cake mix with fresh strawberries, a dash of vanilla extract, and served with sprigs of basil. Delicious! 
To make a peach dump cake: Slice enough peaches to cover the bottom of a well-oiled crock pot. Sprinkle the fruit with cinnamon and a touch of brown sugar. Cover the peaches with a box of spice cake mix, and scatter 4oz of cold, cubed butter on top of the cake mix. Cover and cook for 2 hours on high, 4 hours on low. Serve with ice cream or whipped cream and garnish with mint and extra peach slices.