The last few years have been rough for a lot of people, and we're not just talking psychologically. The pandemic hit a lot of people right in the wallet, although there are some silver linings, including the fact that, according to some studies, some of us were actually able to save more money than expected, strangely enough. But if you're not in that boat, know that there is a silver lining for you, as well: the boom in working from home has opened up plenty of opportunities for ways to make some extra cash with legit side hustles. 
What are the advantages to taking on a side gig? You'll be making a little bit of extra money (how much will depend on what you choose to do, and how much time you're willing to put in), which you can use to pay off debts, or put aside for a rainy day or retirement. Plus, most side hustles can be done outside the regular 9 to 5, so if you do have another job right now, or are just looking for some flexibility in your schedule, these gigs can fit into almost anyone's life. Finally, while some side hustles are super simple (which can be great if you're looking to shut off while you work), others can utilize your unique skills, allow you to be creative, or even help you to feel out an idea for a new business. 
So, without any further ado, let's check out some of the best side hustles that will help get you to your financial goals this year!
1. Sell Your Stuff
One of the easiest ways you can make a little extra money on the side is to sell the stuff in your house that you no longer use. Sites like eBay, Craigslist, and Mercari are great for unloading furniture, collectibles, antiques, appliances, or anything else that is just collecting dust around your house. Or got a closet bursting with stuff you don't wear? Mercari and eBay also have thriving clothing marketplaces, or check out apps dedicated to reselling your pre-loved apparel, like Poshmark or Vinted. 
2. Get Driving
When we think of the advent of the "gig economy," we often think of ride-sharing apps like Lyft and Uber, and they remain solid ways to make extra money in your spare time. There are some requirements to hooking up with one of these companies. You have to:
Be 21

Own your own 4-door vehicle that can seat at least 5 people

Pass criminal and driving background checks
If you check all those boxes, you can earn around $15 an hour or more just driving people around. And the best part about it is that you can turn your availability on and off through these networks with the simple click of a button, meaning you can make money anytime you want – or take a break anytime you want!
3. Deliver It
People have gotten very used to having everything they want or need come right to their doorstep these days, meaning there are plenty of ways for you to make money delivering these things. This is especially true when it comes to food: for example, you can deliver for local restaurants through apps like Caviar, UberEats, DoorDash, etc, or you can deliver groceries through apps like Instacart and Shipt.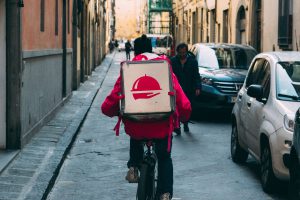 Delivering takeout is a super simple way to make some cash: you simply pick up the food and deliver it, and get paid per order plus any tips. For this type of gig, you'll need a valid driver's license, insurance, and the ability to pass background checks.
Grocery delivery is a little more labor intensive, on the other hand. You'll have to essentially go shopping at the supermarket for each customer and then deliver their grocery order to their house, but you have the potential to make a good haul in tips. 
4. Virtually Assist
With all of the technology at our fingertips these days, you don't need to even set foot in an office to become an administrative assistant. If you've got a lot of extra time on your hands, and are super organized, you can become a virtual assistant, handling administrative work like organizing workflows, scheduling meetings, and filing documents. You could even find yourself getting involved in some higher level skills, like graphic design, copywriting, bookkeeping, translation, and other services – and if you can offer skills like this, you can bump up your hourly rates. Look for these kinds of gigs on freelancing sites, like Upwork, Fiverr, and VA-specific job boards.
5. Spend Time with Some Furry Friends
Instead of scrolling through pictures of puppies and kitties on the internet, why not make a little extra cash dog walking or pet sitting if furry friends are your jam? You can go old school and do some meet and greets at the local dog park or put up flyers on a local bulletin board, or try apps like Rover or Wag. These apps work like many other gig apps, where you sign up, create a profile and get matched with people in your area who need their pets taken care of. You can choose what services you want to offer, like walks only, pet and house sitting, or pet boarding.
6. Write It Out
If you've got a flair for the written word, you can try your hand at freelance writing. If you're not sure where to begin looking for opportunities, you can start with general freelance marketplaces like Fiverr, Upwork and content mills, where you can offer to help out bloggers or become a ghostwriter for people in fields that you feel confident writing about. But if you can get a little success with your writing, try to move off general sites fairly quickly, and try things like pitching directly to publications and websites you'd like to work for. For less creative types, you can also consider offering your services as a resume writer on LinkedIn and other professional sites.
Not interested in writing your own stuff? If you're a super detail-oriented grammar whiz, you can offer copywriting/proofreading services to bloggers, websites, or businesses. If you can establish yourself, you'll end up being able to set your own rates and bill by the hour (and work from anywhere you can bring your laptop!)
7. Dabble in Design
Great at graphic design? You've got a few options. First, you can go the traditional graphic designer route and offer your services as a freelancer for small businesses that need brochure templates or logos, websites that need engaging graphics, restaurants that need menus, etc, and build up a portfolio while you hone your creative skills. But if you've got less time, and want to go a slightly more "fun" route, you can try your hand at selling your designs on shirts and other items. There's very little heavy lifting involved in doing this: print-on-demand services like Merch by Amazon, Printful, Redbubble, and CafePress allow you to upload your designs and sell products without dealing with the hassles of inventory and shipping, you simply receive a commission when your design sells. 
8. Impart Some Knowledge
Again, living in the age of technology means we can do so many jobs from afar, including teaching! For example, you can offer your services as an online tutor for things like core K-12 subjects (math, English, science, reading, and social studies), as well as SAT/ACT prep and college-level courses – whatever your specialty is. This is a great summer or side gig for teachers looking to make extra money, all you need to do is hop on some tutoring websites, where you'll fill out a profile that lists your subject expertise, education, experience, and hourly rates. Then, you can reach out to students or vice versa. Once you've gotten yourself out there, though, it's a good idea to try and set up your own student base, and get away from the tutoring sites, so you can pocket all of your hard-earned cash.
Another option for online teaching? Teaching English online to people around the world. There is a particular demand for online English teachers in China, so if you've got some early mornings or late nights free, this is a great option for you. Most companies will require you to have a bachelor's degree, and some will require a TEFL or TESOL (Teaching English as a Foreign Language/Teaching English to Speakers of Other Languages) certificate, but there are others who won't.
9. Get Social
Every business needs a social media presence these days, but many small businesses simply don't have the time or the expertise to be constantly posting on social media platforms like Facebook, Instagram, Snapchat, or Twitter. Take advantage of this and offer businesses your services as a social media manager, and a mix of help with branding and customer service, with prices way more appealing than an agency.
10. Get Crafty
Love making stuff, and always getting "oohs" and "aahs" when you give your handmade gifts? You can try selling your crafts on sites like Etsy or Amazon Handmade, being sure to experiment with which site has the right customer base for your products. Make sure you also know what you're getting into with seller's fees, shipping fees, and cost of materials, so you know if you can actually make a profit. And here's a tip for getting your name out there: try offering tutorials on YouTube or social media, or starting up a blog.
Being at the mercy of the economy can feel frustrating if you're not hauling in the amount of money you need or want. But there are always options if you've got a little time, and some skills you can share or a passion for something – or even just a car and a willingness to work! Just don't forget to leave some time for yourself to unwind and enjoy that little bit of extra cash!