Small businesses have not had it easy over the last few years. First, we had a pandemic that disrupted the way we all lived, worked, and did business – and now? Well, now we have the beast that is inflation. You've probably been feeling the effects of inflation for a while now, and are probably not taking a whole lot of comfort in the fact that it's starting to level off ever so slightly. But don't despair, there are some strategies that small businesses can employ to cope with the effects of inflation.
How Is Inflation Affecting Small Businesses?
While inflation and supply-chain issues have been a problem since the pandemic hit in 2020, inflation really began to ramp up in the spring of 2021. In fact, according to the Bureau of Labor Statistics, inflation accelerated at a higher rate between March 2021 and September 2021 than it did at any point in 2020. And, for at least five or six months straight, 2021's inflation rates more than doubled 2020's highest increases.
But then came 2022, telling 2021 to hold its beer. While 2021 had the largest inflation rate in the last two decades at 4.7%, 2022 has nearly doubled that with an 8.32% inflation average (as of the summer), the highest month-over-month inflation rates since 1982.

So if you're feeling the pinch, you're certainly not imagining things. And you're probably caught between a bit of a rock and hard place: your customers are looking to cut back and your costs are probably skyrocketing. You're not alone: 92% of small-business owners reported that the cost of supplies or services needed to run their business has increased since the pandemic started.
In fact, in 2022, 71% of small-business owners reported at least a 20% increase in costs for supplies and services, with 16% saying that their costs have increased by 50%! The effect of these huge increases has been pretty brutal for small businesses. Consider these stats:
60% of small businesses are concerned about the financial health of their business because of inflation

47% report their profit margins are decreasing due to inflation 

37% of small-business owners are afraid inflation will hurt the health of their business

37% report customers have complained about inflated prices at their business

30% think raising their prices will deter customers from patronizing their business
Does all of this sound familiar to you? Are you one of the 1 in 3 small business owners(according to the U.S. Chamber of Commerce) who lists inflation as their top business concern? If so, what can you do about it? Let's take a look at what small businesses are doing to combat the effects of inflation, and what specific strategies you can try to stay afloat and keep growing during these tough times.
What Are Small Businesses Doing to Deal with Inflation?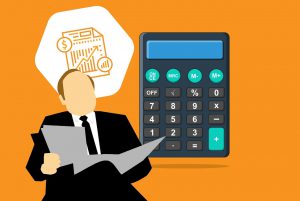 If so many small businesses like yours are feeling the burn from inflation, what steps are they taking to try and mitigate the effects? Unsurprisingly, there's a lot of focus on reducing costs, as well as tracking expenses:
46% of small businesses are reducing the size of their inventory

44% are purchasing software to help track their businesses expenses

24% have hired an accountant to help find ways to save money

40% have reduced

marketing

costs

29% have moved to a cheaper workspace

42% have reduced the number of employees on their team

Only 17% of small-business owners report not changing anything to reduce costs
So have you taken some of these steps, or are you considering doing so? If you're unsure where to begin, and what strategies are right for you, check out some tips below.
Strategies to Consider
According to James Cassel, chairman and co-founder of the investment bank Cassel Salpeter, "Most business owners have experienced minimal inflation or even pricing deflation. Today's small businesses need to be creative in their approach to dealing with inflation, as it's not likely to go away anytime soon." So let's think creatively! To deal with inflation, you can:
Streamline and automate processes
Sometimes you need to invest to grow, right? So maybe you need to spend a little money on software to automate time-intensive work. Look at all the little things that take time and manpower: could scheduling, billing or collecting payments, or taking orders be automated at your business? Or think even more creatively: if you've got a warehouse, for example, could investing in a new shelving system streamline how you work?
Invest in your business in other ways
You can take some of your capital and put it into streamlining and automation, but you can also use it to do things like ramp up your marketing or revisit your pricing strategy in order to attract customers. And if you don't have the money to do so, but aren't adverse to taking on some debt via a business loan, now is the time to do so. The Fed raised interest rates in March for the first time in 2 years (so it's not an ideal time to borrow), but we're scheduled to see a few more hikes this year alone.
Watch your cash flow like a hawk
Now's the time to knuckle down and really pay attention to your cash flow, since you're between that rock and hard place we mentioned before, where you're facing increasing expenses while at the same time losing customers or finding them slow to pay. That means you've got to stay on top of the money coming in, so try things like:
Invoicing customers as quickly as possible
Requiring immediate payment
Reviewing your expenses more often, ideally weekly
Running credit checks on customers
Being vigilant about your accounts, and maintaining a policy of not selling to customers with outstanding bills
Reduce costs
Prices might be rising, but there are still things you can do to try to reduce expenses in this brave new world of crazy inflation. You can:
Talk to your merchant credit card provider about lowering your rate
Switch from landlines to VoIP
Talk to your landlord about a rent reduction deal
Negotiate with your service providers
Downsize your office by offering more remote work options
Check to make sure you aren't paying for any unnecessary monthly subscription services or other recurring expenses
Use a cash-back credit card
Stock up on supplies while you can 
It might seem counterintuitive to tell you to go stock up after we just suggested reducing expenses wherever you can, but it could be a smart move to stock up on supplies to beat any issues with the supply chain. A lot of businesses are reorganizing their spaces (it comes back to streamlining!) and buying extra of what they need, to avoid running out, and to lock in today's "cheaper" prices before they rise again.
Increase your prices – carefully
While this isn't the ideal solution, it might be a necessary evil. Just make sure you're doing it judiciously, and aren't making giant increases across the board. Consider making smaller, incremental, less noticeable changes. You can even try offering premium, paid subscriptions or memberships, or bundled offers if that's something you can do, to bring in a little extra cash.
If you're looking to bring in as much money as possible in these tough times, know who you should be targeting. That means analyzing your business and determining where your most profitable sales come from. Check out what the most profitable sales have in common, and then zero in on those areas or people. 
But while trying to sell more to your existing customers is probably your best bet, don't forget that inflation could actually drive some unexpected new customers in your direction. People could very well be looking for new businesses that meet their needs in terms of prices and rates, so be ready to welcome these curious customers with open arms.
Inflation stinks – for everyone. But if you're running a small business, there's no need to panic. You have options to beat back the inflation beast, you just have to find the right one for you. And let us know: how are you weathering things as inflation hits us all hard? 
Co-written by Joanna Bowling