Now that New Year's has come and gone, what's on your mind? Are you reflecting on the past year? Or are you looking forward to the year to come? Or maybe you, like many people, made weighty resolutions in the last few weeks with the hope that they would magically transform you into a new you for the new year. Now maybe you're either trying to muster up the motivation to get started on them or feeling guilty that you've put them on the back burner. Not to be a downer, but by March, those resolutions will probably have disappeared into thin air. Depending on the study you look at, anywhere from 88 – 92% of people fail to keep their New Year's resolutions. So, you know what? Go with it! Ditch the whole idea of resolutions; instead, think outside of the box of traditional New Year's resolutions and try some of these alternatives instead!
1. Choose a Word of the Year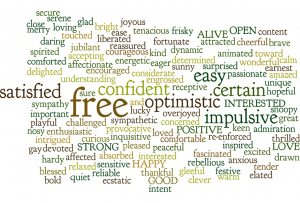 Discipline. Patience. Joy. Compassion. Action. Fun. What is going to move you this year? If you were to sit down and make a list of all the things you wanted for yourself this year, like working harder towards a goal, engaging in more community action or activism, or having more social time, you would probably find that there was a pattern or a theme. So try and distill your hopes for how you want to live in the new year down to one word. Post that word somewhere you look everyday, and strive to live each day with that word in mind. 
2. Start a Monthly Goals List
You can also call this your personal list of 30-day challenges. Sure, the usual 30-day challenges can range from silly to self-esteem damaging, but these are your own personal sets of goals that you make up for yourself. They don't require being competitive with anyone else, or even with yourself. Making a 30-day challenge, or a monthly goals list, is just a way to break down the usual huge, 365-day resolutions. All you need to do is establish one small goal to reach each month; you can set them all in January or make them up as you go. 
For example, in January, you can plan to exercise three times a week, even if it's only the 7-minute workout. In February, you can plan to get back in touch with at least four people you've been meaning to contact (one a week). In March, you can try to get on top of meal planning, in April, you can pick one closet to clean out or you can decide to get rid of 10 items a week, and so on. 
3. Get Experimental
The problem with traditional resolutions might be all in the framing. They often seem so negative, harsh, or punishing – like, I really need to lose weight so I have to run on the treadmill everyday for 30 minutes even though I hate running. What's the point in that, and where is the joy? Sure, wanting to improve your health is always a good idea, but if you deprive yourself of fun, you'll never stick with any type of goal or resolution. Instead, decide to make this year a year of curiosity and experimentation. 

Try conducting weekly "experiments," and see where they lead – you might find some new habits that are worth sticking with. For example, decide to see what happens if you speak to five new people everyday for a week. You might find yourself coming out of your shell, conquering shyness, or making new friends. Or experiment with taking a brisk walk each morning for a week, and see if it energizes you. Try going vegan for a week and see how it feels! Most importantly, don't beat yourself up if your weekly experiments end up not being right for you; simply find a new experiment the next week and see if that one works better! 
4. Make a New Year's Bucket List
The idea of a traditional bucket list might seem a little bit morbid, but you can reframe the idea as a joyful way to start your new year. Instead of making resolutions or setting goals to complete tasks or change your lifestyle, simply make a list of things you actually want to do in the coming year. You can pick 52 small things, like taking a dance class or trying your hand at a new cuisine, or you can try to plan 12 big things, like a helicopter ride or a big trip.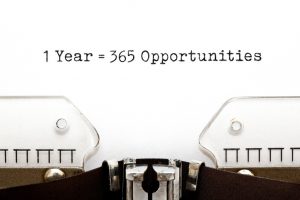 5. Create a Project 365
This is a great resolution alternative that you can really get creative with. Pick something achievable that you can do every day of the year, and see what you've got at the end of the year. For example, take a picture of the same thing (like a favorite tree, your child, your hair, etc), read one short story or chapter/essay from a nonfiction book, or write 500 (or more!) words every day. You might end up with a lovely photography project, a greater knowledge of a subject you've been interested in, or a small collection of writing that you can turn into a larger piece. 
6. Be Practical 
Another problem with New Year's resolutions is that they are not only usually negatively framed, but they are also often too big and vague. Decluttering your house is a great goal, but might not be specific or practical enough. Instead, try something like a 100-thing challenge, in which you set a goal to get rid of 100 things that you don't need throughout the year. 
7. Find Things to Look Forward To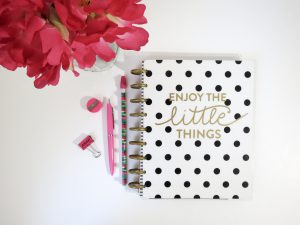 If you're reading this in 2021, then last year may have been a tough one for you, as it was for many people. But whether or not you had a rough year, now is the time to move on and start looking to the future. So instead of setting tasks for yourself, make a list of things that you are looking forward to in the new year. It can be as big as a wedding or a trip, or as small as a new novel coming out, a new takeout place that's opening, or a new season of your favorite TV show. 
It's time to take the dread out of New Year's! The start of a new year should be a time of hope and renewal, not of punishment and guilt. If making resolutions leads you down a negative path, then resolve to ditch those resolutions! You don't need to tackle an overwhelming task or change your entire life, just start with small steps. You can make this time of year – and all year long – the time to find ways to live life to the fullest and to be as happy and healthy as possible!