If you're shopping for a life insurance policy, you are most likely searching for a great rate. But in order to determine your premium price, some insurance companies will require you to undergo a medical exam before you buy. They do this in order to figure out how much of a risk it is to insure you; the healthier you are, the cheaper your insurance premiums will be. There is no need to be nervous about this medical exam, even if you have pre-existing conditions. Before undergoing your medical exam, there are ways that you can prepare, so you can get the best possible rate.
What To Expect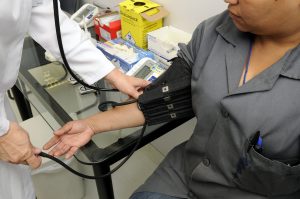 Life insurance companies usually require a physical in order to get a full view of your health history, family history and lifestyle habits. In most cases, a medical professional will come to your home and ask questions and collect samples. First, you will be given a verbal questionnaire which will include questions like: Are you a smoker? Do you have any chronic conditions? How often do you exercise? Then they will measure and weigh you and take blood and urine samples. After they collect this information, they will use it to help them determine your rates for coverage.
The whole process takes about 20 minutes. It is important to be as truthful as possible when answering any questions the medical professional asks you. For example, if you omit the fact that you are a smoker, and the insurance company later finds out that you smoke, they will cancel your policy. 
How To Prepare
One Week Before The Exam:
Eat as healthy as possible

and avoid processed foods that are high in sugar, fat, and sodium. Instead, eat vegetables, leafy greens, and whole grains. This will help lower your cholesterol.

Increase your water intake and avoid alcohol.

Alcohol

is dehydrating and will affect your liver enzymes in blood tests, which can be a red flag for insurance companies. Instead, drink plenty of water to flush out toxins.
One Day Before The Exam:
Consider

fasting

for at least 8 hours before your exam. Eating before your blood work will increase your cholesterol and glucose levels

Do not stress out or exercise too much the day before your exam. This will only increase your pulse and blood pressure. 

Get a

good night's rest

so your vital signs are at their best the next day. 
The Morning Of The Exam:
Avoid coffee because it will affect your blood pressure.

Drink water.

Do not wear heavy clothing so the medical professional gets the right reading on your weight. 

Have your primary care physician's info ready, as well as a list of any medications you take regularly. 
Getting The Best Rates
Life insurance physical exams will determine how much you will end up paying for your policy. You can get the best possible rates by making some changes to your lifestyle and using the tips above. But you can also find great rates by comparing multiple insurance companies and the policies they offer. To get more helpful information about different types of life insurance policies, and how you can get coverage that fits your budget, take a look below. We have provided information for top-rated insurance companies that specialize in life insurance, so check their rates today and see just how simple and affordable it is to protect your family. Always check multiple sites to make sure you have bargaining power and to know the advantages of each company. Make sure a hard time for your loved ones isn't made harder by a financial burden, check life insurance rates today.