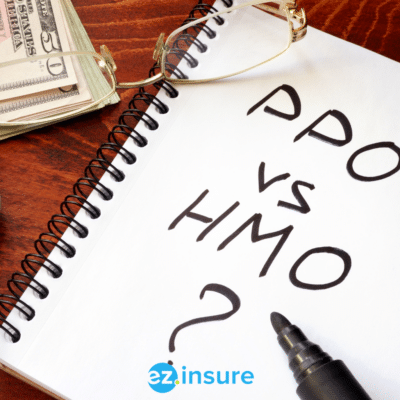 When you're shopping for health insurance, you'll come across several plan types to choose from. Two of which are Health Maintenance Organizations (HMOs) and Preferred Provider Organizations (PPOs). While there are several other options, these two are the most common. Both plans provide various types of coverage, including network sizes, costs, and coverages outside of the network. You will want to make sure the plan you choose will fit all of your needs and allows you to stay within budget. Choosing one isn't as difficult as it may seem. Below we've detailed both of these options and compared them for you. 
An HMO is an affordable health insurance plan that provides a network of healthcare providers to choose from. HMOs offer cheaper coverage because their networks are smaller than other plan's networks. HMOs are known for their lower lates, but that comes with less flexibility. The network is the key to this type of coverage. Providers within this network such as doctors, hospitals, labs, and specialists all have contracts with the insurance company. Meaning they are paid to offer you, the policyholder, a variety of health services for less. Typically you'll find that these networks operate in a specific geographic area. Meaning you must see providers within that area. It also means that any fees associated with the plan will be based on the population of your area. For example, heavily populated areas with higher cost of living will result in higher fees. Even though HMOs offer less flexibility, their premiums are lower than other plans. Their smaller networks and the fact that you are being directed to the plan's providers rather than out-of-network providers, means the savings pass directly to you.
With PPO plans, you have much more freedom in choosing your doctors and hospitals. Staying in-network always provides the best benefits because you pay less for those services. However, unlike HMOs, you are not restricted to in-network providers, but it will cost you more than seeing in-network providers. PPO plans are generally more expensive due to their higher monthly premiums. Nonetheless, the increased flexibility more than compensates for the higher costs. You are not required to choose a primary care provider (PCP) and you can visit any doctor, including specialists, without a referral. All of this means you pay more and you are responsible for managing and coordinating your own care without a PCP, unless you decide to choose one.
How They Differ 
Now that you know the basics of each plan, let's compare the differences between HMOs and PPOs including network size, the ability to see specialists without referrals, costs, and out-of-network coverage. Compared to PPOs, HMOs are much more affordable. However, PPOs offer a lot more flexibility with their specialists and larger networks. As well as their out-of-network coverage. Below we'll go into these comparisons a little more. 
Networks
Both HMO and PPO plans have provider networks. In exchange for access to a health plan's members, network providers agree to offer discounts to reduce health care costs. This saves money for health insurers, but it also saves money for you, the policyholder; savings for the insurer can translate into lower premiums, deductibles, and copayments. Overall, PPO networks include more physicians and hospitals than HMO networks, giving you more options. However, networks will vary from insurer to insurer and plan to plan; therefore, it is best to look into each plan's network before making a decision.
Primary Care Physicians
The majority of HMOs will require you to choose a primary care physician, who will serve as your primary point of contact for medical care. If your primary care physician determines that specialized care is medically necessary, he or she will refer you to a specialist for treatment. Specialists costs will not be covered without a referral from a primary care physician. PPOs, on the other hand, typically do not require the selection of a PCP, and you can typically see a specialist without a referral and those costs are covered.
Out-Of-Network Coverage
For both PPO and HMO plans, you will get the lowest costs for care if you use in-network providers. The coverage for out-of-network care varies significantly between these two types of plans. Out-of-network services are typically not covered at all by HMOs, except in the case of an emergency. PPO plans typically provide some coverage for these services, but as always, staying in the network will always mean less money out of your pocket.
Costs
PPO plans will typically be more expensive than HMO plans due to the additional coverage and flexibility they provide. When we consider health plan costs, we typically consider monthly premiums. HMO premiums are typically less expensive than PPO premiums. The plan's deductible is also another factor you need to consider. This is the amount of out-of-pocket health care expenses you must pay before your plan begins to pay for your expenses. When HMOs have deductibles, they tend to be less expensive than PPO deductibles. Below we've provided examples of costs for each plan. 
HMO Costs
These are examples based on average costs, they can vary depending on your age, where you live, plan tier, as well as number of dependents.
21-year-old – Single $342, couple $684, couple with 1 child $944
30-year-old – Single $390, couple $780, couple with 1 child $1,040
40-year-old – Single $438, couple $877, couple with 1 child $1,1,37

50-year-old – Single $613, couple $1,226, couple with 1 child $1,487
Along with lower premiums, HMOs typically have lower or sometimes no deductibles. A copayment is instead required for each clinical visit, test, and prescription. Copayments for HMOs are typically $5, $10, or $20 per service, which reduces out-of-pocket expenses and makes HMO plans more affordable.
PPO Costs
As with all plans, the premiums are determined by age, location, and the number of dependents covered by the plan. For instance, average monthly premiums for PPOs are:
21-year-old – Single $404, couple $807, couple with 1 child $1,113

30-year-old – Single $458, couple $916, couple with 1 child $1,222

40-year-old – Single $516, couple $1,032, couple with 1 child $1,528

50-year-old – Single $721, couple $1,442, couple with 1 child $1,748
PPO plans typically have higher deductibles than HMOs. Generally the annual deductible for a PPO is around $1,500. If your PPO plan includes a copayment for office visits, you will only pay a small copayment when you see a doctor in your preferred network. If your PPO plan does not include a copayment benefit, your visit will be charged at the preferred network rate and applied to your deductible. Going "out-of-network" will be more expensive. You may also have to pay the doctor directly and then submit a reimbursement claim to your PPO. 
PPOs also have 2 out-of-pocket maximums. Meaning you will never pay more than a preset amount for your care in a given year. One limit applies only to in-network costs, while the other applies to both in-network and out-of-network costs. If you require extensive care or expensive procedures, these limits may protect you from racking up excessive costs. In 2023, the out-of-pocket maximum for Marketplace plans cannot exceed $9,100 for individuals and $18,200 for a family. This means that in 2023, if you pay more than $9,100 in out-of-pocket medical expenses, your insurance will cover 100% of any additional medical expenses.
Choosing Between Them
When deciding between these two plans, it's best to consider how much you are willing to pay, how much coverage you need, and whether or not you want to see a PCP less frequently or see a specialist without a referral. In general, HMOs have a lower cost. So, if your budget is your biggest deciding factor then an HMO may be for you. With lower premiums and low to no deductibles being your benefits, but you'll sacrifice the flexibility of choosing providers. If you travel a lot or have a chronic condition, you may need to see a doctor once or twice outside of your network. So, if you're more interested in flexibility, a PPO plan may be the better option.
Now that you know the difference between the two main types of health insurance, you might have a better idea of which plan fits you better. If you need more information you can start by visiting our PPO and HMO pages. These pages have more in depth explanations of each plan's benefits and limitations. Everyone should carefully consider their health insurance options. Your particular circumstances, such as your health, finances, and quality of life, will determine the optimal plan for you. EZ.Insure can assist you in choosing between the two plans and determining which one best meets your needs and budget. We provide you with a local licensed agent who will go over all available plans in your area. They will provide you with quotes for all available plans, explain what each plan covers, and sign you up at no cost. Our services are entirely free! Simply enter your zip code in the box below to receive your free instant quotes, or contact an agent by calling 877-670-3557.