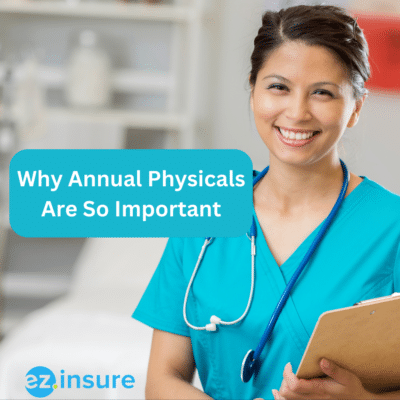 Many people do not see the importance in scheduling an annual physical, especially if they're in good health. However, regular exams are essential to your continued health no matter what age you are. These exams allow your doctors to monitor your health, make necessary adjustments to your medications, and prevent serious health conditions from developing or worsening. Annual exams don't only help you get healthy but they can also save your life. 
What To Expect From Your Annual Physical
An annual physical is a general checkup that looks at your health as a whole. Your PCP will look at your medical history as well as your vital signs such as your heart rate, temperature, and blood pressure. During the visit your doctor will also give you a full physical check. Depending on how old you are and how healthy, your doctor may order more tests. These could include things like cholesterol and blood sugar tests from a lab. It may also include ultrasound tests to check for breast cancer, lung cancer and osteoporosis.
Your doctor will be able to look for common problems that come with aging and make treatment plans if needed. During your physical exam you can also talk to your doctor about lifestyle changes you can make to be healthier. Such as advice on nutrition and exercise. There are several essential reasons to use your yearly physical exam.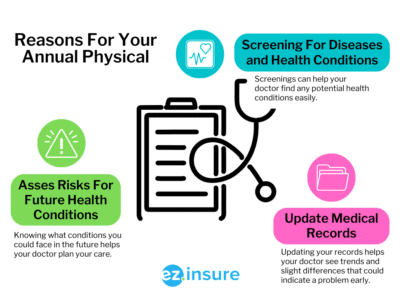 Establishing Your Health Baseline
One of the more important things about getting regular physicals is that you and your doctor can learn more about your current health and spot any risks early on. Over time your doctor will check and monitor each of your vitals at each visit. This establishes your health baseline letting your doctor become familiar with what your body's "normal" is. It helps your doctor know you and your body so they can spot any unhealthy trends early. They will keep an eye out for any significant changes to your health so they can treat it immediately. 
Updating Your Vaccines
Vaccines are not just something that kids need. Adults also need to make sure they're up to date on them as well. Your doctor will keep track of these vaccines at your physical exam and let you know when it's time to update them:
Covid-19 vaccine and boosters –

This vaccine helps people from getting sick or dying from COVID. Everyone age 5 and up should get the vaccine as well as the booster shots as they become available. 

TDAP vaccine –

The TDAP vaccine protects against tetanus, diphtheria and acellular pertussis (whooping cough). This is a shot you get as a kid but adults need a repeat shot every so often. And pregnant women need this shot every pregnancy. 

Flu shot –

Flu shots are recommended every year from the time you turn 6 months old. 

HPV vaccine –

Cancers caused by the human papillomavirus are stopped by the HPV vaccine. In the past few years, the advice that girls and boys ages 11 to 12 get an HPV shot hasn't changed. But the CDC now says that all women and men up to age 26 should get a catch-up HPV shot. Adults between the ages of 27 and 45 who haven't gotten the vaccine before might also benefit from a "catch-up" shot.

Pneumonia vaccine –

If you have asthma, smoke, or are over 65, your primary care doctor (PCP) may suggest the pneumonia vaccine to keep you from getting a lung illness. 

Shingles vaccine –

Almost anyone 50 and older is encouraged to get the shingles vaccine every 5 years.

Hepatitis B vaccine –

If you have diabetes or another disease that affects your immune system, work in the healthcare field, or live in a group setting like a nursing home, your doctor may suggest that you get the hepatitis B vaccine.
Medication Management.
Any medication that you take every day can sometimes need to be adjusted. This can happen due to your body building an immunity to the medication or your health declining. Your doctor will look over your medications at your annual physical as well as consider any new symptoms you've discussed during the visit to decide if they need to increase, stop, or add medications to your treatment plan. They will also monitor to make sure you never take 2 medications that will negatively affect each other. 
Updating Medical Records
Your medical records aren't just paperwork. These records keep an in-depth record of your health history so that it's easy to compare your current health to the past to help identify health trends. Your Medical records include things like: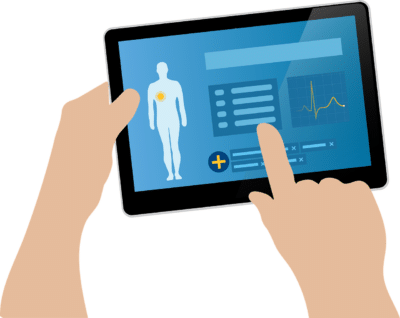 History of medication changes

Allergies

Vaccines

Family health history

Past surgeries

Treatment plans

Test results

Weight loss/gain trends

Current health conditions
These records also come in handy if you switch doctors or need to see a specialist, your new doctor will have all the information they need to treat you properly. Medical records are also extremely important in an emergency situation. If you're unable to speak, your records can help emergency room doctors and surgeons treat you accurately and quickly without accidentally making any health conditions worse. Such as giving you a medicine you are allergic to or that will react badly with current medications. As well as let them know any existing conditions that they might need to be aware of during an emergency surgery.
Building Trust With Your Doctor
Your PCP is your partner in health care. An annual physical check is a great way to get to know your PCP and let your provider get to know you. This one-on-one time with your doctor is a great way to connect and build trust with your doctor. Even if you see your primary care provider for minor illnesses and injuries at other times of the year, these "sick-care" visits are generally about treating specific problems.
During your yearly physical, your health as a whole and the preventive care you need to stay healthy are the main concerns. In addition to learning more about you and how you live, your PCP will give you plenty of time to talk about any worries or questions you may have about medications, treatment plans, or other health problems. The American healthcare system can be complicated, so having a doctor you trust to guide you through it is invaluable.
Saving Money
Some people say that getting a checkup once a year is a waste of money, however getting a checkup once a year at the office of your general care doctor can save you money in the long run. Getting a physical once a year can help keep medical costs down in the future. If your doctor finds a disease or sickness before you feel sick, it will cost less to treat you than if you wait until you feel sick. It's easier and cheaper to stop a problem from happening than to fix it afterward. Early diagnosis is important for both your health and your bank account. When you make an appointment for your yearly physical, you're making a cost-effective choice.
How To Get The Most Out Of Your Physical Exam
If you only see your doctor once a year, make the most of it by knowing your family's medical background and telling your doctor about it. Tell your doctor if someone in your family has been told they have a sickness or cancer. Also, bring a list or a bag with you that has all of the medicines and vitamins you take. This will help your doctor check for possible drug combinations and make sure you are taking the right amount of each drug. Don't be afraid to talk about changes in your health, even if you think they are small. Some examples would be changes in how you sleep, what you eat, or how you feel. Don't just worry about your physical health and forget about your mental health.
Getting Health Insurance
Preventative care is a "freebie" built into almost all health plans. Meaning these yearly exams are often free with the right health insurance. A qualified EZ insurance agent can explain what each health plan's pros and cons are. And help you come up with the plan that works best for you. Working with an agent saves you time and stress because you don't have to try to figure out legal jargon or read small print. Agents do all the hard work, so you can relax knowing that your coverage will meet your financial and medical needs the best. 
Not to mention that EZ agents can save you hundreds of dollars a year on your health insurance bills. We do this by being able to look for the cheapest rates both on and off the market. Our agents can also find and use any savings you might be able to get. We don't just help you find a plan, though, we also help you keep it up to date. We can help you make claims with your insurance company and help you renew your policy when it's time. To get started, just type your zip code into the box below or call 877-670-3557 to talk to one of our certified agents.