Most recently, if you'd gone looking for Terence Lester, you'd have found him on the streets of Atlanta, setting up portable hand washing stations. These sinks, which are sanitized and refilled each day, are meant to help the city's homeless population keep their hands clean, something most of us take for granted. "Recognizing those experiencing homelessness as 'people' and not 'problems' is important," Lester said about what he's been doing. However, working with people in need is not new for Lester, who has been advocating for the homeless since co-founding Love Beyond Walls in 2013.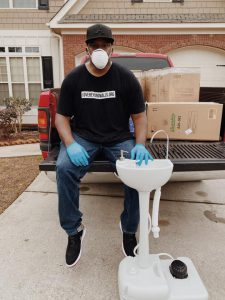 A Second Chance
Terence Lester is no stranger to life's insecurities. "I had [problems] myself during my teenage years," Lester said. "I was in gangs, put out of school, and at one point I ran away from home. I lived in parks, out of my car, and with friends. So I had this period of experiencing homelessness myself as a teen." Lester found out early on what it meant to be undervalued, and what it felt like to live on the edges of society.  Luckily, someone at an alternative school reached out to him and convinced him that if he returned to school, he would one day be a leader. And they were right!
According to Lester, "[t]hat was the first time I saw myself as having something to contribute, based upon all the trauma and pain that I experienced. I wanted to give back in a way that aligned my personal story, so this was it." 'This' ended up being Love Beyond Walls, an ever-expanding organization that calls itself 'a movement of doers' on its website.
The Beginning of a Movement
It all started in 2004, when his wife and co-founder of Love Beyond Walls, Cecilia, met a group of people in need one evening. They wanted to help, so they went home and gathered whatever they could find to give. This set everything in motion.
That fateful evening, Cecilia asked if anyone needed any shoes. She remembers one woman excitedly answering that she had just been praying for a pair of shoes. According to Cecilia, "that was the moment where it all came alive – standing there, holding someone who the night before prayed for this and I am now fulfilling the need." It was then that Terence and Cecilia came up with the idea for Love Beyond Walls.
Their idea became a reality in 2013, when they incorporated Love Beyond Walls as a nonprofit. Their basic idea was "to mobilize others to join them in moving past the walls that divide people, and to take love to people in creative ways." Terence Lester also decided at that point that he needed to practice what he preached, and walk in the shoes of the people he was advocating for. His goal, after all, was to find a way to give people living in the margins a voice. He lived as a homeless person for a time, begging for food, sleeping under bridges, being turned out of shelters and restaurants, and experiencing every aspect of life in poverty. His experiences gave him a real sense of what it felt like to be ignored, and a real knowledge of what those in need needed most.
The Dreamers of Solutions
"We are the dreamers of solutions" says Love Beyond Wall's website. Some of their solutions are meant to raise awareness, like marches to bring attention to the distances that those living in poverty need to walk everyday just to survive.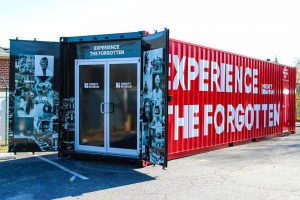 In 2018, Terence came up with the idea of the Museum of Dignity, which is a mobile museum that has been set up in a shipping container. Terence decided on a shipping container for his museum because, according to him, they are transient but filled with valuable things, just like the people he seeks to help.  According to the website, "[t]hrough interactive technology, research, storytelling, exhibits, and thought-provoking questions, visitors will confront their ideas of homelessness and what it takes to escape it." The museum is an interactive experience, and those who enter are given a device loaded with the Dignity Museum app plus a set of headphones, which will guide them through different sections titled "Challenge Stereotypes," "Create Empathy," and "Call to Action." They will hopefully leave with a better understanding of the conditions that people living with poverty endure every day.   
Lester is working hard to educate the public and to change the way they view poverty, but he is also providing concrete solutions to people in need. At his "Love Center," people can access a number of different services. Those who are food insecure can get groceries, and those who need help finding employment can attend educational workshops to learn skills or find clothes for an interview. People who come to the Love Center can even wash their clothes at a volunteer-staffed laundromat or get a haircut from the "Mobile Makeover Bus." Above all, they can find "community, opportunity, and hope."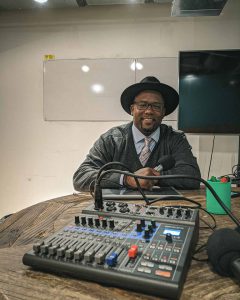 Exactly as They Are
Love Beyond Walls, in their own words, is "committed to serving [their clientele] exactly as they are." Terence Lester has no interest in questioning the motives, morality, or deservingness of the people he works with. What he's trying to change is the way the world views and interacts with people who have been ignored for far too long. He's working to mobilize what he calls an "army" of volunteers, and hopefully he will achieve his goal of breaking down the walls that divide us.
How You Can Help
If you are in the Atlanta area and are interested in getting involved with Love Beyond Walls, you can go to their website to look for upcoming volunteer opportunities, or fill out their "doers application" to offer your time or skills to the Love Center. If you aren't in their area, you can still help by donating whatever you can, either with a one-time donation or a monthly automatic gift. If you have a business, consider becoming a corporate sponsor. 
There are also organizations in every part of the country that work with underserved populations. Try looking for your local food pantry and donating time, food, or whatever you can. Serving hot food at a local soup kitchen is also a great way to connect and help, as is getting involved with an organization like Backpacks for the Homeless, which has different chapters in different cities that distribute backpacks full of essential supplies to people living on the streets. You can also put together your own bags and give them to people who need them. There are many ways to help, and in the process, acknowledge the humanity of people who may not be as fortunate as you.
All photos provided by Terrence Lester.