This year, Medicare Part B premiums rates are not the only rates on the rise. The Centers for Medicare and Medicaid (CMS) released the 2021 Medicare Part D rates back in October, and noted that, while there are more Part D plans being offered in 2021, plan rates have gone up slightly. Because prices for Medicare Parts A, B, and D continue to rise, there is no better time than now to look into Medicare Supplement Plans. 
Part D Plans & Prices
The average Medicare beneficiary has a choice of almost 30 Medicare stand-alone drug plans. The following charts illustrate the costs of Part D plans and how income affects rates.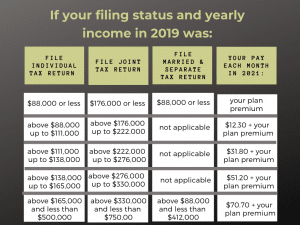 Part D Cost-Sharing 
Cost-sharing amounts have also changed for medications in certain "tiers" in Part D plans. Each plan has a drug formulary, made up of tiers which determine the price of each drug. The typical five-tier formulary structure places medications into the following categories:
Preferred generics

Generics

Preferred brands

Non-preferred drugs

Specialty drugs 
For all Part D Plans, the median standard cost sharing in 2021 is $0 for preferred generics, $5 for generics (up from $4 in 2020), $40 for preferred brands (down from $42 in 2020), 40% coinsurance for non-preferred drugs (up from 38% in 2020; the maximum allowed is 50%), and 25% coinsurance for specialty drugs (the same as in 2020; the maximum allowed is 33%).
Medicare Supplement Plans
Costs continue to increase yearly for Medicare beneficiaries, but that does not mean you have to live on a tight budget. Medicare Supplement Plans can help you pay for medical costs that Original Medicare does not cover. For example, Medicare Supplement Plans cover the 20% coinsurance that you usually pay for a medical service. There are 10 different types of Medicare Supplement Plans to choose, and each offers different coverage at different price points. To easily compare these plans within minutes, use an EZ agent. Our agents will compare prices, go over your financial and medical needs, and help you save hundreds a year – and we'll do it all for free! Medicare rates are on the rise, but we will help you save! To get started, simply enter your zip code in the bar above, or to speak directly to a licensed agent, call 888-753-7207.