A dress that you can wear to a wedding, the office, and running errands? Yes, please! It fits everyone, and every occasion!
After doing some research, we have found the dress–the perfect garment that you can wear anywhere, and in many different ways. It's called the Capsule Morph dress. It is the dress that looks good on everyone, no matter what your shape or size is. Yeah, a dress that fits ALL body types.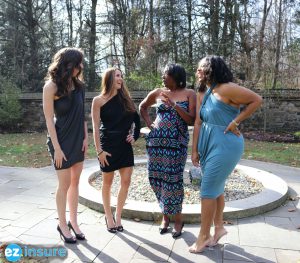 Sounds unreal, but this dress is made for everyone! How? It puts so many options into your hands. You decide what you want to accentuate by the way you style it, and ways to suit your body. The dresses are perfect for any and every occasion, and as long as you take care of them (machine wash cold and fluff in the dryer), they remain wearable year after year.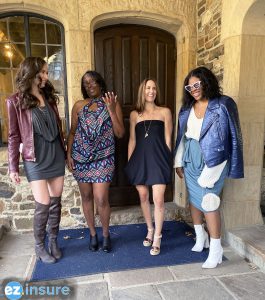 Sizing
The most important piece of information when trying to determine your size with the Morph dress is by your bra size. So, even someone who considers themselves plus size, can be considered a small. It goes:
XS is

32-36B

S is

36C-38DDD

M is

40-42DDD

L is

44-46DDD

XL is

48-50DDD
If you need help choosing a size, or you are in between two sizes, the company will help you pick the perfect fit. Also, there are two different fabric types to order: the Luxe or Modal. For the Luxe sizing, you will be one size larger due to the less stretchy material than the Modal.
Material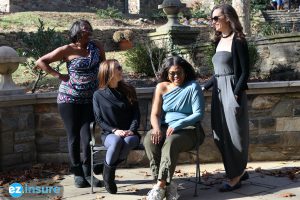 The MODAL is a bamboo jersey material that will never fade or spill. This kind of dress material is perfect for the beach. The LUXE is a featherweight Lycra compression fabric that is light enough to wear all year long, won't fade, and has perfect stretch and retention. With so much versatility, you'll want a dress in both fabrics to carry you through all occasions.
Our Reviews
We had 5 different women with different body shapes and sizes try on the capsule dress. One woman was initially skeptical when she saw videos before getting the dress because she wasn't convinced it would look as great on all body types like the company claims. But the reviews speak for themselves: amazement.

Jen
…who is 5'2" and a 34A Bra tried on the only dress with Black Luxe material in size XS
"When I first received the dress and tried it on I was a little nervous.  I thought I was going to be disappointed because I found it initially difficult to maneuver and get the different styles to work.  However, the more I worked with the dress the more comfortable I became with it. My nervousness was gone, and I was in LOVE again!
I really like the material – it was extremely comfortable and fit well.  
Once I got used to the dress I became much more comfortable switching from style to style. I could have picked a ton of different styles, but I chose the wedding style because I really like the one sleeve and the cinched waist with the belt. 
I also loved the strapless style – being a "small-busted woman" I don't typically feel comfortable in this style, but was very happy with this cute style. The comfy outfit just fell together – oversized but not sloppy with leggings and boots, a great "mom" outfit!
I have already recommended this dress to several friends and brag about it all the time!  I have shown the Facebook video to at least 10 of my friends!"
Jamie
…who is 5'5" and a size 38B tried on the Lapis Blue Mod dress in Size Medium 
"The Morph dress is probably the most convenient article of clothing that I now own! I am all about repurposing my pieces to create different looks to fit my current need for the day. The Morph dress not only provides me with multiple looks for all types of occasions (tested this out in one day!) but is super comfortable and easy to pair with almost anything! 
The looks that I chose to style were a representation of how I would style myself for my day to day. My days always tend to be jam packed! Ex. Work to dinner, dinner to drinks, work to a show. I am always trying to style a look that has dual purpose & the Morph dress definitely tested this theory. I've never owned an item that works for evening-wear and is actually still comfortable for day to day activities and effortless to get into! I love the idea of being elegant and appropriately styled for an occasion such as a wedding, but still comfortable & effortlessly chic. 
The fit of this dress is incredible! Being a woman with a bigger frame, I am always conscious about wearing clothing that is too clingy around my midsection, which was one of my hesitations about this fabric. But, Morph proved me wrong and hugged my curves perfectly. The way that the fabric is able to warp and drape around your shape, does miracles for your body! I totally would recommend the Morph dress. I'll be telling all of my friends to add to their Christmas wishlists!"
Erin
is 5'8 ½" and a size 32B tried on the Grey Modal Dress in a size Small
"Feels and looks like quality fabric/material
Very versatile and love that the sleeves can turn into pockets. It's super easy to transition from one style to the next. Like I could wear jeans and Morph as a long sleeve shirt and then use it as whatever type of dress I wanted for a night out later on. Different shoes, accessories, belts, or even hairstyles can add to the already countless ways to wear this dress.
I'm 5'8″ and the 'long' style dresses came to about my ankles which was good. The only thing would be that I might have trouble walking far distances (not that I'm hiking or anything) because the circumference is much smaller towards the bottom of the dress. [if that made any sense]"
Rasheeda
…who is 6'1″, a size 36B, and Pregnant tried on the Dark Wine Modal in size Medium:
"This dress is a must have, I adored it and would love to own it. I feel as though this an item every woman should have in their closet. The material is soft and extremely comfortable and you can literally change your style in a matter of seconds, even being 8 months pregnant.
I had to choose 3 looks. My first look was formal, something I'll wear to a wedding. I did a classy off shoulder/sleeveless look which took seconds to put together and was again EXTREMELY COMFORTABLE.
Second look was a night out, I showed a little more skin by raising my dress up, showing more of my legs and exposing my arms and shoulders.
Last look was by far my favorite. When I put it together I envisioned a casual date night. So I made it a body-con dress showing off my bump and keeping the dress long. I paired it with booties, a jacket and a hat to complete a night look. I would love to wear this dress in the summer with a pair of sandals or even comfy sneakers.
To sum this dress up, it's versatile and you can create so many looks. You can make the dress a shirt or even a skirt, how is that even possible? I highly recommend this dress to anyone who is pregnant, young, old etc."
Rasheeda also mentioned that this great is a great thing to have during pregnancy because it can be worn during all stages! Whether you have just found out, are growing your bump, or are about to pop this dress will be your go to for the ultimate cute and comfy look!
Michelle
…who is a 5'6″ size 36B tried on the Aztec Modal in a size Medium:
"You can morph this dress into various styles of dresses or top, but for a night out, I prefer wearing it as a short halter dress. It is quick and easy to morph into.
My favorite way to morph the dress is into an off the shoulder top paired with a pair of tights and a pair of flats.
My ultimate fancy way to wear this dress is off the shoulder toga style. Extremely body flattering, and sexy as all get out."
As for me, my thoughts can be summed up with one word: gorgeous!!! 
Ladies, this dress is by far one of my favorites! Very nice material (not too thin or thick) and it's stretchy in the right places, especially if you are curvy. This dress can morph to fit any occasion in the blink of an eye. Depending on your vibe, you can dress it up or down with accessories depending. The only limits are your imagination–or closet space.