Medicare enrollees are generally more likely to experience mental health issues. In fact, about 1 in 5 elderly citizens suffer from some form of mental disorder. Thankfully, Medicare provides coverage for counseling which can make support more accessible. Mental health programs and services exist to diagnose and treat mental health needs. As a Medicare beneficiary, you have access to screenings for depression, counseling sessions, medications, and partial hospitalizations. The amount you pay for these services all depends on where you receive care, your doctor's fees, and any supplemental insurance you might have. Below we'll look at all of the ways Medicare provides coverage for treatments and what is and isn't covered.
Medicare Plans with Mental Health Services
Medicare is made up of a few parts. Original Medicare includes Part A (hospital coverage) and Part B (medical coverage), both of which are offered by the federal government. Whereas private insurance companies' contract with Medicare to provide Part C (Medicare Advantage) and Part D (prescription drug coverage). The government mandates that all of these plans cover certain mental health services for enrollees.
Medicare Part A covers mental health services for patients that are admitted to the hospital, regardless of whether they are in a general or psychiatric hospital. The coverage and cost-sharing are typically the same as any other type of hospitalization. For each benefit period you'll pay the Part A hospital deductible which in 2023 is currently $1,600. As well as $400 a day for hospital coinsurance for days 61-90 of your hospital stay. If you stay longer than 90 days you can use your lifetime reserve days, which come with an $800 per day coinsurance. Keep in mind you only get 60 reserve days in your lifetime; they will not regenerate. Your benefit period begins the day you are admitted as an inpatient to the hospital or skilled nursing facility. It ends after you have been out of the hospital for 60 consecutive days. 
Medicare Part A does treat billing for mental health in one way. It will only cover 190 days in a psychiatric hospital that specializes in mental health treatment during your lifetime. However, if you are admitted to a general hospital, even if it's for a mental health condition, the days spent in the general hospital will not count toward that 190 day limit.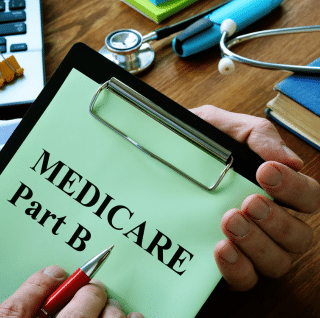 While Part A has the hospital side covered, Medicare Part B covers mental health services you get outside of a hospital. Such as in a doctor's office, therapist's office, hospital outpatient department, or community health center. Medicare Part B covers mental health services and visits to psychiatrists, clinical psychologists, clinical social workers, nurse practitioners, and physician assistants. As long as the provider accepts Medicare assignment, which means they agree to provide the services for the price that Medicare approves. Be aware that not every mental health professional will accept Medicare.
After you've met your Part B deductible ($226 in 2023), you will pay 20% of the Medicare-approved amount for the service. However, Part B does fully cover preventative services such as depression screenings for free. That is as long as they are provided by a primary care provider, physician assistant, or nurse practitioner who accepts Medicare Assignment. The screening must also be done in a primary care setting such as a doctor's office where you're able to receive follow up treatment and referrals. However, aside from the preventative screening, follow up treatment and referrals to see other specialists are not free. 
Medicare Part B will also cover partial hospitalizations if you need more intensive care than your doctor or therapist can provide. Typically this partial hospitalization will happen in an outpatient hospital department or a mental health center, where patients do not stay overnight. Part B pays for these services, but you have to meet certain requirements, including having your doctor certify that without these services you would need to be hospitalized.
For partial hospitalizations you will be responsible for 20% of each service you receive. You may also have to pay for coinsurance for each day of outpatient hospital or mental health center treatment.
Medicare Advantage is an alternative option to Original Medicare (Parts A and B), and as such, it generally covers all the same benefits combined into one plan. These plans may also offer additional coverages for telehealth care, grief counseling, and conflict resolution. However, Medicare Advantage plans may have smaller limited provider networks for mental health providers. So, before enrolling make sure your plan covers what you need and the doctors you prefer.
So far we have hospitalization and outpatient mental health services covered in Parts A, B, and C, so all that's left is your prescriptions. That's where Part D prescriptions coverage comes in. You can either buy a separate Medicare Part D or enroll in a private Medicare Advantage plan that includes prescription drug coverage. Both types of plans will list covered medications on their drug formularies. Part D plans have to cover, with limited exceptions, all anticonvulsant, antidepressant, and antipsychotic medications. During Open Enrollment, when you're selecting a Part D or Medicare Advantage plan, make sure the plan will cover your medications and find out exactly how much you would pay in copayments or coinsurance. Since these plans are offered by private insurance companies your out-of-pocket costs can vary from one plan to another. So, comparing is key.
Coverage For Other Types of Mental Health Counseling
Medicare isn't limited to only helping you with depression and anxiety. Plans also cover substance use disorders and other mental illnesses as well. However, Medicare will only cover counseling services that directly address your mental health condition. We've detailed these services below.
Substance Use Disorders
Substance use disorder is considered a chronic mental illness. Medicare plans treat substance use disorders just like they would diabetes or cardiovascular disease. Medicare Part B covers the following substance use disorder treatments:
Monthly care management

Drug testing

Tobacco counseling

Opioid use disorder treatments

Alcohol use disorder screenings

Individual therapy

Group therapy

Medications

Drug withdrawal treatment
Opioid Treatment
Original Medicare covers the total costs of opioid use disorder treatment as long as it's administered by a Medicare-enrolled program. You may have to pay an additional copayment or coinsurance for any opioid treatment services you receive in an outpatient hospital setting.
Alcohol Use Disorder
Medicare provides screening and therapy for alcohol use disorder to people who drink but are not dependent on alcohol. Medicare may cover up to 4 counseling sessions per year for alcohol abusers. It also pays for:
Detox

Rehab

Advance care planning

Behavioral health integration into primary care for monitoring
As long as your healthcare provider accepts Medicare assignment, you pay nothing for these services.
Marriage and Family
Medicare Part B plans will also help cover family counseling. However, the family counseling services must be medically necessary for your mental health treatment. Medicare typically will not cover marriage counseling or couple counseling though.
Specific Mental Health Services
Medicare provides access to specific mental health care in a variety of ways. Here we will go more into detail about each of these services.
Inpatient Care
Medicare will cover inpatient care if you need intensive care that can only be provided in an inpatient setting. These plans will help with treatment costs and inpatient psychiatric facilities, critical access hospitals, and hospital psychiatric units. Medicare Part A covers up to 190 days of hospitalization in a psychiatric facility. Part B helps cover a portion of doctor or specialist fees that come with mental health inpatient care.
Outpatient Care
If your doctor accepts Medicare assignment, your yearly depression screening is free. However, for any doctor visits to diagnose and treat your mental illness you'll have to pay the Part B deductible and 20% of the Medicare-approved amount. Medicare covers the costs of the outpatient psychiatric hospital services and supplies as long as they are:
Medically necessary for diagnostic studies 

You are expected to improve with treatment

The service is given under a care plan, which is a written plan that your provider writes and includes a list of the types of services you need, how long you need them, and how much they're predicted to cost.

The prescribing doctor supervises and monitors the services.
Partial Hospitalization Programs (PHPs)
PHPs are structured outpatient mental health treatment programs. Medicare will cover these programs for patients who receive care from hospital outpatient centers and community mental health centers. PHPs give less than 24 hours of mental health care a day to people who have been recently discharged from an inpatient hospital program but need continued support, or people who are at risk of being hospitalized due to their mental illness. If your providers accept Medicare assignment, you may be responsible for a portion of the Medicare-approved amount for each service. You may also have to pay coinsurance for each day you receive PHP services.
Community Mental Health Centers
In addition to the services that you get from PHPs, community mental health centers offer hospitalization alternatives. These facilities offer 24-hour emergency care with follow-ups, and screenings for admission to a state mental health facility. They also provide day treatment, partial hospitalization, or rehab that line up with your mental health needs.
Telehealth visits, consultations, and psychotherapy are all covered by Medicare Part B. You will have to pay both the Part B deductible and 20% of the Medicare-approved amount for these services though. In most cases, telehealth costs are generally the same as costs for in-person visits.
The Bottom Line 
Medicare plans cover an extensive array of outpatient services, such as individual and group therapy, prescription medications, and diagnostic testing for depression, substance abuse, and other psychiatric disorders. In-person and virtual meetings are also covered.
Help is available if you experience an emotional crisis requiring medical attention. Medicare can also cover a significant portion of inpatient care costs. If you require assistance with Medicare in general, EZ is also available to assist you. EZ can help you enroll in Medicare, purchase a Medicare Supplement Plan, or evaluate your options. Our agents work with the nation's top insurance providers. They can provide you with a complimentary comparison of all local plans. We will assess your medical and financial needs and assist you in locating a plan that meets them. Simply call one of our licensed agents at 877-670-3602 to get started.