The government has finally announced the new standard monthly premiums for Medicare Part B. And after all the speculation about rate hikes, rates will actually be decreasing a little bit next year. Not only that, but the annual deductible for Medicare Part B will also be lower next year. With many Medicare beneficiaries struggling with increased healthcare costs, this decrease in rates should be helpful. So what will you be paying for Medicare Part B in 2023?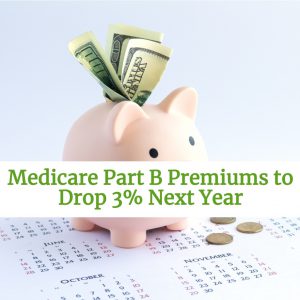 Medicare Part B Premium
The new standard monthly premium for Part B will be $164.90 next year, which is about 3% lower than it is this year.  
2022 saw a large increase in Medicare Part B premiums because of projected spending on Aduhelm, a new drug for treating Alzheimer's disease. Now that spending on the drug, and other treatments and services, has gone down, Part B once again has more financial reserves. This is allowing Medicare to lower next year's premiums for Medicare beneficiaries.
Medicare Deductibles
Medicare Part B premiums are not the only costs that are going down. The annual deductible for Part B will be $226 for 2023, which is a $7 decrease from $233 in 2022.
But while the Medicare Part B deductible is going down, the deductible for Medicare Part A will go up $44 from this year's $1556, making it $1,600 in 2023. For the 61st through 90th day of hospitalization, coinsurance will be $400 per day, up from $389 this year. For lifetime reserve days, the charge will be $800 per day (up from $778 in 2022).
IRMAA Changes
Income-related adjustment amounts, or IRMAAs, will kick in for single beneficiaries at the modified adjusted gross income amount of more than $97,000, up from $91,000 this year. For married beneficiaries filing a joint tax return, the extra monthly charge will apply if income is above $194,000, up from $182,000 this year.
Want To Save More?
If you need help paying for the things that Medicare doesn't cover, you have the option of purchasing a Medicare Supplement Plan. Your plan can help pay for the things that Medicare does not, including the 20% coinsurance that you will have to pay out-of-pocket for every Part B expense. One of these plans could cover 100% of your Part A coinsurance and hospital costs, as well as 100% of Part B coinsurance and copayments, for one low monthly premium price. 
There are 10 different Medicare Supplement Plans to choose from, each offering different coverage options and rates. It's worth looking into a Medicare Supplement Plan to save as much money as you can, so speak to an EZ agent for all of your options. EZ's agents work with the top-rated insurance companies in the nation and can compare plans in minutes for you at no cost. To get free instant quotes for plans that cover your current doctors, simply enter your zip code in the bar on the side, or to speak to a licensed agent, call 888-753-7207.