When you were a child, it probably felt like it was easy to meet new people and form relationships. Whoever had a ball or the latest gadget to play with was a good candidate, and you could march right up to them and strike up a friendship. As an adult, though, making connections can feel a lot harder and more complicated, especially when our options for going out and interacting are limited. Feeling connected to others, though, is a vital part of our mental health, so what are we adults to do? Fortunately, with the internet, we have the world at our fingertips, literally. So, if you're looking to meet new people, whether for romance or simply friendship, we've got the ultimate guide to meeting people online.

Meeting People, 21st Century Style
Connecting in the 21st century often revolves around the internet. In the United States, people spend, on average, over 2 hours a day on social media; in the last year, the total number of global social media users has surged by more than 10%. That's a lot of people out there in cyberspace, looking to feel connected to others. 
Social media is popular, but how about apps for meeting new people? Also popular, and only getting more popular: almost a quarter of all Americans say they have used an app (or website) to meet someone. Not only that, but more than half of Americans say that relationships started online are just as successful as those started in person. If all this sounds promising, then where do you start if you're looking to make connections from your couch?
The Best Dating Apps
Looking for romance? Whether you want someone for some casual chats and meet-ups, or someone to get serious about, check out our picks for making an online love connection: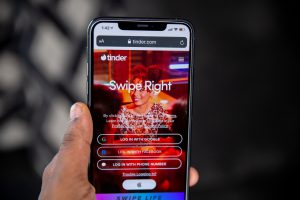 Tinder –

Not exactly an under-the-radar pick, but it

is

one of the most popular dating apps, so it needs a mention. Tinder has a reputation for being hookup-heavy but it seems equally successful at making meaningful matches – after all, because it's so popular, you'll have a huge pool of people to choose from. To get started, you add a brief bio and picture, but once you start browsing dating prospects, you'll only be shown their picture, age, and name – you then see a little bit more info about them and choose whether to "swipe right" to like them or "swipe left" to reject them. If you both "swipe right," then you've made a connection and you can message each other. Tinder pretty much pioneered the "swipe right" or "swipe left" style of online speed dating, which a lot of people find fun, but others might find a tad superficial. They have recently added a video chat feature, but it's only available in certain areas. 
Hinge – 

Hinge bills itself as "the app designed to be deleted," so they're pretty confident that they're going to help you find a match. It is true that they're slightly less hookup focused – or at least, they give you the option to find out if that's all that your matches are looking for, since you can immediately see what type of relationship they're looking for.  Hinge is generally similar to Tinder, but we think it's more fun: you get to do your swiping when answering rapid-fire, interesting questions about yourself, and these questions seem to help find you deeper matches (as opposed to a brief bio). Their new "Dating from Home" feature makes them extremely dating-from-home-friendly. 
Plenty of Fish –

Tinder may dominate a lot of discussions about online dating, but Plenty of Fish has been around

a lot

longer. That means they've got a giant pool of people to choose from – over 90 million worldwide at last count. That's a big selling point on its own, but Plenty of Fish also has all of the features you could want from a dating app – a Tinder-style swiping mechanism, ways to find matches near you, a test of your likes and dislikes, and questions about what you're looking for in a relationship. The best part? Unlike other apps that have free and premium versions, Plenty of Fish is completely free.

Bumble –

Bumble works in a similar way to Tinder, if even slightly more superficial – your profile consists of a short blurb and a max of 6 photos. Their twist is that, for mixed gender matches, women have to be the first to message the man, and they only have 24 hours after being matched to do so. If you're a woman looking for a man and are tired of unsolicited messages, it's a great option for you; however, if you don't like initiating conversations, you might want to look elsewhere. Bumble has also recently added in-app voice and video chat functions. 
The Best Platonic Apps
Here's where you might start to think, okay, I get online dating, but can you really find platonic relationships online? Sure! Dating websites and apps have been around for what feels like forever, and now app developers are realizing that there's a similar demand for finding new friendships. There are apps out there to meet people based on all sorts of criteria, so you're sure to find one that works for you. Check out our top picks for meeting a new buddy:
BumbleBFF –

This version of Bumble's app is pretty much exactly the same as their dating app, except for platonic relationships. You add a brief bio, swipe right on people you're interested in, and are given 24 hours to initiate a conversation with matches – the only difference is, any gender can strike up a conversation. 
Friender –

Another app where you swipe to find a friend match, but Friender lets you build a more detailed profile. So instead of getting random matches, you're getting suggested matches that have at least one interest in common with you. 
Peanut –

A simple, yet genius idea – allowing women who happen to be moms find friends who also happen to be moms. Having a little one can feel isolating, and feelings of isolation can make

postpartum depression

worse, or vice versa: postpartum depression can amplify feelings of isolation. If you're having trouble meeting like-minded moms, Peanut can get you back in the friend-making game. It's not just for new moms: you can find matches based on multiple criteria, including the age of your children, so that you can easily navigate a mom date/playdate combo. 

Atleto –

If you're looking to find a jogging or cycling buddy or a tennis partner, look no further than Atleto. This app is especially useful right now, when many people are looking to keep things safer by staying outdoors. 
Tips for Getting Started
If you've decided to go the virtual route and try one of these apps, we think that's a great first step towards making new connections, whether you're living through a pandemic or just feeling like you need some help finding meaningful relationships. Hopefully, you're online connections will turn into real life relationships – as you navigate that transition, keep the following tips in mind: 
Just jump in and put yourself out there! Start a conversation, and keep it moving. You joined the app because you wanted to meet new people, so don't start overthinking it now.

When you get matched with someone you like, try to move quickly from messaging through the app to a more synchronous way of communication, like video chatting. Texting is just not the same as talking to someone face-to-face (sort of)! You'll get a better feel for whether you connect or not; in fact, according to one online dating app user, online "dates have been better than the ones in real life because we're having to communicate more."

When scheduling a virtual meet-up, make sure you have a way to keep it short. Give your match a small window of time when you're free, and use that brief first "meeting" to get a feel for whether you want to proceed. If all goes well, then suggest you spend more virtual time together – try something low-stress, like watching a favorite movie online together, complete with commentary and similar snacks. 

If you're using apps to find dating partners, and you do choose to meet in person, remember that they might not look

exactly

like their picture in real life, especially if they haven't been able to get a haircut for a while! Don't let that cause stress the moment you meet, give yourself time to warm up to them.

Whether you're in some form of pandemic quarantine or not, choose somewhere safe to meet – definitely in public, preferably outdoors. If there's an outdoor activity that you especially enjoy, like

hiking

, suggest that as a low-stress meetup.
As the saying goes, adulting is hard. We've all got so much on our plates, so sometimes simple human-to-human connection can get put on the back burner. Or sometimes, it's all we're craving, but it feels hard to find ways to add more of it into our lives. Relationships are so important to our mental health – and with all of the technology available to us, there's no excuse not to (virtually) get out there and meet people. So, if you're ready to take the plunge, then get going!