You go to the doctor for a routine checkup. Afterwards you go to the store to buy some groceries, only to realize that the place in your wallet where your Medicare card usually is is empty. You search your pockets and car – nothing. So you call the doctor's office only to be informed they do not have it. You begin to panic because you've always been told not to lose your card or give out your information. Not to worry, you can report your lost card stolen or missing and get a replacement card.
Your Medicare Card(s)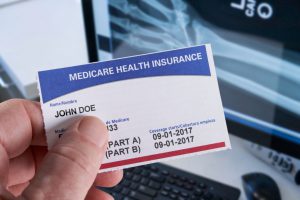 When you enroll in Medicare or sign up for a Medicare Supplement Plan, you will be given insurance cards for both. You must keep them on you so that you can present them to your doctor, hospital or any other medical provider. If you lose either card, you need to notify your doctors immediately so that they know your card is no longer valid. Once you get a new card, either go to their office or call them to give them your new card information. 
Your Options
If your Medicare card is lost, stolen, or damaged, you can: 
Request a replacement Medicare card online through your My Social Security account. If you've recently moved or changed your name, you can also update the information Medicare has on file for you through your account.

Call

Social Security

at 1-800-772-1213

Visit your local Social Security office.

Request a replacement card through the Railroad Retirement Board (RRB) if you were a railroad employee. You can also call the RRB at 1-877-772-5772

Once you notify Medicare your card is lost, you will get a replacement within 30 days.
Once notified, Medicare will cancel your old card, making it inactive, and issue you a new one. Your new card will arrive in the mail 30 days after your request to the address they have on file. However, if you need one sooner than that for an upcoming doctor appointment, Social Security can provide a letter of temporary proof of Medicare coverage. 
If your Medicare Supplement Plan card is lost or stolen, immediately call your insurance company – they will cancel the number they assigned to you and issue you a new card. It will take a few weeks for your new card to arrive. 
In the meantime, you should continuously review your statement of benefits to make sure that no one was using your card fraudulently before you reported your card stolen or lost. 
In order to avoid losing your card, consider keeping it in a safe place so you are less likely to lose or damage it. In the event that you do lose your card, you can get a new one fairly easily, but you need to call as soon as you notice it is missing! 
If you are enrolled in Medicare and are looking into a Medicare Supplement Plan to help control your out-of-pocket expenses, EZ can help. We work with the top-rated insurance companies in the country and are able to access all available plans in your area. Medicare Supplement Plans help you stick to a budget while offering more coverage for your medical needs. To get free instant quotes, simply enter your zip code in the bar above, or to speak with one of our licensed agents, call 888-753-7207.