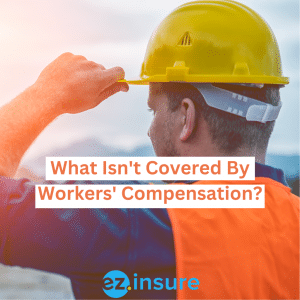 Every business that has employees should have workers' comp insurance. In fact, this type of coverage is required in most states. But even if it weren't required to have it. You would still have a responsibility to protect your business and its employees from the legal and financial risks associated with workplace injuries. 
These policies typically cover most workplace injuries and illnesses caused by workplace conditions. But workers' compensation cases aren't always black and white. They definitely cover things like repetitive stress injuries, traumatic brain injuries, broken limbs sustained after a fall, etc. But what are the limits? What or who is does workers' compensation not cover?
Workers' compensation insurance is among the simpler types of commercial insurance policies to understand. Simply put, if one of your employees sustains an injury on the job, the policy will be cover them. Employees benefit from compensation for medical expenses and lost wages, and businesses save money by avoiding lawsuits. 
But in reality, though, things are not always so straightforward. Some workplace injuries may raise doubts in the minds of employers. What if, for instance, a worker sustains an injury on the job, but the incident was entirely their own doing? 
In this case, you should know that workers' compensation is no-fault. Which means that employees who are injured due to their own carelessness are still entitled to benefits. However, this still has its limits. For example, an employee's claim will be denied if the incident that led to the injury occurred while the worker was under the influence of alcohol or drugs. 
In addition, workers' comp generally covers repetitive stress injuries like carpal tunnel syndrome and asbestosis. But when it comes to repetitive stress injuries like chronic back pain or diseases like heart disease or high blood pressure, things become a little murkier. An employee claiming that one of these conditions is from work must provide overwhelming evidence.
So, let's clear things up a little and look a little more closely at what isn't covered by workers' compensation.
Examples of Injuries Workers' Compensation Won't Cover
Workers' compensation insurance covers most injuries on the job or when an employee is off-site but still working. Injuries employee injuries in the workplace must be evaluated on a case-by-case basis. There are exceptions to coverage, including:
Driving to or from work –

If an employee is hurt while commuting to or from work, the injury is not considered to have occurred in the course of their employment. As a result, the employee is not eligible for compensation unless they were driving specifically for their job.

Injury while intoxicated –

If an employee sustains an injury while under the influence of an illegal substance or while intoxicated, and if the employee's intoxication is the only cause of the injury, the injury will typically not be covered by workers' comp.

Horseplay –

Playing around at work, in general, does not contribute to the success of the company, which is why an injury that results from such an activity is not covered by insurance. But there is an exception to that rule. If an employee gets an injury during the incident but wasn't directly part of the horseplay, the rule will not apply to the employee.

Intentional actions –

In the event that a worker intentionally brings about their own injuries or illnesses while on the job, workers' compensation will not cover them.

Illegal activities –

Workers' compensation won't cover injuries of workers as a result of illegal activities on the jobsite.

Policy violations –

Employees who sustain injuries while acting in a manner that is contrary to the company's policies, procedures, or protocols are not covered by workers' compensation.

Ex-employees –

Unless the injury occurred before the employee was terminated from their position. Former employees who have been fired or laid off from their jobs will no longer be covered by workers' compensation insurance.
Are All Employees Covered?
Workers' compensation coverage requirements vary by state, as well as by the number of employees and their classification codes. For example, manual laborers are classified differently than office workers for workers' comp purposes. Some states, for instance, mandate workers' comp insurance only for businesses with a specific number of employees. In general, though, all full-time employees must be covered by workers' compensation insurance, but the specific regulations may vary from state to state. Workers' compensation laws for freelancers, temp workers, and interns are not standardized across the country. 
In some states, workers' compensation insurance is optional for:
Farmhands

Insurance agents

Family members under a certain age

Casual workers

Business owners and partners

Real estate agents
Most state laws also list specific types of employment excluded from workers' compensation coverage. Typical examples of excluded workers include:
Part-time domestic workers, such as maids and nannies

Part-time gardeners or maintenance workers employed in the home to perform specific work.

intermittent workers performing very little work in the course of a year.

Taxi drivers

Some agricultural workers
Workers' compensation insurance is typically required by states, but the federal government does not provide its employees with this protection. Instead, they are protected by federal workers' comp. 
These exemptions are not universal, and you should be aware of the workers' compensation laws in your state. Check out our state-by-state workers' comp guides for more specific information on laws in your state.
Is There a Workers' Compensation Claim Deadline?
The majority of the time, the rules governing workers' compensation work in the employee's favor. On the other hand, though, employees cannot decide to make a claim for an injury that occurred years ago. 
Although there may be some exceptions to these rules. In general, a claim for workers' compensation benefits has to be made within a certain amount of time in order to be considered. Employees usually have between one and three years from the date of the accident to notify their employer and file a complaint with the state from the time the accident occurred. This time period varies from state to state. Check out our guides to workers' compensation in each state to get an accurate estimate of the amount of time your employees have to file claims, as well as how long the claims process generally takes.
Does Where an Employee Gets Injured Matter?
The vast majority of injuries that occur while working are covered by insurance, with a few exceptions. But is it necessary for an employee to actually be present at their place of business? In the vast majority of cases, it doesn't make a difference where the employee is located, as long as they are working; in fact, they could even be traveling between different locations.
Take, for instance, a scenario in which your employee sustains an injury while traveling to or from work. Because they were not carrying out any work-related responsibilities, they would not be eligible for workers' compensation benefits. Suppose on the other hand, that a contractor must travel from one location to another in order to check on worksites or deliver supplies. Because the contractor was carrying out their duties at the time of the injury, they would be eligible for coverage in the event that they were in a car accident.
Workers' Comp Laws for Federal Employees, Railroad Employees, and Longshoremen
Workers' compensation benefits for federal employees, railroad workers, and longshoremen (dock workers) are administered by separate systems from those administered by individual states.
Postal workers and other federal employees have access to benefits under the Federal Employees' Compensation Act (FECA). Injury and illness on the job are covered by this law.
The Federal Employers' Liability Act, also known as the Railroad Workers Act, provides protections for railroad workers. In the event of an industrial accident on the railroad, this law allows employees without workers' compensation to sue their employer. they may get compensation for expenses such as medical care, lost wages, and pain and suffering.
The Longshore and Harbor Workers' Compensation Act governs workers' compensation for longshoremen who sustain injuries or occupational diseases while working on U.S. navigable waters or piers.
There are workers' compensation lawyers who focus on these types of situations. If you are a federal employee, railroad worker, or longshoreman and you get an injury on the job, you should hire a lawyer who focuses on workers' compensation law.
EZ Can Help
Every business owner should think of workers' compensation insurance as essential to their operations. It safeguards not only the employees on whom you rely on and who are important to you, but also the hard work that you have put into building your business. But, as with any other insurance policy, there are limits to its coverage. And both employers and employees should be aware of the things that the policy does and doesn't cover. 
EZ is here to assist you with any questions you may have regarding workers' comp coverage for your business. We will set you up with your own dedicated agent. Who will provide you with instant free quotes, answers to all your questions, and help choosing and signing up for policies, all free of charge. You already have a lot on your plate, so let us handle your insurance needs. To start, simply enter your zip code in the bar located below. Or you can call 877-670-3538 to speak with an agent right now.