Did you know that 56% of employees would prefer health insurance over an increase in pay? Offering health insurance also means recruiting the best candidate for a job – most job seekers will not look twice at a posting if an employer does not offer health insurance. Having the right benefits plays a big role in your employees' job satisfaction and productivity. Your employees will feel more valued, and will be able to stay healthier when they are insured. A healthcare plan is a small price to pay for the success of your business.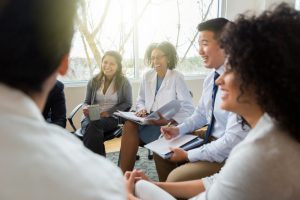 Healthy Employees = Happy Employees = Productive Employees
Studies show that small business health insurance plans increase employee loyalty and decrease turnover. There's scientific proof that purchasing insurance for your employees can increase retention and aid in recruitment of new employees.
Employees who aren't provided health insurance are more likely to avoid seeking medical attention when they are sick, and less likely to go to the doctor for routine preventative care. In short, they are at greater risk of being unhealthy. When you offer health insurance, you offer your employees an opportunity to remain healthy and happy. And when employees are healthy and happy they are more likely to come to work and not call out sick. According to a Willis survey, 93% of employers say that healthier employees are more productive employees. 
Workplace Wellness Programs
One way to make sure that your employees remain healthy is by offering a workplace wellness program as part of your healthcare plan. These programs give incentives for employees to meet their health goals, like quitting smoking, or getting more exercise. Encouraging even small changes in employees' lifestyles can make a big difference in productivity.  In fact, one survey found that employees who eat healthy are 25% more likely to have higher job performance. Your wellness program can also include perks like discounts on gym memberships, which can go a long way in not only promoting better health, but also greater job satisfaction. 
The Cost
Happiness is not cheap. Group health insurance can be costly, but the trade-off is a healthier, more productive workforce and less employee turnover, which can save you money in the long run. And remember, the more employees you have, and the more employees that participate in your health plan (offering perks can help with that!), the lower the cost of providing benefits. When you have a lot of employees in a pool, there are more options available at a lower price.
You also save money with the tax benefits of offering group health insurance:
Employer contributions are tax-deductible

Employer payroll taxes are reduced by 7.65% of employee contributions

Employer workers compensation premiums are reduced
We get that trying to find a group insurance plan for your employees isn't easy. There are a lot of different plans to choose from and you may not be sure which benefits you should offer your employees. One way to help you  figure it all out is to have your employees complete a health insurance survey. After obtaining the results of the survey and deciding which direction you want to go in, come to EZ.Insure. We will make the process easy and pain-free. You will be provided with a highly trained agent who will compare all available plans and help you decide which plan is best for your business. To get free quotes on plan, enter your zip code in the bar above, or to speak with an agent, call 888-998-2027.