This time of year is magical for toddlers and young children. They get to help bake cookies, open presents, and go to holiday parties. All while spending quality time with their family. It's hard to believe that with all that magic children can get stressed out. But the holidays really can be a strain on them. When children feel stress, it can make them act out or throw tantrums. A lot of your holiday activities probably depend on your kids being on their best behavior. Taking these steps to keeping your kids stress-free can help ensure everyone has a happy holiday.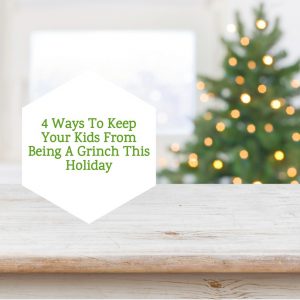 1.Try to Maintain Their Sleep Schedule
Sticking to your child's normal bedtime routine as much as possible is key to minimizing their stress levels. It's tempting to let the kids stay up late during the holiday break, but you spent the school year getting them used to their routine for a reason. Kids function better when they get enough sleep and keeping their bedtime the same helps prevent sleep deprivation. Even adults struggle to relax when their sleep schedule is off. Keeping them on their regular sleep schedule will help prevent cranky attitudes and unnecessary stress. Adding too many holiday activities to their routine can exhaust them. Keeping their sleep schedule as normal as possible helps keep them from getting overwhelmed. Then they are more likely to enjoy themselves.
2.Don't Over Schedule
Speaking of fun activities, try not to overload their schedule. Just like you, your kids can get burnt out when they've got too much on their plate. Pick and choose which holiday parties and family gatherings to attend. Try giving them a day or so in between each event. This way, they can do something quiet at home to unwind. That way, they won't become overwhelmed at the next event.
Monkey see, Monkey do. Kids can feel the tension in the house when you are stressing. Set an example for them, you can't help your kids stay calm if you're not calm yourself. Allow yourself to get the sleep you need and make sure to set some time aside for yourself to take a break and regroup. By setting a calm environment you can help your children find their own calm and make it through the holidays stress-free. 
4.Stay Healthy
Holidays are full of sugary junk food. Unfortunately, with all of that sugar comes hyperactivity and difficulty sleeping. Making sure your kids get 3 normal meals a day with healthy options to offset some of that junk can help keep their mood balanced. You don't want to deprive them of all the delicious snacks the holidays have to offer, so try to balance it instead! Lots of sugar can also cause dehydration so it's important to add a little extra water into their diet as well. When their bodies feel healthy their minds will too, making it easier for them to remain stress free.
While keeping up with your to-do list and busy schedule remember that kids have big feelings too. They can experience the same emotions you do except they're still learning how to identify those emotions. And sometimes those emotions show themselves as attitude or crankiness. If you keep them well rested, well fed, and schedule time to relax you will have nothing but wonderful memories with them.
Co-written by Brianna Hartnett