The economy has changed a lot over the last few years, so we created a free resource to help you understand the best practices for navigating your small business through a recession or economic downturn.
If your business has the right approach, and the right resources, it's possible to weather the storm and even thrive when times are tough. If you're interested in learning several strategies, you're going to want to download this whitepaper.
We'll cover everything from staying on top of cash flow management to investing in employee benefits and morale initiatives; so keep reading for tips on how you can use these strategies to help make sure your business comes out stronger than ever.
Our 2023 whitepaper – "How Small Businesses Can Persevere Through a Recession" includes topics such as:
The most significant problems American businesses are facing
​​​How to recession-proof your company
Why you shouldn't cut insurance costs or benefits to save money
Want to learn more? Click the image below to download the full report: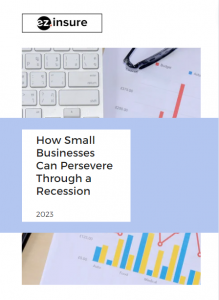 After you've read the report, and decided you're ready to find the best plan for your business, the next step is to get your free, personalized quotes.
Need Help?
Trying to figure out which group plan is best for you and your employees is a lot of work. There are so many insurance companies, and each has multiple plans to compare. Because EZ.Insure works with a variety of insurance companies around the country, we have easy access to all available plans. We can compare plans in minutes for free, answer any questions about business requirements for group insurance, and guide you through the process. We work hard to save you as much money as possible, because we know that group insurance can be costly. 
To get free instant quotes, simply enter your zip code in the bar above, or to speak directly with an agent, call 888-998-2027.