It's that time of year again! For many employers who offer healthcare benefits, the fall means open enrollment for your employees. It's time to start thinking about how you're going to present your group health insurance plan to your employees, and how you can help them to understand what is being offered to them. But we all know that this has been an unusual year, and with many businesses operating remotely, it will be a challenge to present the usual binder full of print-outs to your employees. You might be worried about how to get everyone engaged in your plan, but think about it this way: your employees might be more ready and willing to pay attention this year, because healthcare suddenly seems more important to them than ever. So why not take advantage of both their interest and your new reliance on online meetings and host a virtual benefits fair?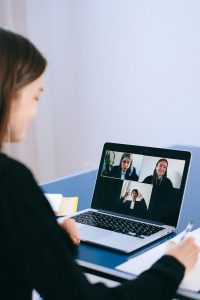 The Challenges
It sounds so easy on paper: you research a group health insurance plan (or plans), offer them to your employees, they choose and sign up, and then they can get the healthcare that they need. But it might not be so easy in reality. Employees need to understand their benefits, and how they work in order to make the most of them – or to even feel compelled to sign up for your plan. 
Unfortunately, surveys show that only 40% of employers actually help their employees understand their benefits. We get it: you're an expert at your job, but you're not an expert on health insurance, so you may feel tempted to go the traditional route of simply handing out printed materials and brochures and hoping for the best. But this leads to overwhelmed and uninterested employees, who often end up skimming the materials and getting nothing out of it. In fact, studies show that employees spend an average of only 30 minutes thinking about their benefits choices when they're simply handed information. 
So, in the traditional scenario, you've wasted time and resources on giving information to your employees, and you still haven't really gotten through to them. Not only that, but with much of business being conducted from afar these days, you might find it difficult to even get these materials to them, or to have in-person info sessions or meetings with insurance reps. What can you do? Spend the money to mail everything? Have a designated pick-up time at the office? We've got a better idea: stop the endless printing and collating, eliminate the need to coordinate in-person meetings, and guide your employees through a review of their plan in a more relaxed atmosphere. 
Why Host a Virtual Benefits Fair?
Now is definitely the time to consider hosting a virtual benefits fair, and the advantages of presenting your plan this way might tempt you to do it this way every year. Virtual benefits fairs are a win-win for everyone involved: they're flexible, efficient, and effective – and they can save you time and money! Some of the top reasons to host one include:
Data shows that they're effective and engaging.

Remember that 30 minutes that employees spent on reviewing your plan information? Studies show that when employers hosted a virtual benefits fair, employees spent at least 45-60 minutes reviewing their benefit options.

Hosting a virtual benefits fair will lead to immediate feedback from your employees in order to know what to look for in a plan.

You can reach all employees, no matter their location.
Families can get involved in the decision.

If employees can access the fair from home, then their partners or dependents can listen in and find out more information about the benefits that affect them.
You get immediate feedback.

If you decide to host a fair with multiple "rooms" to visit, then you can see which were visited most frequently, or seemed to generate the most interest.
Employees can get direct access to representatives.

You can host a fair that gives employees the opportunity to speak directly to insurance representatives, and get their questions answered by an expert!
Employees take full ownership of their benefits package.

When everything is online, employees can choose which presentations to watch and they can download the information they find most relevant – and keep it for further reference.

Hosting one is a way of showing that you care about your employees and their health.

Offering healthcare is always a way to attract and keep valued employees – but organizing a virtual benefits fair to make sure they're well-informed? That's a whole other level.
How to Do It
So if saving time and money, keeping your employees informed and happy, and doing it all from the comfort of your home sounds good to you, then let's take a look at how you can go about setting up a virtual benefits fair. 
Look into a virtual events platform.

To make your fair as engaging and effective as possible – and to take a break from the usual Zoom meetings! – use a virtual events platform to do all of the heavy lifting for you. There are many options to choose from.

Decide what you want to include. Make a list of the elements you'd like to see in your fair. This could include: one-on-one chats, downloadable materials, live webinars, and pre-recorded videos.
Schedule a date and time.

This should be easier to do than scheduling an in-person event, as you can be more flexible. You just need to think about the best time to do it – during open enrollment? Before? How much time will you need to plan it? Are there any company deadlines you need to consider?
Let your employees know!

Give yourself plenty of time to internally market the fair to your employees. Email them, mention it frequently in group communications, and post about it on your social media platforms. 

Evaluate how it went.

After it's all over, don't forget to take a look at the data: what questions were frequently asked? What webinars or presentations were most popular? All of this information can help you to tailor future benefits communication to your employees – it'll also let you know what your employees are most interested in when it comes to their healthcare plan!
Your employees will almost certainly have questions about the healthcare benefits included in their group health insurance plan, but engaging them on the subject can be challenging. So take advantage of the technology available nowadays, and give employees an engaging, flexible, and tailored way to learn about their options. And if you have questions about offering group health insurance to your employees, or if you're looking for a great plan, talk to EZ. We'll set you up with an agent who can provide you with all the information that you need, get you fast, accurate quotes, and sign you up for a great plan – and we'll do it all for free! Get started with us today by simply entering your zip code in the bar above, or you can speak to an agent by calling 888-998-2027.