Well, spooky season is over, and it's time to turn those pumpkins into pie. And before you know it, you'll be battling the crowds in the shops, or more likely these days, firing up your credit cards online and watching packages pile up at your front door for the coming gift-giving season. But as the year glides towards its end, and our thoughts turn towards thanks, family, and giving, let's not forget that giving isn't only about prettily wrapped presents. One way to get into the spirit of the season is by volunteering your time – and not just at this time of year, but all year round. You'll be doing good for others, and good for yourself! Find out how you can get started, and why you should.
Volunteering Is Good for Others
and
for You!
There's no doubt that whatever organization you choose to give your time to will benefit from the work you do for them. But you'll also benefit from getting out there and doing good! Consider this: did you know that studies show that volunteering for altruistic reasons is associated with a longer life, and a lower risk of dying? In fact, depending on the study, volunteering is associated with anywhere from a 20-60% reduction in death rates. To put that into perspective, the change to clean drinking water in the early 20th century (due to technological advances) caused a drop in death rates of only 15-20%. 
So why is giving back so good for you? Some of the reasons include that volunteering is: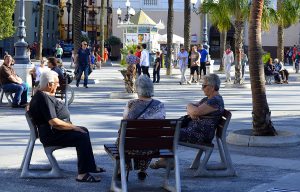 Great for your social life –

Isolation isn't good for anyone, but it's especially bad for older adults. In fact, being/

feeling isolated

puts you at greater risk of developing a serious illness or dying. Volunteering gets you out and about among people, making connections, even if it's for a few hours a week (or even virtual!)
A mood booster –

Following on the idea of feeling isolated, older adults can be susceptible to depression if they feel like they're lacking

connection

. Volunteering, though, can help stave off the blues:  one study even found that 70% of elderly people who were experiencing five or more symptoms of depression saw a decrease in those symptoms after their first year of volunteering.
Good for your brain –

Cognitive function is a big concern for a lot of older adults, but volunteering helps you to stay active, and stimulates your brain as you face new challenges, learn new skills, and converse with new people. All of this can mean better brain health as you age.
Physically engaging –

According to some studies, less than a third of people over 65 are

physically active

– and that can be seriously bad for their health. Getting out of your house and volunteering (especially if it's something that actually requires you to get out and move, like working at a community garden or working for a local election), can ensure you get your steps in, and get your blood pumping (to keep that heart healthy!)
Sounds good, right? The combination of knowing you're giving back to your community and knowing you're doing something that will improve your own life might be making you feel pretty motivated right now! So what are some ways that seniors can give their time?
Ideas for Ways to Give Back
Check out the following ideas for volunteering, and remember that there are both large national and local organizations that you can look into:
Work with children
If you're missing your grandchildren, are still waiting for some, or just like to be around the littles in general, consider doing some volunteer work with children. There are lots of ways to do this, including:
Becoming a mentor at a local youth community center
Tutoring online

(a great choice for those with mobility issues)
Getting involved with the Big Brothers Big Sisters organization
Giving your time at a hospital –

Many hospitals rely on volunteers to tutor patients, read stories, monitor playrooms, and assist families with whatever they may need during a child's stay
Provide some hunger relief
Times have been tough for a lot of people, and organizations serving those who are food insecure are more in need of help than ever. If you'd like to help provide some relief, consider: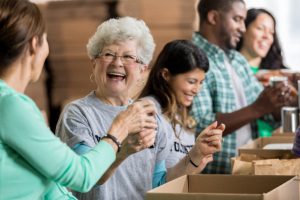 Starting a food drive in your community –

You can also consider running a

community fridge

that puts free food right onto neighborhood streets
Volunteering for a local food pantry or shelter
Serving other seniors through Meals-on-Wheels
Doing some gardening at a community garden that provides food banks with produce
Drop some knowledge
If there's something that you've been interested in for a long time, or there's a hobby you want to spend more time with now that you're retired, consider volunteering as a docent or a tour guide. Local colleges, museums, or other organizations often offer programs to train docents or tour guides, and you could end up educating others at botanical gardens, museums, historical sites, conservation groups, or even some seriously niche places, if that's your thing. 
Get outside
National parks are great places to visit, but are also great places to volunteer. If you want something more flexible, or have limited time, you can volunteer at one-time events at a park near you, or you can look into more long-term positions. And get this: if you give 250 volunteer hours, you'll get a volunteer pass that gets you into all national parks for free!
Talk to the animals
Are you an animal lover? Local animal shelters, rescues, and humane societies are always in need of volunteers to care for animals, organize fundraising events, perform administrative tasks, or even help to rescue pets in the wake of floods, fires, and other natural disasters. If you want to do something more low-key, you could even consider taking in animals as a foster pet parent. Already have a pet who you think is a star? You could get them certified as a therapy animal and bring them into children's hospitals, nursing homes, or hospice care.
Do some taxes!
Have years of doing taxes made you something of an expert (or are you a retired accountant)? There are a lot of people who aren't so confident, and could certainly use some help. Check out local community centers that might offer this service, or talk to local businesses that might need some help.
Get political
Are you passionate about politics? Well, get out there and make your voice heard, and not just by voting! You can:
Canvass for a local politician who you believe in

(and get some exercise while you're at it)

Attend a phone bank
Work the polls on election day
Some of the above will get you moving, and all of them will get you connecting with other people!
Tips for Getting the Most Out of Your Volunteer Experience
Hopefully some of the above ideas speak to you! If you're still not sure where to begin, consider the following tips for getting the most out of your volunteer experience: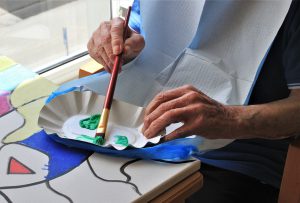 Think about why you want to volunteer –

What are your motivations? Thinking about this can help to steer you in the right direction.
Focus on your passions and talents –

Think about what moves you, as well as what you're good at and what you have to offer.
Look locally –

All of the above are great ideas for how to get involved, and there are large organizations you can get involved with, but don't forget to do a little research into the best local organizations to get involved with that allow you to work with children, animals, or whatever you're most interested in.
Understand what will be required of you –

Look at the specific qualifications for each possible organization, and what they expect of their volunteers, and make sure you will be a good fit for them and vice versa.
Don't over-commit –

Volunteering is great, but spreading yourself too thin is not. Remember that as fun as volunteering can be, it's still work.
Bring a friend –

You should go into a volunteer experience hoping to meet new people and make new connections, but it never hurts to bring someone along – most organizations need all the help they can get!
This is the time of year when we give thanks for what we have, and maybe also want to show our gratitude and spread the love by giving back to those around us. Volunteering is a great way to do that, and it doesn't hurt that it's also great for your body and mind, right? So think about getting out there and giving back, not just at this time of year, but all year round – you never know whose life you will touch, or how your own life will be touched. And don't forget to tell us about your adventures in volunteering – we want to hear from you!
Co-written by Joanna Bowling