What is the one thing we've always got with us? That's an easy answer: our smartphones. These devices have been our once-in-a-generation technological advancement, like the computer before them, the TV before that, and the radio before that. It didn't take long for smartphones to blow away the rest of those. For example, in 2019, people actually spent more time on their phones than they did watching TV. And what are they doing on their phones? Using apps!
In the last few years, studies have shown that users spend 3.1 hours per day using mobile apps (up from just over 2 hours in 2017), but just 26 minutes browsing the web on a mobile device. App time made up nearly 20% of total media time for most people. So what does all of this mean for your business? That it might be time to build your brand, increase visibility, and boost your bottom line with an app. If you think that the benefits outweigh the costs of creating an app, then you'll need to hire at least one app developer. Here's how to do it!
Why an App?
Before we get into the search for an app developer, let's take a look at why the sometimes costly decision of creating an app for your business might be the right way to go. Having a mobile app can: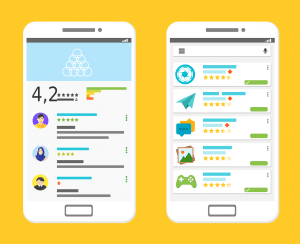 Help you build a stronger brand –

3.5 billion people in the world have smartphones, and what business wouldn't want to be visible to even a small fraction of that customer base? Having an easy way to connect with mobile users is a great way to increase visibility for your brand, but it's also a way to increase the trustworthiness of your brand. Your business will be seen as more established and legitimate if you've got a well-designed and engaging app. 
Increase customer engagement –

Having an app will not only help your brand get noticed, but it will also allow your customers to fully engage with your business. They can get customer service 24/7, leave feedback and comments quickly and easily, collect loyalty points or rewards for being returning customers, and even play games that keep them coming back for more. Think about it: your business will literally

always

be in their pocket, and your logo will be right there on their screens. And think about this: 35% of customers return more frequently to businesses that they have interacted with through an app.  

Boost sales –

Building your brand, increasing visibility, offering amazing customer service – what is it all for? To increase profits. If consumers can find you easily, they will become potential customers. If they get answers quickly, they will most likely change from potential customers to paying customers. In fact,

33%

of customers that use apps

buy more frequently

,

34% buy more

, and

37% spend more

compared to those who don't. To give a real-world example, when Domino's Pizza launched their app for mobile ordering,

they saw an ecommerce rise of

28%

in half-year pre-tax profits.
While creating an app for your business will most likely mean spending a good chunk of money, the benefits are clear. So if you've decided to go in this direction, you'll need to hire at least one, and maybe more, app developers. So what should you be looking for, and what are the steps you should take in starting your search?
What Makes a Great App Developer?
App developers share some of the same skill sets with web developers and software developers, but they definitely also have a unique set of skills. They also don't usually work alone: they typically work with graphic designers, product and project managers, and data scientists. They might specialize by operating system (e.g. iOs or Android), or by niche (e.g. project management apps, food delivery apps, lifestyle apps). A good app developer: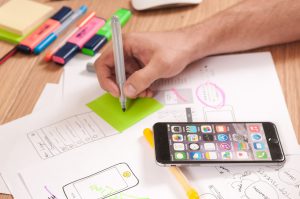 Has great knowledge of user interface –

they need to have a good eye for color, spacing, usability, user navigation, and more. There are a lot of apps out there, so yours need to stand out, or at the very least, provide a smooth, simple, intuitive, and enjoyable experience. 
Knows a variety of programming languages –

this is where it gets technical. If you're looking for an app developer, make sure they know the following programming languages: Java, C+, CSS, and HTML5. They also need a great knowledge of application programming interfaces (APIs). 
Is an excellent communicator –

as we already mentioned, app developers need to be able to work very effectively in a team. They need to be able to communicate very clearly, and to accept and process feedback.

Can build for more than one platform –

they may not be experts in all platforms (iOS, Android, Windows Mobile) but they should have at least a working knowledge of the 2 that they are not experts in. Another tip: check to see if they know Flutter, which lets developers build apps for more than one platform at once. 
How to Hire App Developers
The above are the basics of what it takes to be a great app developer. Now you need to know how to go about finding these great developers. Before you start your search, think about:
What you want to develop –

before setting out to hire someone, decide what you're looking for. Will your app be for multiple platforms or just one? Do you already have an app, even a rudimentary one, or are you starting from scratch? Do you want a developer who specializes in certain types of apps? Take the time to do your research, so you'll know the basics, like the fact that it costs more to build an Android app than it does to build an iOS app. Look at your competitors' apps and talk to businesses who have been through the process, so you can get a better idea of what you're looking for.

The scope of your project –

if you're starting from scratch and want a great app in a reasonable amount of time, you might find that one app developer is not enough. You might also need to work with a quality assurance engineer or a UX/UI (user experience/user interface) designer. Again, do your research and talk to experts or those who have been through the process.
To get your search started, you'll need to write a stand-out job posting. App developers are in high demand, and therefore often in short supply. They usually have their pick of jobs, so you'll have to write a killer ad to get their attention. You need to:
Post your job in the right places –

stick to social media, not job boards
Be transparent about salary and benefits
Make them an offer they can't refuse –

be prepared to offer something extra, whether it's more pay than your competitors, better benefits, a chance to expand their skills, etc.

Link to a skills test –

let interested developers jump in immediately and show that they can do the job – they'll know that you're ready to hire quickly!
Once you've got a pool of applicants: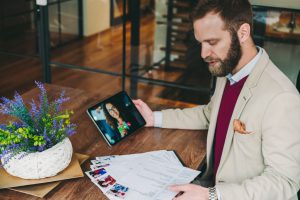 Put their skills to the test –

as suggested above, it's a good idea to ask applicants to do a skills test

before

you decide to meet anyone. In addition to sending a good message to serious applicants, this will help you weed out the unqualified applicants and narrow down your search. When you get to the actual interview process, you'll have more time to speak with the smaller pool that you've chosen.

Check out their portfolios –

the great thing about experienced app developers is that their work is easy to check out! Ask them for a list of apps they have worked on, making sure to also ask how much input they had on each one and what their role was in developing it. Then download those apps, and get to work doing your research! 
If you feel intimidated by even the thought of developing an app for your business, don't worry! Hiring someone to do it for you is not so different from hiring any other employee – and you're an expert at that! Just follow our simple tips and remember, sometimes taking your business to the next level of growth requires taking a leap on your part. You might need to lay out a little extra cash for something like an app developer, but in the end, the results could mean a big payoff.