Every year, there is an open enrollment period to purchase, change, or stop your health insurance plan. Unless you qualify for special enrollment, you cannot sign up for health insurance until the open enrollment period begins. When the open enrollment period ends, buying healthcare becomes difficult and expensive, so it is very important to compare and find the right plan during this time.
This years open enrollment is almost over, so if you need Health Insurance the time to sign up is now, otherwise you may face a penalty or problems when trying to get a Health Insurance Plan later. If you haven't signed up we have put together everything you need to know about Open Enrollment.
When is Open Enrollment?
This year, the Open Enrollment Period is six weeks, lasting from November 1, 2017 to December 15, 2017, unless you qualify for a special enrollment period. If you sign up during this period, coverage does not start immediately; it begins January 1, 2018 and lasts a full year,
Why enroll?
Due to the Affordable Care Act, also known as Obamacare, all Americans must have health insurance or they face a penalty at tax time. If you do not want to face the penalty, you must start looking for a health insurance plan if you:
        You are over 26 years old, and no longer on your parent's plan.
        Your employer or your spouse's employer does not offer health insurance.
        You do not have government coverage such as a Medicaid and Medicare.
Special Enrollment
If you missed the open enrollment, there are certain circumstance that would allow you to enroll in a new plan outside of open enrollment, called a special enrollment period. You have 60 days to change your plan if any of these events happen:
        You lose your health insurance plan from your employer
        You get married
        You moved and need to pick another plan based on the insurance coverage area
        You have or adopt a child
        Death of a spouse that leaves you with no health insurance
        Your insurance carrier made a mistake on your insurance contract
Time to make changes
When enrolled in an insurance plan, it will automatically renew at the one year mark. The Open Enrollment Period is the time when people that are currently enrolled in a healthcare plan can make changes to their plan or renew their policy. It is important to take note of the changes that may have occurred to your plan. Some insurers will make changes to co-pays, network, and drug coverage. This also goes for employer insurance as well. For example, during the first year 'Angela's' POS insurance covered her doctor, with only $20 for special doctor copays and $50 emergency, $5/10/15 drug copay. Within a year after renewing, the primary doctor is not in network coverage anymore, and her copays and drug copay went up. Special doctor copays were now $40, emergency $150 and drug copay $10/20/35. Angela had to decide if she wanted to keep this plan or switch to another one, and the best time to do so is during open enrollment. Keep your eyes open for any changes that occur and compare insurance plans to determine which better suits you and your family.
Things to consider: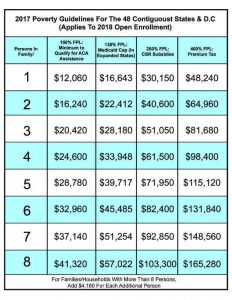 When it comes to considering which health insurance plan is best, it is crucial to compare the different plans offered. What you should focus on is how healthy their family is, how many doctor visits you attend in a year, and how often you or a family member get prescription medication.
Deductibles– This is what you have to pay before your insurance kicks in. The higher deductible you pay, the less your monthly cost for insurance is.
Penalty– If you don't carry health insurance for three months or more, you are subject to a penalty when tax season comes around. If you are not exempt from this, you will have to pay $695 per adult per household and $347.50 per child or 2.5% of total household income, whichever is greater.
Prescription Coverage- Every plan is different in what they will cover for prescription needs.  Some have a pharmacy deductible, while others combine it with your medical deductible.
Tax Credits– Many Americans qualify for assistance from the federal government when they apply for health insurance. These subsidies are also known as Premium Tax Credits and are based on your income. There are two kinds of subsidies: One that lowers your monthly cost, and the other that reduces the size of your deductible. To qualify, your family income must fall between 100 and 400 percent of the federal poverty level.