The Centers for Disease Control and Prevention (CDC) has been investigating a spike in cases of hepatitis amongst children in the U.S. They have issued a nationwide alert, asking that parents and healthcare providers stay on the lookout for symptoms of this disease in children. Find out what the symptoms are so you can keep your children safe and healthy.
When the Rise in Cases Began
On October 21, 2021, the state of Alabama reported 9 cases of hepatitis in children between the ages of 1 and 6. Around the same time, countries including Scotland, Spain, and Ireland all reported cases of the disease. The children affected had liver damage, and some were in liver failure when they were admitted to the hospital. Four other children with the same liver conditions also reportedly had adenovirus 41 infections, which can cause "pediatric acute gastroenteritis," according to the CDC.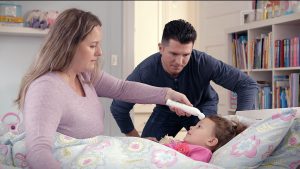 Symptoms To Look For
Symptoms of hepatitis can include:
Fever

Fatigue

Loss of appetite

Nausea or vomiting

Abdominal pain

Dark urine

Light-colored stools

Joint pain

Jaundice
It is very important to get your children immediate care if they experience any of these symptoms. 
Still Investigating
"CDC is working with state health departments to see if there are additional U.S. cases, and what may be causing these cases," the CDC said in their alert. "We continue to recommend children be up-to-date on all their vaccinations, and that parents and caregivers of young children take the same everyday preventive actions that we recommend for everyone, including washing hands often, avoiding people who are sick, covering coughs and sneezes, and avoiding touching the eyes, nose or mouth. CDC will share additional information as it becomes available."
Investigations are still ongoing, as the CDC works to find a common cause behind these illnesses, and tries to rule out any other possible causes and identify contributing factors.