Starting a small business is a great accomplishment! It takes a lot of hard work, and you probably have a to-do list a mile long. One very important thing on your list should be finding a great group health insurance plan. Offering health insurance to your employees leads to so many advantages for your business, like healthier, happier employees who are more likely to stay in their jobs, and tax breaks for you. There are many high-quality affordable plans to choose from, but you might be wondering where to begin, and you'll probably have a lot of questions as you search for the right one for your business and your employees. That's where EZ comes in: we've also got the answers to your most frequently asked questions and can give you a free quote to help you compare local group health insurance plans from all of the top carriers.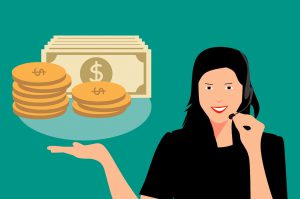 Both insurance brokers and insurance agents act as the middlemen between insurance buyers like you, and insurance companies. Using an insurance agent, like one of EZ's, is the best option for small business owners looking to purchase a healthcare plan. Agents can expedite the buying process, they have specialized knowledge about the policies they sell, and they can keep you up-to-date on any changes to your plan. Our agents also have access to exclusive products from the top-rated insurance companies, which can save you more money than if you go it alone. 
What is the minimum number of employees to get a group plan?
If you have 50 or more full-time employees, you are required to provide health insurance or you will be penalized under the employer mandate of the Affordable Care Act. You are eligible for a group plan as long as you have 2 full-time (or full-time equivalent) employees, including yourself. Full-time employees are considered those who work 30 hours or more a week. 
The 2-employee rule is always true for tax-advantaged small business health insurance options program (SHOP) plans (although you will need 70% participation in your plan). If you're looking into other group plans, some insurance companies may have different requirements. Ask one of EZ's agents to check for you. 
What is the average cost for a group health insurance plan?
Small business health insurance costs are determined by your location, number of employees, and how much you would like to contribute to your employees' coverage. The average cost of annual premiums for employer-sponsored health insurance was $7,188 for individual coverage and $20,576 for family coverage in 2019. The average annual deductible amount for individual coverage was $1,655 for covered workers. 

SHOP plans, as mentioned above, can offer some savings through the small business health insurance tax credit, if you have fewer than 25 full-time employees and meet certain requirements.  Speak with an EZ agent about this possibility, or use our online tool to check fast, no-cost quotes for all available plans. We can help cut costs – but not benefits – by comparing multiple plan options.
How do I communicate the new benefits to my employees?
Simple, just ask your EZ agent! EZ's agents are experienced in helping you communicate new benefits to your employees. Our agents will provide a Summary of Benefits Coverage (SBC) to participants and their beneficiaries before enrollment in the plan, at renewal of the plan, within 90 days of a Special Enrollment, and within 7 business days of a written request. They will also help you provide each employee covered under the plan a Summary of Material Modification (SMM) when there are changes made to their health benefits. 
How much do I charge employees to be on the plan?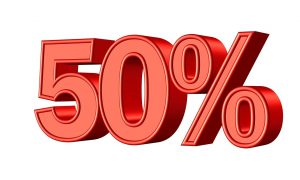 Employers are required to contribute at least 50% of each employee's health insurance premiums. On average, employers contribute approximately 82% of individual insurance premiums, and around 71% of family plan premiums. The more that you contribute to your employees' premiums, the more likely employees are to enroll, and the more you will save – and don't forget all of these contributions are tax-deductible! 
You have options when it comes to plans and premium prices, so talk to an EZ agent about what's best for you and your employees. For example, if you choose a plan with a low deductible, but higher premium, you may not be able to contribute more than 50%, and your employees might find it too expensive to enroll in your plan. In this case, you might want to look into a high deductible health plan, which would allow your employees to contribute to a health savings account (HSA). An EZ agent can help you determine how much you can afford to contribute, and other ways you can save!
Will offering health insurance help me attract better employees?
Businesses that offer health insurance tend to attract and recruit the best candidates. Most job seekers won't even look twice at a posting if an employer does not offer health insurance – job seekers want to know that a prospective employer is willing to invest in them. Surveys show that 46% of job seekers said that healthcare was a deciding factor in taking a job, and that 60% of employees would take a job with lower pay but better benefits. 
Will my employees be happier if they have health insurance?
Offering health insurance can mean having more loyal employees and a lower turnover rate. 83% of employees say health insurance is extremely important when deciding whether or not they should change jobs. Employees with health insurance are happier, less likely to leave their jobs, and healthier.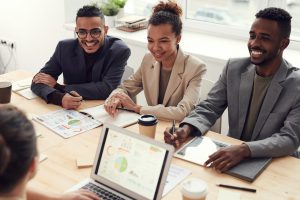 One survey found that 72% of employees said having more work benefits would increase job satisfaction. Knowing that they will be protected in case of an emergency, that their chronic conditions will be covered, and that they will not have to worry about large medical bills, means less stress for them and more productivity for you. 
Will productivity go up if we offer health insurance?
Absolutely! In one recent study, 60% of employers said that offering health insurance led to higher productivity levels at their businesses. Not only will offering health insurance to employees lower their stress levels, but it will also keep them healthy – and healthier employees are less likely to take time off for being sick. When you invest in your employees, you're boosting your bottom line.
What other benefits should I consider offering?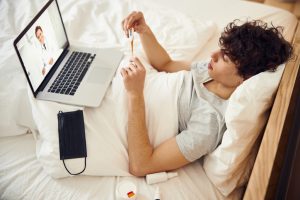 When choosing a plan, look at what "extra" benefits it offers – for example, telemedicine. This convenient option can actually save you thousands due to the reduced cost of healthcare claims from unnecessary visits to the doctor and reduced visits to the emergency room. It is more convenient (and less expensive) for employees to call and speak with a doctor to receive care.
You can also consider offering a workplace wellness program. These programs help keep healthcare costs down by giving incentives to  employees to live healthier lives. These programs can include things like health screenings, programs to quit smoking, gym membership stipends, diet and weight loss programs, or diabetes management programs. To find out what extra benefits you can offer, talk to an EZ agent. 
How will I know if my doctor and my employees' doctors are in-network?
If you are looking for a plan that includes specific doctors, speak to an EZ agent to find a plan that includes the best network for you and your employees. Our agents can easily access any insurance company's networks and included providers in minutes. 
If you already have a plan, check your plan info to see if there's a list of covered doctors. You can also call your doctor's office, ask for their tax ID number, and then call your insurance carrier to find out if they are covered. Or you can avoid this long and annoying process by simply asking one of EZ's agents to check for you!  
EZ.Insure understands how time consuming and overwhelming finding a group health insurance plan for your small business can be. To make the process easier, we provide you with a personal agent who will answer all of your questions, compare plans, and provide you with free, instant, and accurate quotes. We do all the heavy lifting for you so that you can provide the best insurance for your employees, without breaking the bank. Let us help you save time and money. To get started, enter your zip code in the bar above, or to speak to a specialized agent within your area, call 888-998-2027.