It has always been said that being around kids keeps you young, and this theory applies to seniors as well. Seniors who babysit, or are around their grandchildren often live up to 5 years longer than seniors who do not. Research analyzed over a 20 year period concluded that out of 500 seniors 70 years old and older, those who provided some form of care to their grandkids had a lower death ratio than those who did not. The study was published in Evolution and Human Behavior, and showed that the senior babysitters had a 37% lower mortality risk. There are multiple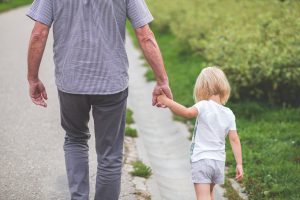 health benefits to watching your grandkids apart from staying alive longer.
Improves Brain Function
Being around kids keeps your brain function high, because you are either helping them with their homework, or learning new things from them. Your brain is constantly working when you are with children, which helps your cognitive function better and for longer. Studies also show that your memory improves as well.
Keeps You Active
When you are not learning new things from your grandkids, chances are you are running around with them and playing catch or doing an outdoor activity with them. You are more likely to get up and be more active when your grandkids are around than when they are not.
Lowers Risk of Depression
Can you think of anything better than the love you receive and feel from family, especially your grandkids? Being around your grandchildren will increase your happiness and mental health. Seniors are less likely to be depressed when they are around their grandkids consistently.
Geriatric medicine specialist Dr. Ronan Factora thinks that the reasoning for a longer life is due to the reduction of stress when with your grandkids. Dr. Ronan Factora said, "there is a link between providing this care and reducing stress and we know the relationship between stress and higher risk of dying. If providing care to grandchildren and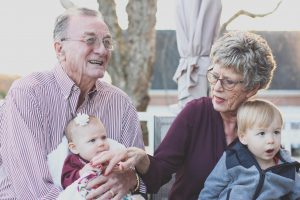 others in need is one way that can actually reduce stress, then these activities should be of benefit to folks who are grandparents and provide this care to their grandkids."
As of course with everything, moderation is key. Do not overexert yourself with babysitting every single day. That will only create stress and tire you out, because let's be honest, kids are a handful! Take some time 2-3 times a week to plan some hangout time with your grandkids, you will all benefit from it. Your relationship with your grandkids is important to both you and your grandkids. A strong bond with them reduces depression, and makes your time together more enjoyable and fun. Your adult grandkids also receive some mental health benefits from a strong relationship with you. Call your children and begin setting up some playdates with your grandkids, it will increase your life's expectancy and value.