Have you ever gotten the feeling that there isn't much good left in the world? Or that there's nothing you can do to make a difference and you don't have enough to offer? Well, Adam Theroux, founder of Good People Doing Good, is here to show you how big a small idea filled with goodness can become, and how anything you have to offer is enough.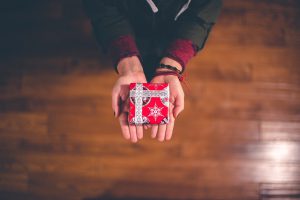 Good People Doing Good is an organization with a goal as simple as its name. Like many charities, this one tries to brighten the lives of people going through financial or emotional struggles. GPDG does this by gifting money, grocery gift cards, heating oil, plane tickets, toys, or anything that might be especially useful or needed. When speaking with Adam about his organization, he explained that "[t]his movement is about helping people, not looking for help for oneself. People don't write in about themselves. They write in about others they know." For Adam, this means that he is not the only one performing the good act: the people who write to him about their friends, family, and neighbors also deserve some of the credit. 
Adam came up with the idea for Good People Doing Good in January 2018.  His giving started very small, with a few random acts of kindness: "I never had much money to give, but I had the passion and the time. That's what made this all possible. I gave what I could." Once he began, he realized that he wanted to expand and start giving on a larger scale. He formed GPDG and worked to raise trust among potential supporters. In addition to continuing to gain support through the charitable actions of GPDG, he increased his social media presence and made the organization as transparent as possible: "Every month, I send updates and photos of all gifts to our Patreon patrons." 
Adam's hard work paid off. He was able to raise enough money to incorporate and become an official nonprofit. To date, GPDG has raised over $23,000 from over a hundred patrons on three continents, and is giving out about $1000 a month to the people his supporters write to him about. Adam is humble about the success of his small venture: "I'm still flabbergasted that I have gained the trust of over a hundred people, to be at the helm of deciding who to gift all this money to, every month." The scope of it is something he "literally never imagined."

While Adam is pleased about the expansion of his organization, the best thing to him about running Good People Doing Good is seeing the reactions of those singled out for these acts of kindness. He cites one day in October 2018, when GPDG organized a pop-up toy giveaway in Pawtucket, Rhode Island, giving away three hundred toys in a couple of hours. "The smiles on the kids' and parents' faces were priceless," he says – and they truly are. Watch the adorable video on Facebook.
Running Good People Doing Good is not all that Adam has on his plate. In keeping with his message, he is continuing to offer himself in as many ways as possible alongside his work with GPDG. He takes time from work and family to mentor through Big Brothers Big Sisters, and has been a part of his "little brother's" life for the last five years. He has also started a film festival, 401 Film Fest, which is free for budding artists to submit to as well as free to attend. The festival not only helps filmmakers gain exposure, but it has also raised $5000 over four years for Big Brothers Big Sisters.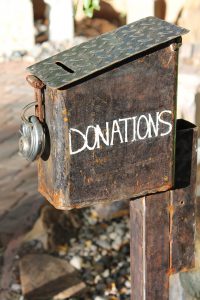 His newest project is a "positive news" podcast, Aggressively Positive, which he sees as another way to "prove it's the little things that matter." Check it out here.
What can possibly be next for Adam Theroux? For now, he's happy with work, raising his baby, mentoring his "little brother" – and with the amazing trajectory of Good People Doing Good. Two years ago he could have never imagined  that his simple acts of kindness would grow so big. "What I want people to get from GPDG," says Adam, "is that we are all human, here together. Everything…literally everything would be better if everyone was merely good."
Those who want to support Good People Doing Good can become a monthly patron on Patreon or make a one-time donation via PayPal. There is also merchandise available for sale on the organization's website. When asked what else people can do to "spread the good," Adam's answer is simple: "My only advice is offer what you can. If that's money, then that works. If it's volunteering your time, awesome! If you knit, make some gloves for the needy. Offer what you can."