When you think of Thanksgiving, many things come to mind, generally turkey, mac and cheese, mashed potatoes, gravy, and green bean casserole to name a few. Very few think of veganism or any sort of Thanksgiving without meat or dairy. 
Some people have limited options on Thanksgiving due to dietary restrictions like lactose intolerance, while others might have a gluten allergy. Gluten is found in grains such as wheat, barley, rye, and a cross between wheat and rye called triticale. But no matter what restrictions you have (vegan, GF, or otherwise)anyone can still enjoy food this holiday with some delicious alternatives!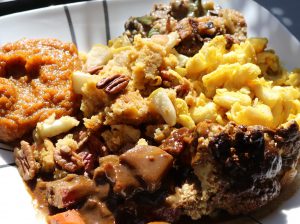 Vegan food is natural and plant based, so there is no meat or dairy. Living a vegan life also has an undeniable amount of health benefits, producing an overall better quality of life, but some people are limited because of allergies or dietary restrictions and cannot have meat or dairy even if they wanted to. 
End The Stigma
In order to end the stigma of vegan food and the blandness of gluten free food, our office had a Vegan & Gluten Free Thanksgiving. 
One excuse people often use against trying a vegan diet is that vegan and gluten-free meals are so expensive. This isn't true, if you cook a vegan holiday meal, it is possible to pay about the same to cook a meal with animal products. The average cost of a Thanksgiving meal is about $5-$6, and the meal that was cooked by our office's Head of Social Media and Content, Cassandra Love, amounted to about $6 a plate per person. This included 6 courses, gravy, and dessert. That is a win! Nothing was processed or any fake meat products, it was all from scratch and all homemade following popular online recipes.
The important thing to remember is to keep your options open with your diet. Do not compare everything you try to what you are used to eating because they are simply not the same. Look at these things as a brand new experience, unrelated to meat or things you have tried before.
The Main Course: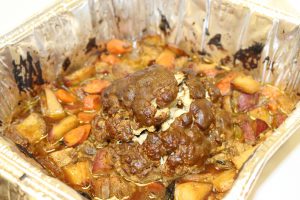 Like any traditional Thanksgiving meal, there has to be the main course. The office had whole roasted cauliflower heads basted in spices, along with different vegetable cuts and slices. 
Gravy was poured over the cauliflower before they were roasted, leaving a crispy glaze over top. This gravy was made with vegan butter, nutmeg, garlic, shallots, tahini, low sodium soy sauce, and vegan worchestire sauce to name a few. As you would expect, it caught meat lovers off guard with how delicious it was. 
Many people, some who do not generally like cauliflower, liked the course. And while the gravy had mixed reviews, one person even commented that the gravy tasted like beef broth!
The Sides:
After boiling some water and cooking the green beans, they were added to the delicious creamy sauce. The sauce was produced over a skillet combining vegan butter, shallots, garlic, salt, pepper, and mushrooms. The sauce was then mixed with gluten free flour, vegetable stock, and vegan milk. Finally, which everyone always loves on top, the crispy onions! This was perfected with thinly sliced onions that were soaked in vegan milk, then removed and coated with gluten free flour that was mixed with some sugar. Yum! The office really loved the green bean casserole! Probably the fan favorite, people described it as delicious and no different than any other that they have had. The only complaint from some was that it needs more seasoning, so taste and season to your liking as you go!
A good old southern dish, this vegan cornbread was made with corn, gluten free flour, sugar, vegan milk, cornmeal, baking soda, baking powder, and applesauce to replace eggs. In a small bowl, stir together the milk and vinegar. In a medium bowl, whisk together the cornmeal, flour, sugar, baking powder, baking soda and salt. Stir in the milk mixture, eggs and oil until just blended; fold in the corn kernels. Then pop it in the oven on 350 °Fahrenheit for 45 minutes!
A few stated that the cornbread was moist, while others noted that it had great consistency and flavoring. The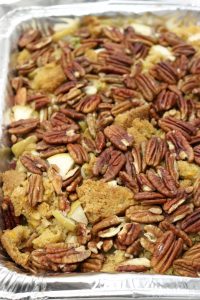 ruling was that it was a keeper, with some people saying it resembles a standard delicious cornbread. 
This stuffing was made with the same cornbread recipe mentioned above. Take the cornbread, chopped onion, and chopped granny smith apples, and mix. Put it into a pan, sprinkle chopped pecans (yum) on top and bake for 15 min covered with a foil on 350 °Fahrenheit, and then 20 minutes without the foil.  
 Overall, the stuffing was rated 50-50. Some people found it to be tasty, commenting especially on the pecans, and would definitely eat this again. For those that did not care for it, they stated that they did not normally like stuffing in general.
Butternut squash Mac and Cheese. made with gluten-free noodles!
This dish was made as a resemblance to mac and cheese. Butternut squash is mixed with onion and boiled. After it is just right and tender,high-speed blender with cashews, lemon juice, salt, dijon, garlic powder, black pepper, smoked paprika, turmeric, nutmeg. The mixture is then added to cooked gluten free noodles. 
Majority ruled this dish as "very good." A couple of people could not help but compare it to mac and cheese. Overall, this dish was a winner, with many saying they would definitely eat this again.
Mash was probably the only dish that got the lowest review. Made with butternut squash, carrots, and vegetable broth, it was steamed then blended to make the consistency of mashed potatoes. 
People complained that they did not care for the spices in it, that they were too strong, or that the texture was off. This was the only side that wasn't really a hit.  
The best part of any meal is when it is all done, and it is time for dessert! For the finale, there was coconut ice cream over a chocolate tart. As you would expect, this was delicious. The ice cream was a perfect blend of coconut milk, pure cane sugar, and vanilla. The coconut milk, cane sugar, salt, scraped vanilla bean and vanilla extract are blended on  high until completely creamy and smooth for 1-2 minutes to fully dissolve the sugar. Then you churn it and freeze for 4-6 hours.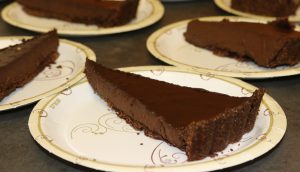 The chocolate tart is a 2 step process. First the crust is made by combining almond flour, unsweetened cocoa powder, maple syrup, salt, and coconut oil. Then you put it in a pan and bake it for 12 minutes on 350 °F. Then comes the yummy filling!! Heat up coconut milk over the stove, then combine it over some dark chocolate and slowly mix. Then add the sugar and vanilla extract. Finally combine the two by pouring the filling into the baked crust and refrigerate for 2 hours. Then enjoy! To balance each other out, it is best to eat the tart with the ice cream.
For some people, it was their absolute favorite dish, with one commenting it tasted like Almond Joy. The chocolate tart was noted to be a bit rich on its own, but the ice cream complimented it perfectly.
If they do not want to go full vegan route, there are recipes you can make to still eat what you like, with few changes. Our Thanksgiving has proven that gluten free and vegan meals have the ability to be delicious and filling! Just because someone has a food allergy or averson doesn't mean their food has to be boring!
As long as you have an open mind to food, it will be a positive experience. Let your hair down and try new things. Start out small and test the different options. People with gluten and dairy allergies turn to veganism because it is solely plant based. 
Veganism is not as expensive as you think. It can be a great substitute for people who are lactose intolerant, you just have to be willing to cook. People who have a gluten allergy can also have similar experience with substitutions.. The possibilities of dishes you can make are endless, at no extra expense, and just as tasty, if not more. One thing is for sure, as many people in the office have been shown: "don't knock it until you try it!"