Working out is recommended at least 3-4 times a week by doctors to stay fit. It takes some discipline to go to the gym, and current fitness trends can influence how you work out. Every year there are new fads and fitness trends that people follow to get fit and stay fit. For example, have you ever heard of prancercise? Yes it is a real thing where you prance around like a horse. You might also remember the thighmaster, where you squeeze a contraption between your thighs to reduce inner thigh fat, & we all have heard the shake-weight which promises to tone your arms faster and effectively. Some of these fads come and go, or are just a gimmick that promises results, but some trends are exciting and give you a new reason to WANT to go to the gym.
To see real results, you have to put in the work– hard work. There are fun ways to exercise and get a workout in other than just going to the gym and lifting weights or running the treadmill. There are workouts and classes such as aerial workouts that work your muscles while you have fun at the same time.
So What Is An Aerial Workout?
Aerial exercise is a workout that is also a form of art, kind of like dancing in the air. People often describe an aerial workout as flying, which to be honest we all wanted to do when we were a kid. Even though it is a fun pastime, it's also a great workout. You work out your arms, back, and core muscles. When trying to describe these workouts you might think of Cirque Du Soleil, where people are hanging on ropes from the ceiling floating around. Just like them, you hang in the air using an apparatus.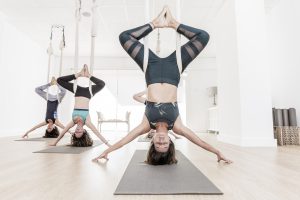 There are different variations of aerial classes, from aerial acrobatics to aerial yoga and bungee fitness, all focusing on your core muscles. Aerial yoga uses hammocks hung from the ceiling where you do different yoga poses and stretches. Aerial art/acrobatics is when you use the trapeze, silks or a hoops (lyra) and learn to perfect different tricks. If you try bungee fitness you are strapped to a bungee cord from the ceiling and jump around, kick, floor dive, and work your core muscles without even knowing it.. You can expect to break a sweat with bungee fitness because it is similar to a cardio workout with music, and more bounce. Your arms will definitely be sore after the first time you try this exercise, as you will be using your rhomboids,your back muscles used during pull ups.
It is not as easy at it looks and it may take some practice to perfect, but once you have it down, people often claim to be addicted. This fun and adventurous exercise will require more muscle strength to keep yourself up in the air. But like anything, practice and time will make it easier to do.
Over time, these workouts provide you with the balance of strength and flexibility that is needed to perform them. Your teacher will make sure you are safe and you should always voice any concerns you have with them. They are there to make sure you are comfortable and get a good workout in. You should always consult with your doctor if you have prior injuries to find out if this type of exercise will be best for you.