America is currently in a love/hate relationship with food and our fitness goals. There is a tremendous amount of apps out there in regards to weight control. With the volume of nutrition programs, diet books, and health ads, we seem to be in a war with how to handle our bodies. Worse yet, we have an obesity epidemic. NCBI says, "The latest estimates are that approximately 34% of adults and 15–20% of children and adolescents in the U.S. are obese." That's over a third of people.
What can we do? Science tells us food is the key to losing weight, gaining weight, or maintaining. What we eat (and when) are paramount to fitness. Of course, exercise is a major part of a balanced lifestyle. (On this note, try adding this to your workout.)  However, with certain fitness goals, you need to eat certain things.
What to Eat to Lose Weight 
There are so many diets available and each person needs to tailor their own weight loss plan. No two bodies are exactly alike.  One of my friends can eat Oreos by the sleeve and still has trouble keeping weight on, while another watches her diet, exercises, and continues to struggle. Your fitness goals don't have to be a huge battle.
Studies tell us the surest path is just a numbers game. While it's not fun, the best way to think about it is the food pyramid. It's the one you're probably familiar with from earlier nutrition classes.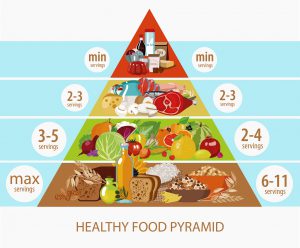 Just cut out the top and bottom, focusing on the center portion. This leaves you with a large portion of your nutrition focused in leafy greens, healthy meats, and dairy products. With these, be sure to choose whole foods because ones may contain inflammatory additives that, while delicious, may affect your health. A great diet for this if you need an idea is a Mediterranean diet. Another option is to be aware of your eating times; fasting has been studied more in recent years and has shown great results.
Sugars and starches are the main cause of inflammation, weight retention, and other health problems. Humans evolved for a specific diet, and recent years have provided a cornucopia of delicious, cheap, sugary-starch foods that have taken us away from what our bodies naturally need. Our bodies were just not made to handle that, and we haven't caught up physically for this fierce influx of food that's just not good for us in gargantuan amounts. In this case, fat is not the enemy; sugar is.
Focus: Whole foods, leafy greens, healthy portions of meat. Less oil, no sugars, no starches. Also, make sure to track your progression with body fat.
What to Eat to Gain Weight
If you're on the opposite end and are working to gain weight, you may have an easier time with this. You'll still have to follow some rules so that you're putting on healthy weight instead of empty pounds. Start a food journal and set goals with what you're consuming.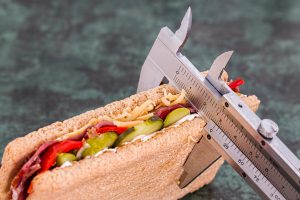 The best way is by putting on muscle, lean or otherwise. The solid rules are to eat more small meals throughout the day and watch your alcohol intake. Your nutrition and fitness goals are more important than a quick buzz. Your friends will understand.
You can involve more of the food pyramid with gaining weight, eating from the entire selection. Of course, sugars and starches may be involved, but take care not to overindulge. Choose many high fat and protein foods like nuts or milk. Also, fill up with whole grains like oatmeal, or use rice. Smoothies/shakes can be helpful as well. Here's a great resource for recipes and tips for those wanting to be healthier.
Focus: Use healthy protein shakes, dairy, nuts, and involve a good balance of the entire food pyramid. Find your body weight to grams of protein ratio. 
What to Eat to Maintain Weight
This diet is more of a lifestyle, and it includes elements of the first two. Reaching your goal weight is a short term path, but to maintain it, you must think long term.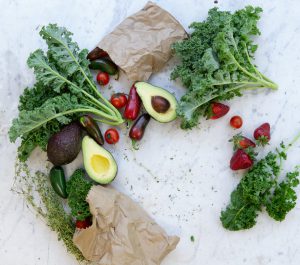 Like the "losing weight" section, you must reduce sugars and starches in your diet, but you don't have to eliminate them. When losing weight, that's the goal, but if you're maintaining, it's fine to include them. The same goes for the "gaining weight" section, focus on filling up throughout the day with nutrient dense foods, but you don't have to eat quite so much.
Keep a food journal (with a fitness goals section) so you're aware of what's going into your body and how it makes you feel. If you're like my friends from earlier, you can inhale an entire sleeve of cookies and be okay weight-wise, but does that actually make you feel energized and happy? If it's something you're okay with, then eat what you'd like. Food should not be the enemy here, but a partner through the day. 
Focus: Be aware of the food you're consuming. As long as you're eating whole, nutrient-dense foods like leafy greens, fish, and eggs, you can safely consume moderate amounts of sugar & starch. After all, life is meant to be enjoyed.