You've worked your whole life, saved some money, gotten past the days of iffy credit, and hopefully, you're feeling good about that! All of that means you're pretty smart when it comes to your finances, but unfortunately, it also makes you the target of a wide range of financial scams that prey on seniors, because you have money in the bank and good credit. Sure, scammers might also target seniors because they think older adults are easier marks, but that doesn't have to be true. You can make it a point to be aware of the most common scams floating around out there, and outsmart the scammers – and we can help!
Financial Scams by the Numbers
Older adults who have been taken in by financial scams are definitely not alone, or in a tiny minority: these scams happen all the time. In fact, incidences of fraud are rising, especially since scammers are just so much better at it these days, and can mimic legitimate communications from family members, tech support staff, and government employees. 
These scams are leading to a lot of money lost, not to mention a lot of suffering and embarrassment. It's important to know just how widespread this problem is, so you can be vigilant and avoid it happening to you. So before we get to the specific scams to look out for, check out these numbers:
Senior citizens lost almost $1 billion in scams in 2020, according to an FBI report released this month.

A total of 105,301 people over the age of 65 were scammed, with an average loss of $9,175, and almost 2,000 older Americans lost more than $100,000 in 2020, according to the same report.

There was a 47% increase in fraud and identity theft reports from 2019 to 2020.

The older you are, the more money you are likely to be scammed out of: in a 2019 report, those who were 70 to 79 suffered a median loss of $600, and for those over 80, the median loss was $1,600. 
Those are some scary statistics, but they prove that there are a lot of unscrupulous people out there making some serious money off of unsuspecting older adults. That means it's important to know how they're doing it, as well as what kind of scams they're trying to pull. 
How Do Scammers Operate?
We want you to be prepared in case a scammer comes knocking at your door (or more likely, calling or emailing you), so let's break down the most common ways that scammers will try to get you to part with your money. According to the Federal Trade Commission (FTC), scams targeting older adults are most often carried out through: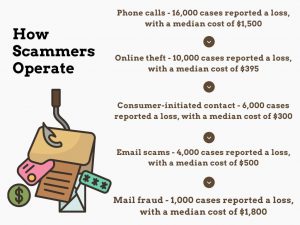 Phone calls

– 16,000 cases reported a loss, with a median cost of $1,500.

Online theft

– 10,000 cases reported a loss, with a median cost of $395.

Consumer-initiated contact

– 6,000 cases reported a loss, with a median cost of $300.

Email scams

– 4,000 cases reported a loss, with a median cost of $500.

Mail fraud

– 1,000 cases reported a loss, with a median cost of $1,800.
So it appears that, while online scams are very common, phone calls are still the medium of choice for many scammers. In fact, the Federal Communications Commission (FCC) estimates that there are nearly 2.4 billion robocalls made each month. You need to be aware that scammers often use your local area code or the numbers of government agencies to make them look legit. 
That means it's important to verify any phone calls, not to mention emails and letters, that request any personal information or money from you. It's also important to know exactly what kind of stories scammers are cooking up.
The Most Common Scams Targeting Seniors
So what types of fraud are older adults most likely to fall prey to? Let's take a look at the specific types of scams that are raking in the cash from seniors. Again according to the FTC, the top scams are:
1. Online shopping scams
While older adults reported less actual money lost to online shopping scams (an average of around $129 per person) than to other types of scams, this seems to be the most common type of scam. In fact, online shopping surpassed tech support in 2019 as the top fraud type older consumers lose money to, probably because of the rise in online shopping during the Covid-19 pandemic. And the amount of money lost is no small amount: people over 60 reportedly lost at least $14 million from online shopping scams last year.
How to avoid this scam: Only make purchases through trustworthy sites, and be skeptical of any sites offering prices that seem too good to be true. Read reviews about companies on third-party sites, and make sure you check that the site you're buying from isn't a slight modification of a well-known brand. In addition, NEVER agree to a sale with a vendor who requires an unconventional payment method, like a money order or wire transfer. 
2. Computer tech support scams
With this type of scam, someone will contact you, or a window will pop up on your device, telling you that you have a virus or other tech problem, and that you need to contact them for help resolving the issue. They will then ask for money for services that aren't needed, or even for remote access to your computer. This scam is so successful with older targets that in 2019 alone, tech support scammers stole $24 million from victims over 60.
How to avoid this scam: The first thing to remember is that major tech companies, like Apple or Microsoft, will generally NOT contact you in this way. The best thing to do in these situations is to simply close the window or ignore the person contacting you, and NEVER allow remote access to your computer unless you know exactly who you are giving access to (ie, you have directly contacted your tech company).
3. Imposter Scams
Now we get to the good old-fashioned "someone pretending to be someone else" scams – but often, nowadays, with a technological twist. These types of scams led to the second highest amount of financial loss for older adults, around $61 million in the aggregate. 
Imposter scams can come in many forms, including:
Family imposter scams,

in which a scammer pretends to be a member of your family and asks for urgently needed help. This sounds like a crazy scam that no one could possibly fall for, but these scammers are very sophisticated and can hack into email accounts or create fake profiles. 

Government imposter scams,

which can take the form of scammers impersonating officials from the Social Security Administration, the IRS, or

Medicare

. They might ask for your Social Security Number, saying it has been compromised or used in a crime, or they might even tell you that you are eligible for more benefits. Or, some scammers might try to intimidate you and tell you that you owe more in taxes, and that you are facing jail time if you don't send money.
How to avoid these scams: Just as big tech companies will not usually contact you, neither will government agencies. If they do initiate contact, it will usually be with an initial official letter. They will NEVER ask for your SSN, credit card number, or other personal information over the phone. If you receive phone calls trying to intimidate you into giving this type of information, hang up immediately. Verify any emails or letters you receive by contacting the agency they purport to come from directly.
4. Romance Scams
This type of scam might not be the most common, but it generally ends in the most money lost per person scammed. In 2020, total reported losses to romance scams hit a high of $304 million, making them the leading cause of fraudulent financial loss across all age groups; people over 60 lost around $84 million. And while older adults are the least likely to fall victim to this type of scam, they had the highest median loss from this type of fraud, at $9,475. 
This type of scam has tripled in the number of incidences in the last few years, and you can probably guess why: the rise of online dating. Yes, dating sites/apps can be a great way to meet people, but they can also be an easy way for scammers to operate, with perpetrators creating fake profiles, shying away from meeting in person (with Covid being a great excuse), and eventually asking for money or gift cards.
How to avoid this scam: Never send money or anything of value to anyone you haven't met, period. You can even try doing a reverse image search of someone you're chatting with, so you can see if they are using a stock photo, or an image of someone else.
5. Sweepstakes Scams
This type of scam led to the third largest amount of money lost for seniors, at around $50 million in the aggregate, or around $1,000 per person scammed. Sweepstakes scammers will generally contact you via phone, email, social media, or even the mail, congratulating you for winning a big prize – but you will be required to pay certain "fees" or "taxes" so that the money can be released to you. They might even issue you a check, which will be rejected after a few days, during which time your scammers will collect the "fees" that they say you owe them.
How to avoid this scam: Remember that almost all true sweepstakes are "no purchase necessary" (except for the lottery, for which you purchase a ticket, but they will never ask for money for you to claim your prize). 
What to Do if You've Been Scammed
If you've been the victim of one of the above scams, or of any other type of scam (there are so many!), you might be both distressed and embarrassed, so much so that you might want to pretend it never happened. And you wouldn't be alone: numbers show that a huge amount of older adults don't report scams, especially if they've lost money. 
But reporting these crimes can be helpful to others, and you might even be able to recoup some or all of your losses. If you've been scammed, contact:
The Better Business Bureau

The Federal Trade Commission

The FBI's Internet Crime Complaint Center
You can also contact your bank or credit card company to stop any payments, or work something out to get your money back.
The bottom line is: scams can happen to anyone, and they seem to be happening more and more, and in more and more sophisticated ways, to older adults. So if it does happen to you, it doesn't mean you're gullible, and you shouldn't be embarrassed – you should take back control, report the crime, and make sure it doesn't happen to anyone else (and get back that hard-earned money)!