With things looking up on the Covid front, President Biden has indicated that he wants to make some changes to get the country back to some sense of normalcy. He has been particularly clear that he wants to make sure we can keep our school open. To that end, the Biden administration is planning to make an additional 10 million Covid-19 tests available each month to schools, as part of its push for classroom doors to stay open for in-person learning.
The Need For In-Person Learning
The Biden administration has said it will distribute 5 million free rapid tests to K-12 schools each month to be used for screening purposes, to ensure that children can continue to reap the benefits of physically attending school. Research shows that in-person learning is beneficial to children both academically and socially, and that the isolation of the pandemic has led to anxiety and other mental health issues, such as depression in many young people. For these reasons, the White House has made clear that they consider keeping schools open a top priority. 
The Biden Administration has also said that they are planning this investment into tests for schools because of the limited quantities of at-home test kits available for many Americans. Fortunately,  Covid numbers are down, so with this extra testing, schools should be able to remain open for the foreseeable future. 
CDC Eases Guidance on Indoor Masking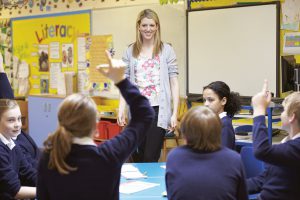 New guidance put forward by the CDC on February 25th no longer recommends that Americans wear masks indoors in all situations, including in schools. The CDC still recommends that people wear masks on public transportation, and in airports, train stations, and bus stations. This lifting of restrictions is worrying some parents of school-age children, so the Biden Administration hopes to ease some of these fears with the greater availability of testing in schools. 
"This plan lays out the roadmap to help us fight Covid-19 in the future as we move America from crisis to a time when Covid-19 does not disrupt our daily lives and is something we prevent, protect against, and treat," the White House said. "We are not going to just 'live with Covid.' Because of our work, we are no longer going to let Covid-19 dictate how we live."
96% of schools opened for in-person learning in January of this year, according to the White House, up from 46% in January 2021. And the administration intends to keep schools open, not only for the sake of the children, but also for the sake of their family members, many of whom need to get back to work.