When you decide to offer group health insurance to your employees, you will need to fill out multiple forms, and provide others to your employees. This can be a tedious process, but if you have an HR department, then they will most likely deal with most of the forms and paperwork. But that does not mean that there aren't some forms that you, as the employer, will need to stay on top of, provide to and discuss with your employees. There are some forms required by the Internal Revenue Service (IRS) and your specific state that you should be familiar with.
First, Know How to Classify Your Business
Before you apply for health insurance, you will need to identify what type of business you have. To figure this out, you can use your tax form:
Schedule C Form 1040= Sole Proprietorship

Schedule K-1 Form 1065= Partnerships/LLP

Schedule K-1 Form 1120S= S-Corporation/LLC

Tax Form 1120 W/Schedule 1125E= C-Corporations
After you have spoken to an insurance agent, and have found the best plan for your business, the next step is to sign up. You will need to fill out:
Employer Application

– This is the first document that your EZ agent will have you fill out. You will need to provide the following information:

Your name

Address

Business Type

Premium contribution- In most states, employers are required to contribute or pay for at least 50% of each employee's health insurance premiums

Statement of compliance

Metal Tier you will be enrolling in
Along with this document, you will need to submit proof of your business location, proof of business type and payroll documentation.
Documents To Provide to Your Employees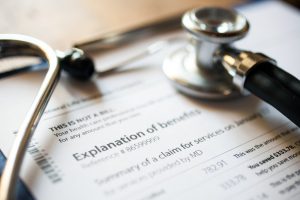 After you have completed the application for group insurance and have been approved for  coverage, you will need to present the plan to them, explain it, and and provide them with:
IRS Form 1095-C

: You will supply this form to your employees each year. It notifies them of their eligibility for health benefits. 

Change Request Form

– Your employees will need this form in case they have to add or remove someone from their plan. 

Employee Enrollment Guide

– This informs your employees about their available health plan options, how much they cost and how to enroll in a plan. 

Explanation of Coverage (EOC)

– This is provided by the insurance company, and  explains all the details of the health plan's benefits. It outlines what is covered and what is not. 

Explanation of Benefits (EOB)

– This is provided by the insurance company and will be sent to you and your employees after each visit to a doctor or medical professional. It reviews the total amount charged, what the insurance policy covered and how much is owed by the policyholder. What is owed is generally the copayment or coinsurance. 
Need Help?
Trying to figure out which group plan is best for you and your employees is a lot of work. There are so many insurance companies, and each has multiple plans to compare. Because EZ.Insure works with a variety of insurance companies around the country, we have easy access to all available plans. We can compare plans in minutes for free, answer any questions about business requirements for group insurance, and guide you through the process. We work hard to save you as much money as possible, because we know that group insurance can be costly. 
To get free instant quotes, simply enter your zip code in the bar above, or to speak directly with an agent, call 888-998-2027.