The pandemic forced many schools to close down in 2020, meaning many children spent the rest of the 2019-2020 school year and most, if not all, of the 2020-2021 school year learning online. It was not an easy transition for many children or for their parents, with reports from KFF Vaccine Monitor reporting that around four in ten parents of school-aged children ages 5-17 say at least one of their children fell behind academically. And academic issues have not been the only side effects of online schooling: mental health issues have also become much more common among children in the last year. 
As this school year begins, though, most schools are transitioning back to in-person learning, which could end up being a mixed bag. Being physically at school can help with children's development, but many will also experience some anxiety and panic as they return, so it is important to know how to help get your child back into the swing of things.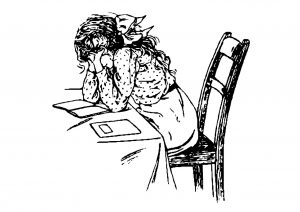 Studies Show…
The Kaiser Family Foundation researchers recently asked more than 1,200 parents of children younger than age 18 about their children's' mental health; more than a third said their child had fallen behind in their social and behavioral development during the pandemic. Children whose school was at least partially online last year were more likely to have had their well being negatively impacted; not only that, but around 42% of the parents surveyed said their children showed at least one new mental health symptom during the pandemic. 
Some of the symptoms included:
Difficulty concentrating on schoolwork (27%)

Problems with nervousness, or being easily scared or worried (19%)

Trouble sleeping (18%)

Poor appetite or overeating (15%)

Frequent headaches or stomach aches (11%)
Your child might not know how to express how they are feeling, so it is important to be able to recognize any signs of mental distress in your child. Each child or teen will exhibit different signs, but there are some common symptoms and changes in their behavior or development to look out for, including:
Irritability

Waking up more during the night

Separation anxiety

Bedwetting

Stepping back from personal relationships

Loss of interest in activities they previously enjoyed

Difficulty falling asleep

Change in appetite

Memory problems

Thoughts about death or suicide
What You Can Do To Help Prepare Your Child
While the transition back to in-person learning is undoubtedly good for children and their development, it might also be challenging for some, so it's important to keep the lines of communication open. "Keep checking in with your kids," Dr. Kyle Monk, a pediatrician at Cedars-Sinai, says. "Ask them how they're doing and let them know how you're feeling as well."
If your child is anxious or scared about returning to school, have an open conversation with them, and take the time to listen to and validate their feelings. Here's how you can help get them back into the swing of things:
Have an open conversation about the new year and what they can expect as they return to school.

Ween them off of their summer schedule by starting an earlier, consistent bedtime, and prepare them for getting up early. You might want to get them an alarm clock so they know exactly when they need to get up.

Make sure your child has a daily, predictable routine, with regular times for healthy meals, naps, and night sleep at home. Having a rested body and knowing what to expect at home helps children cope.

Sit down with your kids and have them put forward a couple of academic goals for the semester.

Establish a quiet zone or zones at home where kids can do homework, without the distractions of TV, videos, music, etc.

Reassure children about safety measures in place to help keep them safe and healthy, and prepare them to stay safe by talking about socially distancing, washing their hands, and  wearing a mask all day.

Be on the lookout for any emotional or physical changes after the start of the school year, so you can help them cope, or get professional help if needed.
All ACA-approved health insurance plans cover mental health needs, including therapy, inpatient services, and any medications needed. Get free quotes on plans with great coverage and affordable prices by entering your zip code in the bar above, or to speak to a local licensed agent, call 888-350-1890.