The year is coming to a close, and the holiday season is in full swing, so you might be thinking about two things: your business' finances and the spirit of giving. And you know what? You can actually combine those two things: the end of the year is a great time to think about doing some charitable giving, which can have multiple positive effects on your business, financial and otherwise. Celebrating the holiday season or ringing in the new year with a gift to charity from your business is a great idea for many reasons, but before you jump right in, you need to know the guidelines and potential pitfalls. 
Giving Back = Getting Back
Giving back is all about doing something good for others, but that doesn't mean that you can't expect some great benefits to your business if you donate to or volunteer for a charity. As long as you find causes that are important to you, as well as important to your customer base, you'll find that you'll not only feel good about your choice to give back, but you'll also reap some of the following rewards: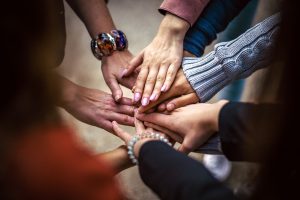 Firmly establishing yourself as an important part of your community –

Since you depend on your community to keep you afloat, it's a good idea to be recognized as an important part of your community. What better way to do that than by supporting causes other community members believe in? Remember, you have to give customers reasons to choose you over big corporations, and that can include the personal touch you offer, as well as ways you make your local community a better place.
Building up a network –

Charitable giving can also be a way to

partner with other organizations

and individuals all year round. You never know who you might meet and get on board with your business, and you can also request that nonprofits that you help out publicize your support. 
Improving the image of your brand –

Giving back will boost your brand image, because you'll be demonstrating

corporate responsibility

.
Connecting with your customers –

And a boosted brand image means customers will feel good about supporting your business, and will become more loyal to your brand.
Keeping your employees engaged and happy –

Customers aren't the only ones who will feel good about your business if you're giving back. Your employees could get a morale boost from working for a company they believe in and that has a positive company culture, and it might help you with

hiring

in the future.
Tax benefits –

More on this later!
How to Choose a Charity
It seems pretty clear that if your business has the means to do so, you should consider doing some charitable giving. But how do you go about choosing where to give your dollars, or spend your time? The following steps should help you to narrow down your options, and land on the right organization for you:
Look for charities that align with your brand –There are so many nonprofits out there, so where do you even start? Try narrowing your choices down to organizations that might have some sort of connection to your brand. For example, if you sell children's products, consider pediatric charities, or if your brand is focused on natural products, consider organizations that do conservation work. You might also consider talking to your employees about what is important to them to get a different perspective.
Do your research –

This might seem like an obvious step, but you don't just have to research the

type

of charity you're looking to partner with, you also have to do some pretty diligent research into the charities you're considering. Just because an organization is well known, or seems to do something you believe in, doesn't mean they're well run. Start with a simple Google search to see if there has been any negative press on each organization, and then check out websites like GuideStar, Charity Navigator and the Better Business Bureau Wise Giving Alliance to get as much info as you can.
Talk to the organization –

Don't be shy about picking up the phone and asking to speak with the executive director or someone else in charge at the organization you're interested in. They should be willing to talk openly with you, and you should also ask them whether they would allow you to use their branding in any of your PR, as well as whether you need their written acknowledgement to give a certain amount.
Check to see if the organization is a qualified charity –

If you're interested in getting some tax benefits from giving, you'll have to take one more step when you're checking out your chosen charity. You'll have to make sure that the organization is a qualified charitable organization under the IRS, meaning it meets specific requirements as well as IRS criteria and is a 501(c)(3). Note that not all tax-exempt organizations are 501(c)(3) status, so  to verify their status, use the IRS online search tool, or ask the charity to send you a copy of their IRS determination letter confirming their exempt status.
Tax Breaks for Charitable Giving Explained
We've mentioned possible tax breaks for charitable giving a few times now, so you might be wondering how your business can actually go about getting these benefits. Well, if you give before the end of the year, you might be able to deduct your donations on your taxes this year, if you meet certain requirements and follow these steps:
Make sure the charity is qualified –

See above

Separate out all your charity work, and figure out what's eligible to deduct –

Not every type of giving is deductible. So, before you even think about how to go about deducting it, you have to separate out what you've given or done, and determine what is eligible. Generally, you will be able to deduct things like cash donations, sponsorship of local charity events, and in-kind contributions like inventory or equipment. 
But the complicated thing is that each of these categories has its own criteria for what is eligible to be deducted. For example, if you volunteer for an organization, your mileage and travel expenses are deductible but your time spent volunteering is not. Or, let's say you host fundraising events for an organization: you cannot deduct anything for the time spent working on these fundraisers, but you can deduct expenses related to hosting the fundraisers, like stationery for invitations and telephone costs.
One other thing to note is that you can generally deduct up to 50% of adjusted gross income.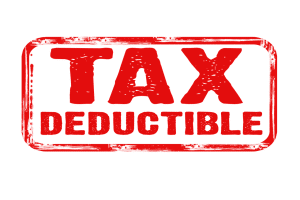 Determine how to deduct your charitable giving, based on your business type –

This is where things get even more technical: the way you deduct your charitable giving depends on the type of business you're running. Let's take a quick look at how it works for sole proprietorships, partnerships, S-Corporations, and C-Corporations:
Sole proprietorships –

If you're a sole proprietorship, and are filing your taxes using Schedule C of individual tax form 1040, your business does not make charitable contributions separately. Deduct them using Schedule A. It's important to note that you must itemize in order to take the deductions.
Partnerships –

If you're a partnership and do not pay income taxes, when you make a charitable contribution, each

partner

takes a percentage share of the deduction on his or her personal tax return.
S-Corporations –

This will work similar to a partnership, with each shareholder receiving a Schedule K-1 from the IRS that will show their charitable contributions, and which they can use on their tax returns.
C-Corporations –

If you're running a C-Corporation, your business is a completely separate entity from you, so your corporation can make charitable contributions and take deductions for those contributions.
Keep good records –

If you want to deduct your charitable giving from your taxes, be prepared to do some good record keeping! Make sure you keep everything, like canceled checks, bank and credit card statements, and payroll deduction records, but most importantly, make sure you get a letter of acknowledgment from the organization that you've given to. In fact, the IRS requires proof of payment and an acknowledgment letter for donations of $250 or more, so you need to make sure that you ask for (and receive) a letter from every organization that you've given more than that amount to (note that this is only required for a single donation of $250, NOT for multiple donations that add up to $250). 
Giving back to your community is a great thing in and of itself, but there's nothing wrong with thinking about the benefits of charitable giving to your business. So as the year wraps up, think about what's important to you, and where you can donate some of your hard-earned money to do some good, and you might end up with happy customers, happy employees, and a happy accountant when tax season rolls around!