Jin-Ya Huang might have the secret to building both a successful business and a nonprofit organization that has lasting, tangible effects on people's lives. Her unique catering company, Break Bread, Break Borders is building bridges between diverse communities and giving a leg up to the most vulnerable among us. Her business model? She employs women refugees, using their existing talents as cooks, and trains them to become confident chefs who can also run their own businesses. These empowered women can then move on and expand the catering franchise, which both boosts BBBB's business and helps them achieve their own lasting financial independence.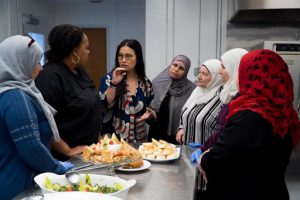 The benefits to the community of BBBB's work don't end there. What makes BBBB truly unique is not just the opportunity it gives to refugees, but also how it involves the community to which the "community cooks," as they're called, have been relocated. The women don't simply cook the food, they also serve it to their customers; as they do so, they tell the stories of their cuisine, their lives, and their homeland. The result? To date BBBB has empowered 20 women to achieve economic independence, has changed the lives of those women's 80 family members, and has also changed the minds of over 9,000 people, who might have once seen refugees or immigrants as "other" to them. 
"My Pillar, My North Star, My Guiding Light"
Jin-Ya Huang knows what it's like to be uprooted in search of a better life. Her family escaped communism and took refuge in Taiwan, then later moved to Texas when she was just 13. As difficult as it is to relocate to a new country where you don't speak the language and where your economic situation is unsure, Huang and her family were resilient and found strength in family and in community. 
"I want people to know I was fortunate that even though I grew up poor, my parents valued education immensely. They didn't have access to higher education, so they made sure we did. They sacrificed everything to get us out of poverty in the farming villages of southern Taiwan. They saved up enough money for me to take art lessons and fostered my creative interest ever since I was three years old." 
But Huang's parents taught her more than just a lesson about parental hard work and sacrifice; they taught her the importance of community and to work for the good of the world around her. "Investment in our communities is super important in all times," she stressed. "My sisters and I were raised to volunteer at nursing homes, sew blankets for the homeless, and cook for the hungry at the temple."
When Huang's father lost his job, an opportunity presented itself, an opportunity that would eventually plant the seed for BBBB: her aunt and uncle asked if her parents would help out with their restaurant. The way that Huang's mother, Margaret Huang, a chef, helped run that restaurant, as well as how Margaret instilled in her daughter the importance of volunteerism, had a powerful effect on Jin-Ya Huang. "My mom… was fluent in using food as an art form and a great equalizer," she said. "Growing up, I saw firsthand how lives were transformed when she hired immigrants and refugees to come and work in our kitchen, train them with job skills, and sent them onto bigger and better opportunities."
According to Huang, her mother was "my pillar, my North Star, my guiding light." When Margaret Huang died of cancer, Huang knew she needed to turn her grief into action. Jin-Ya had used her art lessons to pursue her passion of becoming a "social practice artist," and she was used to being out in the community and working to make change. It seemed natural to her to combine her art, which often involves the use of oral history to address themes of racial equity, with the legacy of financially assisting immigrants and refugees that her mother had left behind. "My mom instilled in me…the sense of doing what's right, [of] being a good neighbor, and [of] practicing compassion every day. I hope my mom would be proud to see her work live on through the vulnerable population we serve…She deserves all the credit for the woman I have become today."
"The Art Project Became a Social Enterprise"
Jin-Ya Huang looked for a way to honor her mother, and in 2017, hit on the idea of hosting community dinners at which refugee women would cook meals from their homelands. Because of Huang's interest in oral histories, she decided to add a twist to the dinners: the women would serve up not only food, but compelling stories of where they had come from and of their arrival in the United States. The idea was to not only give these women a paycheck, but also to help other people in the community better understand the situation these women were in and what they had been through, and so to build bridges between them. 
When working with immigrant and refugee communities, Huang had found that there were many people who are not part of those communities who didn't understand what it meant to flee trauma and leave everything behind for the sake of your children. But Jin-Ya knew that there are all too many people in the world who need both compassion and an economic boost.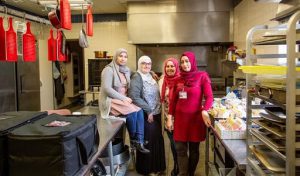 The numbers are disturbing: according to the United Nations, there are now more than 70 million people in the world who have been forcibly displaced, many fleeing war, conflict, and persecution. The United States has traditionally been a safe harbor for displaced people, generally taking in more refugees than any other country in the world; in fact, more than 3 million people have been relocated to the U.S. since 1975. But in recent years, the U.S. has begun lowering our annual refugee admission rate, and opinions about whether it is our duty to help our fellow citizens of the world are now split, with only 51% of Americans saying it is our responsibility to take them in. 
So Break Bread, Break Borders was born as a way to empower women refugees and build bridges; or, as a form of "art marries commerce," according to Huang. The community dinners seemed to hit the nail on the head when it came to changing minds:
After our first community dinner, not only did people ask how they can get more of the delicious food – they asked how they can get more of the storytelling and the unique cultural content that they normally don't have access to. Often times people had never met a refugee, let alone a Muslim, or anyone wearing a hijab before. Eating their food and hearing the women's life stories made some diners wonder why they questioned how these refugees were taking Americans' jobs. It got them to understand it was war and they didn't have a choice, these refugees are not only homeless but countryless. It put a face on the food, removed the fear of trying international cuisine, reminded the attendees of their grandmother's dirty rice from New Orleans and made the culinary experience more real and relatable.
But, the women cooking the food needed something more concrete out of the experience. "The refugee women also told us that while community dinners were beautiful – it wasn't what they needed. What they needed were jobs. They didn't want pity or handouts. They wanted to work and contribute to their families and support their communities." The organization moved towards fulfilling "the communities' needs for job opportunities, and the art project became a social enterprise, to supply the people's demand." 
"When Communities Ask for Water, I Don't Bring Them Fire"
The old saying goes, "man cannot live on bread alone." But the opposite is also true: we can't deny that we need the practical things in life in order to thrive. Jin-Ya Huang listened to the women she was working with and heard what they needed most. "My mom taught me the importance of listening and building trust. I may not know what I'm doing, but I will show up. If I don't understand, I shall ask for help… It's being mindful where I'm needed the most to help…When communities ask for water, I don't bring them fire." She transitioned BBBB from a series of community dinners to a working, for-profit catering company that each woman has a stake in. They are trained, move on to train others, and then can find other work or stay and help franchise BBBB.
In order to help lift women up, BBBB works to instill confidence in them through in-depth, practical training programs. Huang's program sounds remarkably thorough: "We're currently working with a group of women from Syria and Afghanistan, training them to acquire food handler's permit and food managers' license certification. They receive assistance from a team of staff advocates, language interpreters, board members, and mentorship from professional chefs, catering business owners, plus culinary consultants for on the job training, on how to work in commercial kitchens and overall, the food services industry."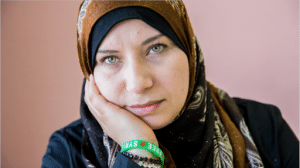 The women's confidence comes as they are taught to combine their culinary skills with the skills needed to manage a business. They earn a wage, they assimilate into the community while still honoring their culture and traditions, and they eventually help to train the next "class" of women before they move on to working in the food service industry or starting their own businesses. Huang gave the example of Rania from Syria, who has achieved financial independence through her work with BBBB. According to Huang, Rania 'used to lose sleep having to cook lunch for 8 people. Now, she has the confidence to cook for hundreds, and as a successful entrepreneur, she has already started her own small food business, thanks to her training at our organization."
Break Bread, Break Borders now combines artistic and storytelling activities that raise awareness and build compassion for refugees with a strong employment training program for the women who need it most. It was clear to Huang that there was a need for both, because the two are strongly linked: for communities to function, people need to feel like they are living with dignity and others need to see them as equals worthy of respect. BBBB seems to be doing an amazing job of accomplishing that task: according to Huang, while the average acclimation time for refugees is 7 years, most participants in BBBB are acclimated to their new homes within 2 years.  
"A Transformational Impact" 
Break Bread, Break Borders is changing the lives of refugee women and their families. Most of the women involved have children, and as Huang points out, "when the BBBB Community Cooks are making living wages, they are more concerned about their children making good grades in school instead of being worried where their next meal is coming from or how they're going to make rent." 
Their lives have been transformed, and so have the lives of the thousands of people they have served, from curious individuals to major organizations. It's no wonder that Jin-Ya Huang and BBBB have received so much recognition from so many sources, including being named among Dallas' Top 50 Most Innovative Social Enterprises by Dallas Innovates, recognized as Food Leader by Slow Food USA, and as one of 27 Uniters across America by TIM magazine; Huang was also selected for the prestigious Presidential Leadership Scholars program. In the end, though, for Huang, it's all about the women she has met through BBBB:
The incredible refugee women, the wonderful BBBB Community Cooks, they're my inspiration. Their grit, resilience, and their talent never cease to amaze me. Through war, famine and trauma, they find the will to survive and support their families. They want to work, contribute to society and to help their neighbors. They want to achieve economic dignity, they want to practice kindness, they want to show the importance of eradicating xenophobia, they want the best for their children, they want to help people understand women are strong, they want to share their rich culture and heritage, they want to show peace by cooking the dishes they love. They have so much hope for humanity – it's beautiful to see. 
If you'd like to help, you can donate to Break Bread, Break Borders here. And if you're in the Dallas area, consider having them cater your next event!