Attracting and retaining employees is important to building your business, and one of the ways to do this is by offering an appealing benefits package. Since good health insurance is one of the most sought-after benefits for employees, you have to pay extra attention to what you're offering. It might not be enough to offer one choice, so you might want to look into different types of plans you can offer, especially plans that offer a lot of options, like high deductible health plans (HDHP) and preferred provider organization plans (PPOs).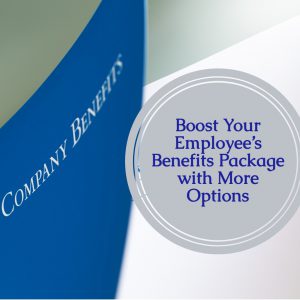 What Is a HDHP?
A high deductible health plan (HDHP) is like any other insurance plan with one key difference. If you guessed by its name that these plans have high deductibles, you are correct! HDHPs do have a higher deductible compared to most insurance plans, but in return, your employees will get a lower monthly premium.
Another major advantage of HDHPs is that you can offer the option of a health savings account (HSA) alongside them. An HSA is a tax-advantaged savings account that allows your employees to put aside money to help pay their out-of-pocket costs for health services. Employees can only contribute to an HSA if they have a HDHP, so if you think an HSA will be an attractive option for your employees, consider offering a HDHP plan so you can also add an HSA to their benefits.
To explain HSAs to your employees, and make them aware of how beneficial they can be, break them down with quick facts like:
You can't lose your HSA. Even if you change jobs or insurance plans, your HSA follows you.

HSA funds don't expire! They roll over into the next year, so you don't have to worry about losing money if you don't use it before the year ends.

HSAs provide tax advantages because the contributions are pre-tax. Additionally, they accrue tax-free interest, and you can use the funds for qualified expenses tax-free. 
Not only that, but similar to a 401k plan, you can match a percentage of your employees' contributions to HSAs, which will make the option of an HSA-qualified HDHP even more attractive. 
What Is a PPO?
A preferred provider organization plan (PPO) is health insurance that offers the best access to a network of healthcare providers like doctors, hospitals, labs, and specialists.
PPOs generally offer the largest network for your employees and will have plenty of options when it comes to providers. PPOs also offer coverage for services outside of their network, your employee would just have to pay more of the bill than they would with an in-network provider. This freedom to choose their provider is a huge perk to most employees.
Additionally, PPOs can offer uniform healthcare coverage. If you have employees in more than one state, this gives you the ability to offer nationwide network access. This means all of your employees will receive the same coverage no matter where they live.
Can I Offer Both Types of Plans?
You can absolutely offer both an HDHP and a PPO. While PPOs generally have lower deductibles and higher premiums, some PPOs actually qualify as HDHPs. That means you'll also be able to offer the option of an HSA with a PPO plan that is considered a HDHP. For 2022, as long as the PPO plan's deductible exceeds $1,400 for individuals and $2,800 for families, it's classified as an HDHP, and can be considered HSA-eligible.
Adding healthcare options like plans that include HSAs, or PPOs that allow them to choose from a wide range of healthcare providers to your employee benefits package can keep your employees happy, and boost employee retention. If you need help adding or changing your employee's healthcare plan, EZ.Insure has you covered. Our expert agents can answer any questions and help you find plans that fit your employees best. We offer free instant quotes with no obligation. All you need to do is enter your zip code into the bar above or call us today at 888-350-1890.
Co-written by Brianna Hartnett