The Delta variant, first detected in India last October, is the most dominant strain of the coronavirus in America today, accounting for most of the recent COVID-19 hospitalizations and deaths among the unvaccinated. Because there are still around 80 million people in the country who are unvaccinated, President Biden has begun more aggressively confronting the anti-vaccine movement in order to get the virus under control. On Thursday, September 9, President Biden announced policies that will require most federal employees to get vaccinated, and urged other employers, especially those in healthcare settings, to mandate the vaccine or require weekly testing. The new mandates could apply to as many as 100 million Americans. 
The Reason For The New Mandates
According to Biden, roughly 80 million Americans are unvaccinated, which is about 25% of the population. "That 25% can cause a lot of damage, and they are," Biden said. "The unvaccinated overcrowd our hospitals, are overrunning the emergency rooms and intensive care units, leaving no room for someone with a heart attack, or [pancreatitis], or cancer." 
He reiterated the effectiveness of the Covid vaccine, saying "I want to emphasize that the vaccines provide very strong protection from severe illness of Covid-19. The world's leading scientists confirm that if you are fully vaccinated, your risk of severe illness from Covid-19 is very low." He also pointed out that it is mainly the unvaccinated who are dying from the virus. 
But since some people are refusing to get the vaccine, and some elected officials are "keeping us from turning a corner," Biden has come up with a new plan, including vaccine mandates to "reduce the number of unvaccinated Americans, decrease hospitalizations and deaths, allow children to go to school safely, and keep our economy strong by keeping businesses open."
The New Employee Mandate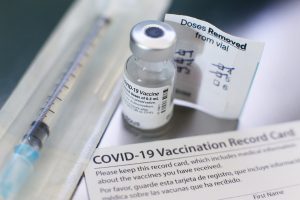 President Biden now hopes to convince those who are vaccine hesitant or resistant to get the vaccine by taking punitive action. "We've been patient, but our patience is wearing thin, and your refusal has cost all of us," Biden said. So, the first part of his plan is to use an emergency provision in the Occupational Safety and Health Act of 1970, which will allow him to withhold federal funding from hospitals and other healthcare organizations. He is also asserting his power over the federal workforce and even private companies who employ more than 100 people. 
Federal workers will now have 75 days to get vaccinated, or they will face termination, unless they have a legitimate reason for vaccine exemption. And if businesses do not comply with the mandates, the U.S. Labor Department's Occupational Safety and Health Administration (OSHA) plans to fine them around $14,000 per violation. "Each employer will decide exactly what they want to do, but what we're saying through the Department of Labor rule-making process is a minimum of testing once a week or full vaccination," a senior administration official said.
Other Measures To Tackle The Virus
The Biden Administration is also calling on all governors to require teachers and school staff to get vaccinated, saying it's the best way to protect young children under 12, who cannot currently get the vaccine. They are also calling on all entertainment venues to require tests or proof of vaccination, and have also made clear that the Transportation Safety Administration will be increasing fines for people who fail to wear masks on airplanes, trains, and buses. 
More Testing
Some critics have claimed that Biden has not done enough on testing, so the next part of his plan is to use the Defense Production Act to accelerate the production of free tests: the administration is planning to send 25 million free tests to U.S. health clinics, and expand at-home tests to be sold at Walmart, Amazon, and Kroger. 
Booster Shots
Booster shots are also in the cards for those who received the Pfizer and Moderna vaccines: a third shot is currently being offered to a limited number of people, but the White House plans to offer them to more of the population as soon as the week of September 20 in "tens of thousands of sites across the country, and for most Americans at nearby drug stores for free."
Pushback
Almost immediately after Biden's announcement, the Republican National Committee said it would bring legal challenges against any mandates. When asked about the legal threats Biden said, "Have at it. I am so disappointed that particularly some Republican governors have been so cavalier with the health of these kids, so cavalier with the health of their communities."